Happy, Present Osi Umenyiora Gives New York Giants NFL's Best Pass Rush
June 1, 2012

Rich Schultz/Getty Images
If there were any doubt in this corner that the New York Giants have the best pass rush in football, it was erased with the news (via Michael Eisen of giants.com) on Friday that Osi Umenyiora would be returning for a 10th season with the team in 2012.
Umenyiora had been unhappy with his contract and was missing organized team activities in hopes of landing a new deal or getting traded.
Ultimately, though, it appears the two parties talked it out. No word on financial terms yet, but indications are (via Mike Garafolo of The Star-Ledger) the Giants are essentially giving the 30-year-old a one-year raise with the chance to earn a big payday as a free agent in 2012. He had been slated to earn just under $4 million next year.
If that's the case, the Giants are again smartly positioning themselves to make a Super Bowl run in the NFC East.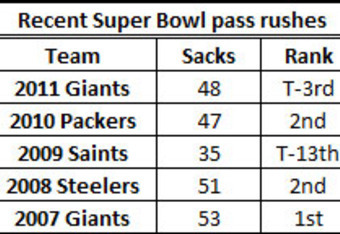 Recent history indicates that teams almost certainly need a top-flight pass rush to win the Lombardi Trophy. The Giants were third in football with 48 regular-season sacks last year. The year before that, the world champion Packers were second with 47. In 2008, the Super Bowl-winning Steelers were also second with 51. And back in 2007, these very Giants led the NFL with 53 in their triumphant season.
So in order to maximize that pass rush's ability, the Giants had to get Umenyiora on board. This is a team that will get sacks regardless, but the two-time All-Pro puts them over the top. Last year, they averaged 3.1 sacks per game with him, only 2.7 without him. They were 9-4 with him in the lineup, only 4-3 without him. His presence saved the Giants an average of two full points allowed per game.
Umenyiora and fellow sack demons Jason Pierre-Paul and Justin Tuck were only together for a total of 10 of the team's 20 games last year, but five of those were the team's final five victories of the season, all must-wins en route to claiming Lombardi.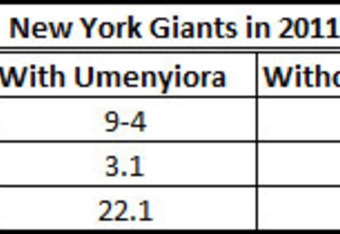 Considering how small the gap is between "W" and "L" in this league, there's a very good chance the Giants wouldn't have been crowned champions in 2011 without all three of those players being active in January and February.
So the Giants would have been crazy to risk not having Umenyiora in the fold from the get-go this year. They might have gotten him back at the price he was owed, but this is a team that knows it has to get better to repeat.
That means they couldn't afford to risk the distraction that comes from a holdout—distractions are overrated in pro sports but it's a whole new ballgame when you're a reigning champion—and they couldn't afford a late start, complete with the phantom injuries and shady surgeries that Umenyiora brought with him last summer.
Because Umenyiora was distracted and behind with his preparation last year, and because Tuck was also injured for a good chunk of the season, the Giants' pass rush hasn't reached its full potential yet. With Umenyiora happy and Tuck healthy thus far in the offseason, it's scary to imagine what they might be capable of in 2012.
The last time Umenyiora and Tuck played a full season together, in 2010, they were second-team All-Pros with a combined 22.5 sacks. There's no guarantee they stay healthy again this season, but can you imagine that kind of production with Pierre-Paul also in the fold?
The ceiling just got higher, and at that altitude they'd be close to unstoppable—which might be necessary in order to defy the Super Bowl odds yet again.
This is also about insurance. Now, if JPP slips up or Tuck goes down again, the team can still have Umenyiora to compensate and ensure that the team's still getting to the quarterback often enough to keep a firm grip on its proverbial pass-rushing crown. 
Trade winds swirled with Umenyiora, but the Giants ultimately knew they couldn't get an impact player of his caliber on the market. They might have had all the leverage here, but they also realized that a short-term investment such as this one would shore up the ever-so-important pass rush, eliminate a potential added distraction and potentially even change the path that lies ahead.