2012 MLB Mock Draft: First Round Pick-by-Pick Projections for Every Team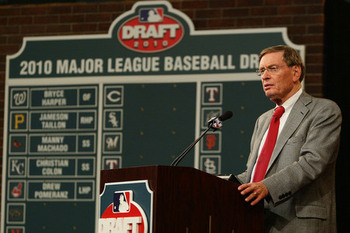 http://cdn0.sbnation.com/entry_photo_images/1379974/gyi0060671417.jpg
The Major League Baseball draft is set to begin Monday, and there's still a lot for teams to figure out between now and then.
For starters, this year has no clear-cut, No. 1 overall pick, making it a crap shoot as to who will be selected with the top five picks.
But, just like everyone else, I've come up with pick-by-pick projections for every team in the draft for the first round.
While in some instances it will be similar to other people's mock drafts, there will also be a degree of difference with mine.
So, here's a look at my projections for the first round.
Keep Reading