Martin Kampmann Will Expose Jake Ellenberger at TUF Live Finale
June 1, 2012

Mark Kolbe/Getty Images
We are in for a classic fight and upset tonight, my friends. 
Live from the Palms Casino Resort in Las Vegas, welterweight standouts Martin "The Hitman" Kampmann and Jake "The Juggernaut" Ellenberger are set to square off in a main event that promises to be an action-packed, high-intensity affair. 
Both fighters enter this matchup looking to improve their stock in the UFC's deep welterweight division and claw their way further up the ladder that leads to longtime champion Georges St. Pierre.  
Ellenberger has earned the respect of fans and fellow fighters alike over the course of his UFC career, which saw him tackle tough opponents like current interim champion Carlos Condit, ground wizard Jake Shields and perennial contender Diego Sanchez. 
After losing his debut via razor-thin decision to Condit, Ellenberger impressively defeated his next six opponents and is now potentially one fight away from a title shot. 
Here's a spoiler for you:
He will "Jugger-naut" be getting this chance anytime soon, because Kampmann is primed to derail the hype train that is Jake Ellenberger. 
Kampann is, and always has been, one of the most underrated fighters in the welterweight division, and I really do not understand why fans and critics are not higher on him.  
For fun, let's take a look at "The Hitman's" hit list inside the Octagon:
Carlos Condit, Alexandre Barros, Jacob Volkmann, Paulo Thiago, Rick Story and Thiago Alves.  
His other three fights at welterweight were against Paul Daley, Diego Sanchez and Jake Shields, and only one of those is truly a loss in the view of many (that being the Daley TKO loss).  
His fights against Shields and Sanchez were incredibly narrow decision losses, and I personally feel he won both of those fights. 
Adding to this, his loss to Paul Daley was impressive as well.
Before you ask, "how can a TKO loss be impressive?," let me explain.
When Paul Daley hits you in the chin, you go down. Usually, you go down in one shot (isn't that right, Mr. Hazelett, Mr. Ludwig and Mr. Smith?).  
Apparently Martin Kampmann's chin didn't get this memo, because in their bout, "The Hitman" took blow after agonizingly vicious blow to the chin and refused to go down.  
A rarity in MMA, the referee actually stopped the fight while Kampmann was still standing because the punishment looked so bad.  
Put plainly, Kampmann weeble-wobbled, but he didn't fall down, proving that his chin is truly one of the best in the business.
Against Ellenberger, this will be a huge asset, because "The Juggernaut" packs some serious heat. 
Ellenberger may catch Kampmann early, but I think Kampmann will take it, stay composed and recover time and time again.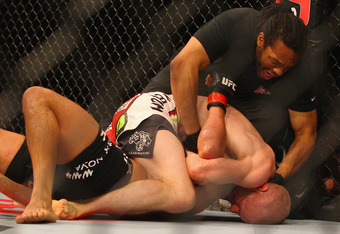 Mark Kolbe/Getty Images
In Muhammad Ali "rope-a-dope" fashion, this ability to take a punch will give Kampmann the opportunity to pounce.
Ellenberger performs exponentially less impressively as a fight goes on, and in a five-round main event, he will almost certainly have some cardio issues.  
If Kampmann can withstand Ellenberger's best shot early (which I think he will), he will set himself up for a dramatic come-from-behind finish that will become an instant classic in the minds of fans nationwide.  
"The Hitman" is as dangerous a fighter as one will find in the UFC, and he has the tools to end the fight anywhere, at any time and by any method.  
For a tired opponent, this spells disaster, and Ellenberger is in for a rude awakening when he steps across the cage from the Danish phenom.  
Diego Sanchez came close to finishing a gassed Ellenberger in his last trip inside the Octagon—now it is Kampmann's time to finish the job.  
Spoiler alert part two:
He will do so and do so impressively.  
In a back-and-forth throwdown, look for Kampmann to roll with the punches and fire back when the time is right, earning a late-round stoppage and a potential shot at the man with the golden belt.