West Virginia Football 2012: Thank Bill Stewart for WVU's Offensive Explosion
June 1, 2012

Streeter Lecka/Getty Images
I feel guilty for just now writing something relative to Bill Stewart's legacy. It's sinful, especially for a self-professed die hard West Virginia fan. Stewart's passing was and is a tough thing to absorb, but I finally feel as though I have something (somewhat) worthwhile to harp on.
That three-headed offensive behemoth that is Geno Smith, Tavon Austin and Stedman Bailey? Thank Bill Stewart for that.
Wow. What? Whaaat?
I know.  How, after Dana Holgorsen arrived from Stillwater to completely re-engineer a fallow Mountaineers offense could I possibly give credit to Bill Stewart for West Virginia's success in 2011? 
Well, it's quite simple actually. 
Had it not been for Bill Stewart, Smith, Austin and Bailey would likely have taken their talents elsewhere.  
A look back at West Virginia's 2009 recruiting class will give you a glimpse of what I'm talking about.  
Bailey and Smith, teammates at Florida's Miramar High School, were 3- and 4-star recruits, respectively. Austin, a product out of basketball power Dunbar in Baltimore, was a bona fide 5-star recruit. And really, it all starts with Smith. 
Geno Smith was a pro-style prospect and arguably the best quarterback product coming out of Florida in 2009. Alabama, LSU, Clemson, South Carolina—name the school—were all knocking on the door.  Bailey, being a teammate of Smith's, received a lot of residual attention and in turn received his own bevy of SEC and ACC offers. 
Austin, however, had interest from as many if not more schools than both Smith and Bailey. His skills were highly coveted as a high school senior, and by all accounts, he should have stayed in-state to play for local favorite Maryland. As it stood, he had his pick of just about any school in the country.  
In comes Bill Stewart. 
Whatever ol' Stew lacked in terms of strategy or acumen for engineering big wins he more than made up for with his sincerity and genuine want to connect with people on a personal level. 
Whatever the Nick Sabans, Les Miles and Steve Spurriers of the college football universe could offer Smith, Bailey and Austin paled in comparison to the family atmosphere that Stewart was cultivating in Morgantown.
Of course, an offensive juggernaut the likes of what West Virginia is preparing to put on the field in 2012 rides on far more than just the talent of three skill players. There are far too many moving parts within this Dana Holgorsen renaissance for me, or anyone, to assume that this was simply a matter of letting two receivers and a quarterback play catch out on the turf. 
But in celebrating Bill Stewart's life, it's necessary to reassess how important the little things are when the big picture is often the hot topic. 
They were of the utmost importance to him. Go back and read the Twitter pages of former Mountaineers who spent any amount of time with him over the years. There's a specific reason that so many past players trekked the country roads late last week to pay their respects to the one-time coach.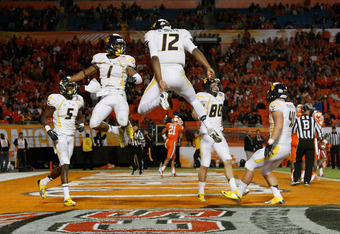 Mike Ehrmann/Getty Images
Nobody was below him.  If he spoke to you, he did so with complete conviction and undivided interest. 
Maybe that's why Geno Smith, Tavon Austin and Stedman Bailey, while being courted by some of college football's all-time heavy-hitters, found themselves picking the New Martinsville native out of the crowd. 
Perhaps that's why a little town in the hills just south of Pittsburgh seemed a warmer and more appealing destination than even Baton Rouge or Tuscaloosa. 
He didn't just want them to play for West Virginia, he wanted them to be apart of a family.
So, three years later, after what was arguably the most whirlwind, controversial season in the program's history, Tavon Austin, Geno Smith and Stedman Bailey are poster children for a potential takeover of the Big 12.  
They're stars now, thanks to some theatrics under the lights at Sun Life Stadium. Dana Holgorsen was wearing the headset and calling the shots that night. Of that, there can be no argument.
Bill Stewart's passing has forced us to turn the page back, though. It's beckoned all of us loyal to the old gold and blue to dismiss our fetid notions of Bill Stewart as a man incapable of fulfilling his station and realize that he may have been the right man for that time and place.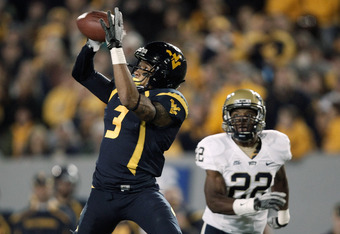 Jared Wickerham/Getty Images
For a trio of stud recruits, that's exactly what he was.  He stood apart and he made it about more than football. For Bill Stewart, it was about laboring tirelessly in the service of something bigger than oneself and it was a maxim that he tried to pass on to all his players.  
If you're wondering what West Virginia will be thinking about when they take the field for the first time in September, I'll give you a hint—it will have to do with more than just points and stat lines. 
They'll be playing for Bill Stewart, because at the end of the day, he was more than just a coach and a glorified taskmaster. He helped reveal to his players the true scope of what they were dealing in, that the picture was infinitely bigger than what gets shown on the ESPN live-feed. 
For Geno Smith, Tavon Austin and Stedman Bailey, the yards and point totals they're sure to rack up in 2012 are going to amount to far more than just stat lines and accolades. They'll be tiny monuments to the man who brought them to Morgantown in the first place. 
If that's not bigger than football, I don't know what is.