NBA Draft 2012: 5 First-Rounders Who Won't Live Up to the Hype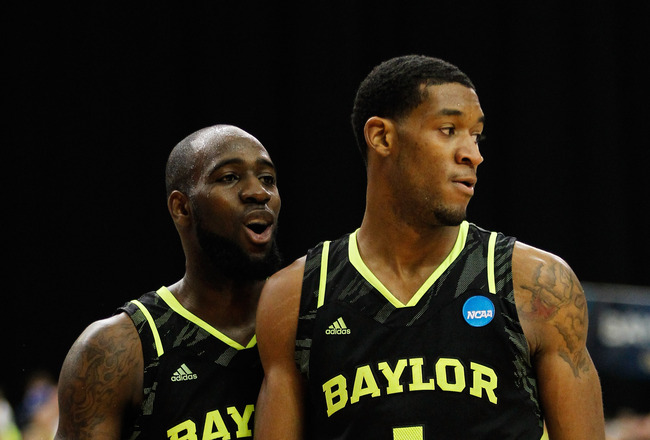 Streeter Lecka/Getty Images
Every year there are 30 players taken in the first-round of the NBA draft, and in the years following you wonder how and the hell they were drafted there.
Remember the first round of the 2005 NBA Draft when the New Jersey Nets now Brooklyn Nets drafted Antoine Wright out of Texas A&M?
My point exactly.
How about Adam Morrison going No.3 overall to the Charlotte Bobcats? Morrison may be the biggest bust of all time.
When looking at the 2006 first-rounders only nine players are still relevant in the NBA with Rajon Rondo and Rudy Gay being the only All-Star caliber players.
The others are Randy Foye, J.J. Reddick, Thabo Sefolosha, Ronnie Brewer, Jordan Farmar, Tyrus Thomas (journeyman) and LaMarcus Aldridge (consistent health problems).
The NBA Draft isn't a given (just ask Michael Jordan).
Here are five first-rounders who won't live up to the hype.
5. Fab Melo C, Syracuse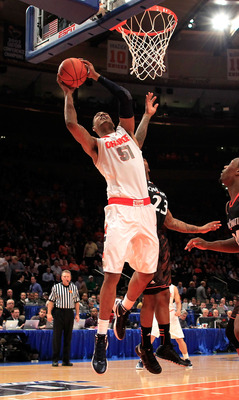 Chris Trotman/Getty Images
Living in Big East country, I have seen plenty of basketball out of this player to know he isn't worth taking in the first-round. He has zero offensive skills, and basically got by in college because he is a 7-footer.
His stats are horrible for a player supposedly first-round worthy, and Melo averaged 8 points and 6 boards per game.With picking Melo, you are getting an underdeveloped offensive player and a lackluster rebounder.
His highest scoring total of the year was 14 in a blowout win vs. a young St. Johns team. He also struggled against weak competition against the likes of Colgate (two points, three rebounds), Eastern Michigan (four points, two rebounds) and Tulane (four points with five boards).
That won't get it done in the NBA.
If he was worthy of a first-round pick, he should destroy this type of competition generally referred to as the "cupcakes". At his size at 7'0" and 255 pounds, he should have had a major advantage in all of these contests, yet he laid a dud.
Also, he doesn't seem to have a very high basketball IQ, although some of that is due to him still learning the sport.
There is no way Fab Melo will live up to the hype in the first-round, and any team that drafts him will live to regret it.
4. Meyers Leonard C, Illinois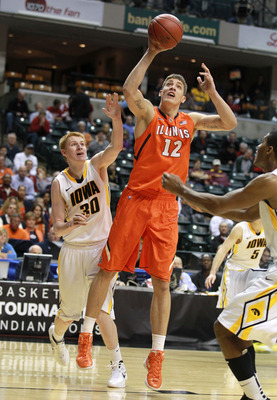 Andy Lyons/Getty Images
Leonard makes the list because he is just an average player. He needs way more time to develop, and he would have benefited staying in college another year to hone his skills.
Although he has great size at 7'0", he doesn't have that mean streak you like from the man in the middle.
Another concern for this big man is that he is turnover-prone, and he had 11 games with at least three turnovers, including two with five turnovers.
That isn't good enough to be considered a mid-round first round pick, and Leonard has a long way to go before he is ready to be consistent at the NBA level.
3. Terrence Jones SF, Kentucky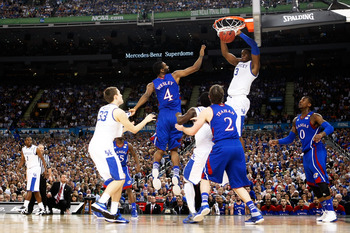 Jeff Gross/Getty Images
Terrence Jones is a decent player but he is another player who is inconsistent.
He doesn't shoot the ball particularly well as he shot just 44 percent from the field, 33 percent from three and 64 percent from the free throw line.
Those aren't impressive numbers scoring the rock, particularly for a player that could be taken in the first-round anywhere as high as a top-10 pick.
At times he appears to be dominant and other times he appears to be disengaged in the play around him. Jones also doesn't possess a high motor, and in the 82-game NBA schedule, that won't please his coaches.
In the Kentucky Wildcats' title run Jones wasn't particularly effective, averaging just nine points per game. To me, Jones is a hit or miss type of player, and the hype surrounding him is too high for him to live up to at the next level.
2. Jared Sullinger PF, Ohio State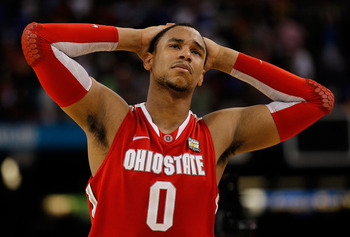 Chris Graythen/Getty Images
Sullinger makes the list because he can be inconsistent at times, and his head doesn't always seem to be in the game.
Unlike Melo, he produced at a high level of 17 points per game in the Big 10, which should count for something.
Why I don't think he lives up to the hype is because of athleticism. He needs to shed a bit of weight to become quicker if he has any hopes of reaching his potential in the NBA.
At 6'10" and 280 pounds, he looks very slow on the court and appears to tire quickly. When going against lean, athletic big men, he tends to struggle, particularly scoring the ball.
In the NCAA tournament game, when going against Thomas Robinson of Kansas, he was nowhere to be found going 5-for-19 from the field and just 13 points in a game where he his team needed him most.
In the NBA there are plenty of big men that would give Sullinger serious problems on both sides of the floor, and that is why he won't live up to the hype.
1. Perry Jones PF, Baylor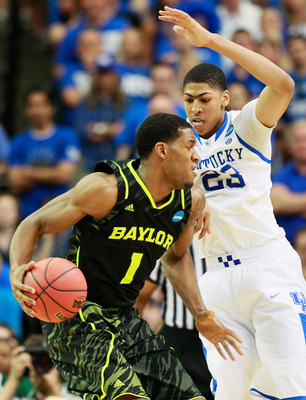 Kevin C. Cox/Getty Images
At 6'11" and 235 pounds Perry Jones has great size and athleticism, however it will be interesting to see what position he will play. He doesn't yet have the frame you want in a PF, and he would get tossed around the lower blocks.
Jones also doesn't have a jumper to stretch the defense like you want from your small forward. He is another player who is inconsistent and his up-and-down play at Baylor illustrated that.
He also struggles at the line shooting around 66 percent from the stripe, and this is something he needs to work on to reach his potential.
When watching Baylor, you just don't see the attitude and fight in this player, and that should be a concern moving on to the NBA.
Does he want to be great?
Or is he content with being good? My guess is the latter.
Keep Reading