Why Mario Balotelli Is the Most Interesting Player to Watch at Euro 2012
June 1, 2012

Mario Balotelli walks into a bar. It's a comedic setup with infinite possibilities.
But there was nothing funny about the time the Italy striker was pelted with bananas and racially abused by football fans on a night out in Rome, back in 2009.
Those who know Balotelli know he is not a man to back down.
"I will not accept racism at all," he said this week. "It's unacceptable. If someone throws a banana at me in the street, I will go to jail, because I will kill them."
As usual with Balotelli, searing passion overcomes any notion of sensibility.
Some might say it was an unwise, perhaps provocative, line to take on a highly sensitive issue. Others, myself included, would argue Balotelli's truth was one that had to be heard.
Wherever you stand on football's most maverick, unpredictable talent, I can guarantee you'll be ready to listen next time he has something to say.
Balotelli is just 21, but he's already lived a lifetime of football drama—both on and off the field. 
His is a manic, dizzying and volatile existence—of incident followed by incident. When he's out and about, anything is possible. When he puts on his boots, you're as likely to see a blistering hat trick as you are a red card.
Controversy follows him everywhere, and he frequently invites it. There's never been an easy path for Balotelli, and there probably never will be.
As a teenager at Inter Milan, he clashed with Jose Mourinho to such an extent that Mourinho warned Manchester City not to sign him.
They didn't listen. Roberto Mancini knew Balotelli from his time at the San Siro and was convinced he could ride his difficult temperament to deliver City a genuine Premier League match-winner.
Mancini said of Balotelli, on the completion of his £23 million move to City, as per Metro.co.uk: "I think that Mario is one of the best players of his age in Europe, and I am very happy to be working with him again."
Two years on, Balotelli heads to Euro 2012 as a Premier League winner with City, but with his true value to Mancini's squad still up for discussion.
As ever with "Mad Mario," moments of brilliance have been interwoven with moments of stupidity. He's scored important goals, but he's also got himself sent off four times in just two seasons and clashed several times with his teammates along the way.
Off the field, he's made himself a regular in the English tabloids.
That's what tends to happen when you throw darts at youth team players, set fire to your own house, admit to sleeping with a prostitute, hand over £1,000 to a homeless person on the street, crash your Bentley and get summoned to give evidence at a Mafia trial. 
In November last year, Balotelli addressed such antics in an interview with The Independent: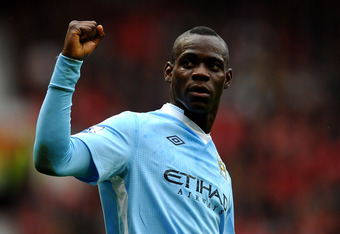 Laurence Griffiths/Getty Images
When you are famous, there's a tendency to talk more about my personal life than what I do on the pitch.

It's normal but it annoys me.

But I am not crazy, absolutely not, although sometimes I do strange things that are considered entertaining.
That you do, Mario. And that's what makes you one of the most fascinating, yet infuriating, personalities in football.
Italy coach Cesare Prandelli is ready to take a leap of faith. Having dropped Balotelli in February, citing his "agitated" behaviour, Prandelli has handed Balotelli the No. 9 shirt for Euro 2012 and may well start him in their Group C opener against defending champions Spain.
The stage is set for Balotelli. The big question is whether he'll storm it or storm off it.
Either way, he'll be essential viewing this summer. If you're looking for a reason to watch Euro 2012, witnessing Balotelli's next act is as good as any I can offer you.