Nicklas Lidstrom: How Will the Red Wings Deal With His Absence
June 1, 2012

Gregory Shamus/Getty Images
So it's been two days since the big announcement and it turns out the Red Wings are still in Detroit, will play their games at the Joe Louis Arena, and now have an extra $6.2 million to go shopping with this summer.
Don't get me wrong, there is NOT another Nick Lidstrom to go out and get, but there are certainly pieces that can help to fill his space. Maybe I'm getting too cynical in my old age, but I already did this with Steve Yzerman in 2006. Tears were shed, I was in a dark and sad place. However, two years later No. 5 was lifting his fourth Stanley Cup.
My point is that all is not lost. Let's appreciate the career of a first ballot Hall of Fame defenseman, and all of his accomplishments, then take a breath and look forward. In fact, let's take into consideration that Lidstrom's retirement Thursday was his last selfless act to a franchise that has made him a multimillionaire and will forever be in his debt.
Stepping away to allow the Red Wings to move forward is probably something the team-first Lidstrom would never have even considered. While he will undeniably be missed, doors are now open for the next generation of Red Wings to put their stamp on the Detroit franchise.
The next captain will be selected sometime over the next month or two, and the torch of leadership will officially be passed. There will be free agents signed and draft picks chosen. The faces will, for the most part, still be the same.
On the blue line, Nik Kronwall becomes the senior defenseman at age 31, assuming that Brad Stuart goes back to California. The oldest player on the roster is now Todd Bertuzzi at 37,  also assuming Tomas Holmstrom isn't coming back. With Lidstrom gone, chances are Holmstrom will join his good friend and countryman in retirement.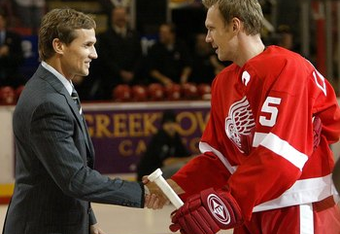 Ken Holland is the same guy who brought Hockeytown back to Detroit. He helped build the Red Wings into a perennial Stanley Cup contender, and will add the pieces this summer to get Detroit back to the top of the NHL.
So let's celebrate Nick Lidstrom, appreciate all he has done and all that he has given to Detroit and the Red Wings. There will never be another player like him for sure. There will be joy in Hockeytown again though.
The next wave of players will show the NHL that the Red Wings reload, not rebuild. A big free agent signing or two, a healthy start come September, and some brimstone from Coach Babcock will make the Lidstrom jersey retirement ceremony a footnote in a successful 2012-13 campaign to the Stanley Cup.
Thanks for the memories Nick!