Fantasy Football 2012: Top 10 "Radioactive" Players to Avoid in 2012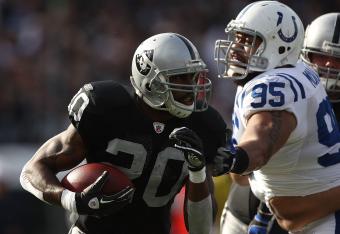 Jed Jacobsohn/Getty Images
In Fantasy Football, some players are just not worth drafting—those not as talented, who have bad injury history, bad work ethic, or lousy hands. Most experts think that all players can have value if they are left on the board too long.
I say screw that!
Some players are just not worth drafting.
These 10 players have found their way onto my "Do Not Draft" list for 2012. At the end of each player's write-up I will give alternative players with a later ADP that will out-produce the player listed.
1. Darren McFadden RB OAK (Current ADP: 2.06) McFadden surely has the talent to be worth the mid-second round pick you would need to draft him now, but the frequency of his injuries is too big a risk at that price. He has missed 13 games in the last 2 years, are you ready to invest a second on him? I'm not. Fun fact: He has run for a total of 2,627 yards in his 4-year career. Chris Johnson had 2,006 in one season.
Alternative choices: Adrian Peterson (2.08), Jamaal Charles (2.10), Marshawn Lynch (3.05)
2. Kenny Britt WR TEN (Current ADP: 4.01) Britt is another player who has shown exceptional talent…when he can stay on the field. The problem is that he is still being drafted as a very early No. 2 WR. Sure, the upside is there, but the actual total numbers are not. He has missed 18 games in the last 2 years, including just 3 games played in 2011. Recently, Titans beat writer Jim Wyatt reported that Britt had to have another knee operation in May. These are not good signs. Let him prove he can stay on the field before you invest this high a pick on him.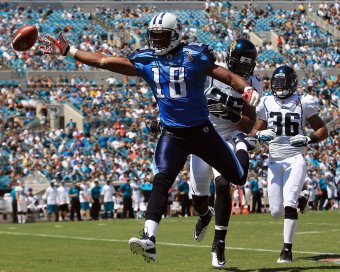 Streeter Lecka/Getty Images
Alternative choices: Vincent Jackson (4.05), Jeremy Maclin (4.08), Marques Colston (4.09)
3. Michael Vick QB PHI (Current ADP: 4.12) At this point it is almost a guarantee that you won't get 16 games out of Vick; it's a feat he has only accomplished once in his 9 years in the league. Plus, after rushing for 9 TDs in 2010, he disappointed fantasy owners in last year when he only rushed for one touchdown in 13 games. It's hard to predict what you can get from him this year, but picking him as your QB1 in the fifth round doesn't represent much value, and it will cause you to invest in a backup QB much earlier than you normally should.
Alternative choices: Philip Rivers (5.12), Tony Romo (6.01), Matt Ryan (6.05), Carson Palmer (13.12)
4. Frank Gore RB SFR (Current ADP: 5.03) Almost all the leagues I play in are PPR leagues, so this one is really for those competitions. The problem I have with Gore this year is what we saw last year; this offense just does not throw to their backs. After averaging 51 receptions a year for the five-year span between 2006 and 2010, Gore only caught 17 passes in 2011. Add in the extra backs they brought in this offseason; Brandon Jacobs, rookie LaMichael James, Jewel Hampton and of course last year's rookie Kendall Hunter, and this backfield is very crowded and may result in a big committee.
Alternative choices: Jonathan Stewart (5.05), Fred Jackson (5.11), Reggie Bush (6.02)
5. Vernon Davis TE SFR (Current ADP: 5.06) Davis is an excellent tight end who can be a game-changer, and hasn't missed a game in his last four seasons, however the fact still remains that he has Alex Smith throwing to him. Smith completed only 273 passes and 17 touchdowns in 2011. He had one more TD than Matt Moore, and the Dolphins' QB had 63 fewer completions and played in 4 fewer games than Smith. In addition, the team brought in quite a few new toys for Smith to play with, including Mario Manningham from the Giants, Randy Moss from Planet Uranus and first-round pick AJ Jenkins. All of them will contribute to Davis seeing even less targets moving forward.
Which TE Would you rather have?
Alternative choices: Jason Witten (6.08), Antonio Gates (6.12), Brandon Pettigrew (7.06)
6. Jermichael Finley TE GPB (Current ADP: 5.07) At one time, Finley was expected to be the go-to guy in this offense, but no more. His numbers last year; 55 receptions, 767 yards and 8 touchdowns are definitely respectable, but when you look at them per game you can see the inconsistencies. He had 10 games with 3 or fewer catches, while 3 of his 8 TDs came in one game against Chicago. He also dropped 11 passes, which definitely hurt him, as the team only gave him a two-year contract when he was looking for four.
Alternative choices: Brent Celek (10.10), Tony Gonzalez (11.05), Dustin Keller (13.03)
7. Jahvid Best RB DET (Current ADP: 7.10) This one is easy for me; One bad hit and he may not even remember his name much less put up any fantasy points for you. Best had two concussions last year, the second one kept him out of the team's last 11 games, including their Wild Card loss. He had at least one major concussion while he was in college. This is obviously a concern for all players, but it has been shown that players who have had them before are much susceptible to concussions once they have recovered.
Alternative choices: Michael Bush (8.03), Peyton Hillis (9.03), DeAngelo Williams (9.04)
8. Sidney Rice WR SEA (Current ADP: 8.04) Rice had a breakout season with The Vikings in 2009, catching 83 balls for 1312 yards and 8 touchdowns. Since then he has missed 17 of 32 games and is coming off surgeries on both shoulders in the offseason. In these past two years, he has had a total of 49 receptions for 764 yards and 4 touchdowns. Add in the QB carousel going on in Seattle right now and it is hard to see him produce like he did in 2009.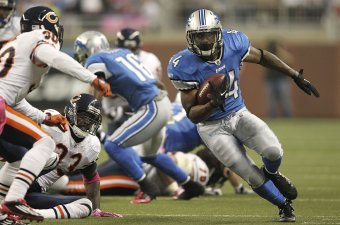 Leon Halip/Getty Images
Alternative choices: Greg Little (9.01), Santonio Holmes (9.02), Mike Williams (8.08)
9. Robert Meachem WR SDC (Current ADP: 8.11) Many are high on Meachem going to San Diego and being Philip Rivers No. 1 WR, but I am not one of them. Meachem has shown flashes of being very good, but even with one of the best QBs in the game throwing to him he has never topped 45 receptions in a season. Since his 2009 numbers of 45 receptions, 722 yards and 9 touchdowns, his output has decreased in the last two seasons. He has yet to prove he can be a No. 1 WR or be consistent enough to produce like one.
Alternative choices: Darrius Heyward-Bey (10.05), Lance Moore (12.01), Laurent Robinson (11.03)
10. James Starks RB GPB (Current ADP: 11.07) Starks is easily the last "starting" RB taken in most drafts and for very good reason; it is hard to trust any Packer back to actually score fantasy points. It hasn't been done since Ryan Grant's last good season in 2009. With Grant finally gone and Alex Green's recovery from ACL surgery, Starks may have the best shot to finally produce this year, but the fact remains that this team ranked 26th in attempts and 27th in rushing yardage in 2011, and those numbers were inflated by the rushing of QB Rodgers, who accounted for 16% of their totals.
Alternative choices: Jacquizz Rodgers (12.06), Felix Jones (12.08), Shane Vereen (13.09)
So there you have my top 10 players that I won't draft in 2012. Sure, a lot of these players have talent and, in a couple of instances, if they were to slip 2-3 rounds in a draft I might just take a chance on them, but we all know that rarely happens.
Let the other owners take the huge chances while you take solid producers year in and year out and you will find that you will contend for titles more often than if you were to take these major-risk players.
All ADP was generated from MyFantasyLeague.com.
This article is
What is the duplicate article?
Why is this article offensive?
Where is this article plagiarized from?
Why is this article poorly edited?