Croatia Euro 2012 Roster: Analyzing Team's Starting XI and More
June 1, 2012

Bryn Lennon/Getty Images
With the grand spectacle of Euro 2012 almost upon us, let us take a little time to analyze a team that is not getting the attention they deserve.
Just because they are not England, Spain, Italy or the Netherlands, Croatia is not getting a lot of hype ahead of the big tournament, despite the fact that they actually have one of their best squads in a long time.
They do have major weaknesses, to be sure, but this is a team that can go places. What they perhaps lack at the back they make up for in attack by stacking up players that can score goals and create them, as well.
With a few favorable results and some breaks when they really need them, Croatia could surprise many people in a couple weeks by breaking out of a tough group. Lets break down their team, section-by-section.
Goalkeepers and defenders:
This is probably the weakest area of Croatia's team, although they are not so soft at the back that goals will just be flowing in.
National team veteran Stipe Pletikosa is sure to start in goal after receiving regular playing time this season for club side Rostov, and his familiar presence between the sticks will provide reassurance to a defence that will have to rely more on toughness than skill.
Tottenham man Vedran Corluka is probably the best that Croatia has in this department, and can offer the experience that playing at a Premier League club gives you. Josip Simunic is the elder-statesman of the defence, with 94 total caps to his name, and will play a crucial role in keeping the whole unit glued together.
Midfield:
Here is where Croatia really starts to shine and show its true potential as a football team. Overwhelmed with talent in the middle of the pitch, manager Slaven Bilic faces a difficult task in selecting his midfielders for every game.
Captain Darijo Srna will obviously man the right flank with his remarkable work rate and passion for the game that will drive his country forward. And after another stellar season with Tottenham, central midfielder and creative engine Luka Modric will be an ever-present.
The other couple spots will give the manager a much bigger headache, due to the wealth of options at his disposal, every one of which can do the job if called upon.
Young Ivan Perisic had a great season with Borussia Dortmund in the Bundesliga, and is certainly worthy of selection. He faces competition from the likes of Niko Kranjcar, Ivan Rakitic and Danijel Pranjic, all of whom are experienced internationals who have proven themselves at the highest level.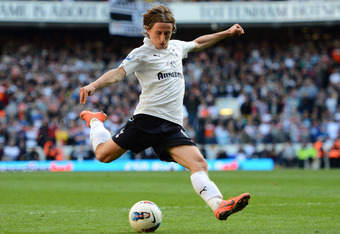 Mike Hewitt/Getty Images
Just seeing who actually plays and how the midfielders interact with each other on the pitch will be an interesting subplot to each of Croatia's matches.
Forwards:
Again, the manager enjoys a great deal of talent at forward, which he probably does not need, due to the excellent service anyone who plays up top is likely to get from the midfield.
After the stunning season that Nikica Jelavic just finished with Everton, there is no way that Slaven Bilic can leave the striker out of his squad. Jelavic is in the sort of form where every half-chance, loose ball or stray header has a legitimate chance of turning into a goal, and that is something that every team craves.
However, there is a finite number of forwards that the manager can select, especially as he may elect to pack the midfield against an opponent like Spain that will try to dominate possession.
With the scoring record that veteran Eduardo has for the national team of almost a goal every two games, it will be hard to leave him out of the team, as he is a player who instinctively knows where the goal is at all times.
Finally, to top it all off, there is Bayen Munich forward Ivica Olic, who has proven his salt for his country for a decade. To say that the manager is spoiled for choice is obviously a bit of an understatement.
So, even though they find themselves in a rather unfavorable group that includes Spain, Italy and Ireland, it would not be wise to sell the Croatians short in this year's Euros.
While not spectacular, their defence reminds one of Greece's back line during their fabled tournament victory in 2004: no really big names, but oodles of organization and grit.
What this team will certainly not struggle to do is create chances, with one of the deeper midfields in the tournament that boasts a wonderful combination of youth and experience. In addition to players who can create a moment of magic out of absolutely nothing, Croatia has the workingman types and the all-rounders who can really make a team tick.
And with all the poachers they have up front, any decent chance that falls to a striker is likely to find its way into the back of the net. That just might make the difference in a tournament of extremely slim margins.
With a very intelligent manager at the helm who knows how and when to select the almost embarrassing amount of talent he has at his disposal, this is a team that could really go somewhere.