How the Atlanta Braves Will Outlast the Washington Nationals for NL East Title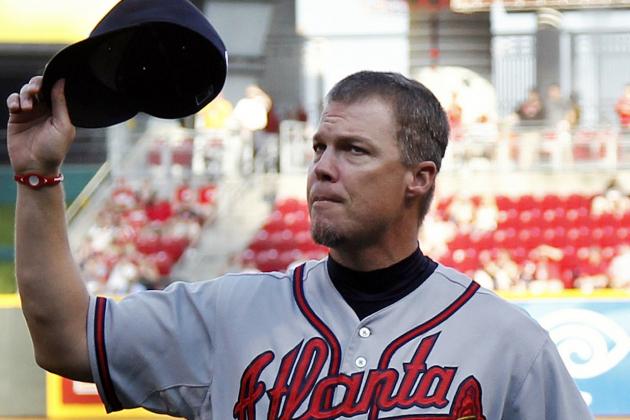 Joe Robbins/Getty Images
Chipper Jones will help the Braves win one last NL East title.
In order to win the NL East title in 2012 the Atlanta Braves will need to beat out a division of strong teams, however one team looks like it is ahead of the rest of the competition. That team is the team that the Braves will need to outlast to bring home one more division title for Chipper Jones.
That team is the Washington Nationals, a team that few expected to win the division this spring. The Nationals are playing very well right now and are doing it without sluggers Mike Morse, Jayson Werth and Wilson Ramos along with top closer Drew Storen. Once Morse comes back to the lineup and Storen re-joins the bullpen, the Nationals will be even stronger,
This article takes a look at a few reasons why the Braves will be able to beat out the Nationals for the division title.
Begin Slideshow

»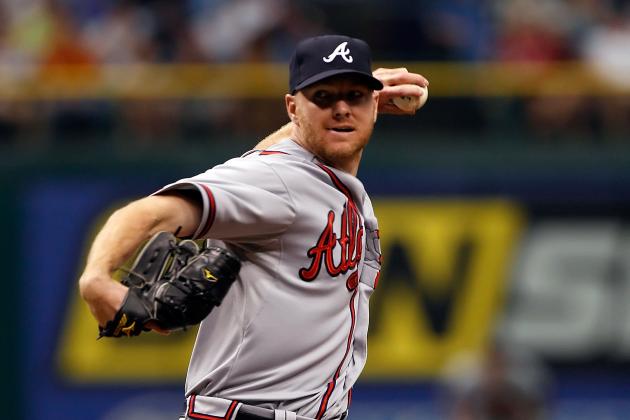 J. Meric/Getty Images
Jonny Venters needs to pitch like himself.
Relief ace Jonny Venters hasn't been the stud setup man that fans of the Braves have been watching the last two years. Over those seasons Venters appeared in 164 games and kept his yearly ERA below 1.95 and WHIP below 1.21.
Venters is 3-2 with a 3.66 ERA and 1.93 WHIP this season in a total of 23 games. It's not as if Venters has been better recently, as he gave up runs in three separate appearances since that day.
Venters has proven to be a durable and very efficient late-inning reliever capable of getting guys out in the clutch. For the Braves to win this year they need Venters to be the same guy he was in 2010 and 2011. The odds are on his side and I believe in Venters' ability to turn his season around.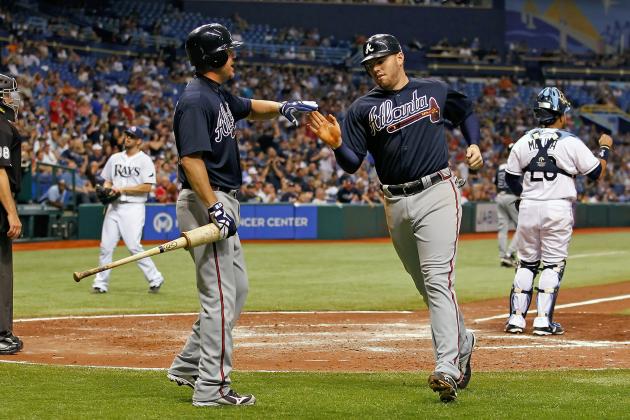 J. Meric/Getty Images
Chipper Jones will be a key down the stretch.
Though he is currently on the disabled list and on the wrong side of 40, Chipper Jones will play a key part in the Braves' run for a division title. Jones may not be the same player that won the MVP in 1999 or the batting title in 2008, but he is still a key piece of the lineup.
In the 29 games Chipper has appeared in this year, his triple slash line is .307/.377/.485 to go with five homers and 24 RBI. That kind of production makes him a legit middle of the order run producer, and one that has come through when the Braves have needed it.
A player like Jones could make a major difference in the pennant race that is expected in the NL East this season. The Nationals not having a similar player who has been through these situations could also come into play.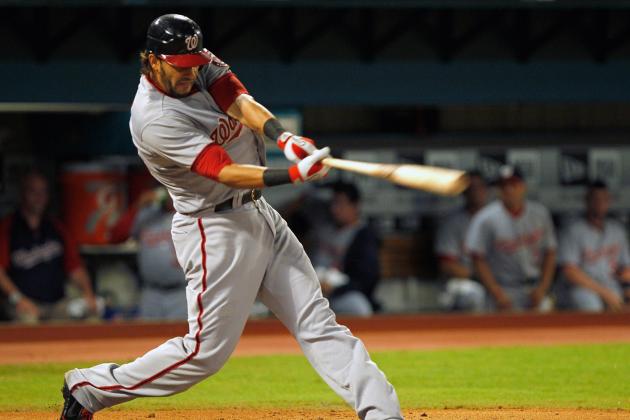 Mike Ehrmann/Getty Images
Mike Morse is getting close to coming back from a lat injury.
One look at the Nationals lineup lets you see that they lack big bats. The addition of Mike Morse will help, as he hit 31 homers a year ago in 575 plate appearances, but he can only help so much considering the team is giving significant playing time to guys like Rick Ankiel, Roger Bernadina and Xavier Nady.
Sure Ryan Zimmerman and Bryce Harper have that potential to be big bats, but it may be asking a lot to count on them when it really matters. Zimmerman hasn't produced big numbers since 2010 after battling injuries this year and last year, while Harper is just 19 years old and learning as he goes.
Adam LaRoche is a solid hitter, but he is really just a league-average player at first base. Ian Desmond is showing surprising pop, but it's unlikely that he keeps pace to hit 30 homers.
This is where the season-ending injury to young catcher Wilson Ramos and potentially season-ending injury to veteran outfielder Jayson Werth will likely haunt the Nationals. Missing those two bats from the lineup for at least most of the remainder of the year, since there is a chance Werth comes back, is something that the team will eventually feel.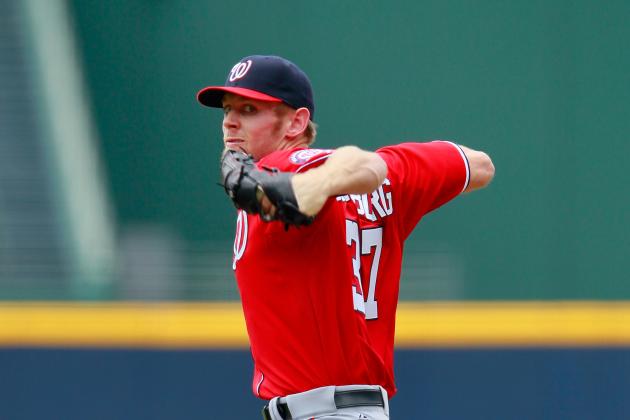 Kevin C. Cox/Getty Images
The decision the Nationals must make on Stephen Strasburg could make a major impact on the playoff race.
One of the biggest debates of the season will come later in the year when the best young pitcher in the game nears his innings limit. That pitcher, Stephen Strasburg, was given a cap of 160 innings this year in his first full season back from Tommy John Surgery. It was the same innings cap that another talented young pitcher for the Nationals, Jordan Zimmerman, faced last year as he returned from his own Tommy John Surgery.
The Nationals are looking at being in a very tight spot. They can do the smart thing and sit Strasburg when he reaches his limit, but that could really hurt their playoff chances and will anger fans who want to see the team reach the playoffs. They could also go all-in and let Strasburg surpass the cap, which could potentially have significant consequences down the road.
It's a very tough choice for the Nationals to make, and even if they do allow Strasburg to go over the limit there is a chance that he tires out and isn't very effective. The Strasburg situation is something that will certainly cause controversy and potentially hurt the team's pitching staff if he isn't in or isn't pitching well.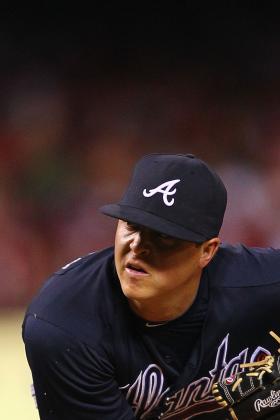 Dilip Vishwanat/Getty Images
Kris Medlen will get a chance to return to the rotation.
Expected to be one of the strengths of the team heading into the year, the starting rotation has been a bit of a disappointment this spring. Former All-Star Jair Jurrjens was bombed in each of his four starts, left-hander Mike Minor has been hit pretty hard and rookie Randall Delgado has been up and down this year.
The Braves have had a trio of pitchers doing well at the top of their rotation in Tommy Hanson, Tim Hudson and Brandon Beachy. One of the biggest keys to the season for the Braves is to find another pair of arms to fill in the rest of the rotation.
Jurrjens is showing some promise in the minors, though he has been up and down. Minor has pitched well at times, and did prove last year he can be a solid big league pitcher. Delgado has been the best of the guys in the big league rotation in this conversation, and he has at least shown the ability to get guys out in the majors. Each of these three guys has had success in a big league rotation in the past.
If that isn't good enough, Julio Teheran is one of the top prospects in baseball and though he has been up and down this year himself, he has elite potential. Then the Braves just sent key reliever Kris Medlen to the minors in order to stretch out his arm so that he can start again. Medlen hasn't started since before going for Tommy John Surgery in 2010, but he has had big league success.
The Braves have five internal options for their rotation along with enough talent in their farm system that they can afford to go out and make a deal before the trading deadline if necessary. It just seems like the Braves will eventually find the right pair of arms to fill in their rotation, in part because there is just too much talent not to.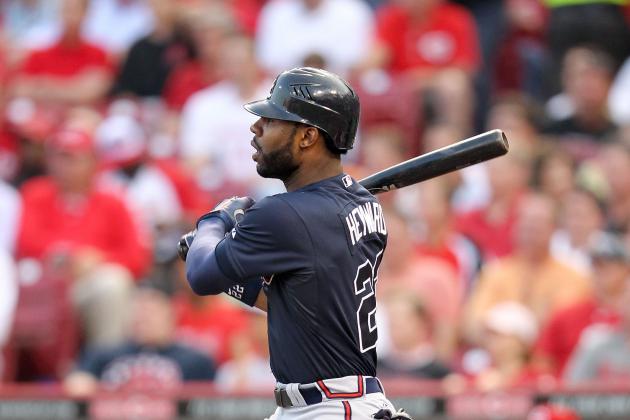 Andy Lyons/Getty Images
Jason Heyward will help the Braves win the division.
One of the biggest assets the Braves have is a player hitting .233 on the year and is just a career .252 hitter. That player is 22 year-old Jason Heyward, one of the most hyped young players in recent memory.
Heyward may not have a great batting average this year, but he has shown signs that he has put last year behind him as he has six homers and a total of 16 extra-base hits. Heyward has also shown a great ability to run the bases after gaining speed this winter due to losing 20 pounds.
It's not as if Heyward's combination of power and speed is the only reason that he could be an X-factor. Heyward has proven at a young age that he is capable of coming up with the big hits when his team needs him to. He's a clutch performer that already has six hits this year which have given the Braves a lead.
Having someone like Heyward around is a big positive for the Braves as he could be a difference maker with his power, speed, glove, throwing arm and clutch ability.