Pacquiao vs Bradley: Complete Preview and Predictions for Big Fight
June 1, 2012

Stephen Dunn/Getty Images
On Saturday, June 9, at the MGM Grand in Las Vegas, Manny Pacquiao—the Filipino Congressman, eight-division world champion and international celebrity pitchman—will return to the ring to face undefeated, 140-pound world champion Timothy "Desert Storm" Bradley.
His longtime hypothetical rival Floyd "Money" Mayweather and his former TKO victim Miguel Cotto made pugilistic magic here just over a month ago. Now it's Pac-Man's turn to take the big stage.
Joining him for this pay-per-view dance will be a challenger who, in the word's of Pacquiao's own promoter Bob Arum, "is the freshest fighter Pacquiao has faced."
If you hadn't heard of Tim Bradley before he signed up for the big fight with Pacquiao, don't be embarrassed. This sport doesn't get the attention it deserves in the popular media, and with only 12 stoppages in 28 professional fights, Bradley has not exactly produced a glut of YouTube friendly fireworks more casual fans are inclined to forward on their Facebook or Twitter. 
However, just because you haven't heard of him, don't assume you are justified in dismissing him. Anybody who really knows what's what with boxing knows all about Timothy Bradley.
Opinions vary widely on how he can be expected to perform the weekend after next, but it seems pretty obvious he was the natural opponent for Pacquiao, if a fight with Floyd Mayweather or rematch with Juan Manuel Marquez wasn't in the cards.
Bradley is ranked No. 8 on The Ring's pound-for-pound list.  I've got him No. 7 on my own. Excluding Mayweather and Marquez, he has the highest universally recognized stature of anybody close to Manny Pacquiao in weight.
Position on pound-for-pound lists is an unpredictable gold standard. But Bradley has won the type of fights and put together the resume that demands a step up to the most elite level of competition.
He is an extremely effective fighter, well conditioned, level-headed and supremely confident.
What Bradley's Done: The Cliff Notes
The then 25-year-old Bradley won the WBC light welterweight title in May 2008, when he beat Junior Witter by split decision. Less than a year later, he climbed off the canvas to beat Kendall Holt to add the WBO strap to his trophy case. 
In December 2009, Bradley beat the very talented and then undefeated Lamont Peterson by wide margins on all three cards, knocking him down in Round 3. 
In his next fight, he gave Luis Carlos Abregu his first loss. He did the same for Devon Alexander in January 2011.  
Bradley then took off most of the year, before returning to knock out former world champion Joel Casomayor on the Pacquiao-Marquez undercard last November in his first fight since signing with Top Rank. 
Bradley has had some pretty one-sided victories over world-class fighters. He handled Devon Alexander, who gave a thrashing to the same Marcos Maidana who made Victor Ortiz quit on his stool and gave fits in defeat to Amir Khan. Bradley easily beat Peterson, who beat Khan. 
At 5' 6", he will be ceding Pacquiao a half-inch in height. However, he has a two-inch reach advantage, and even though he is technically coming up in weight, he is the naturally larger man. 
Bradley's training methods, introduced to him by his father at a young age, are relentless. On the first episode of 24/7, trainer Joe Diaz told a story about Bradley running 23 miles in the desert the week before a fight, just to give his endurance a really good test. 
I believe Bradley will have a strength advantage against Pacquiao and will be able to make effective use of it, at least at times, to tie Pac-Man up and move him around in tight positions.
I expect Bradley will manage to make Pacquiao fight at a slower pace than we are accustomed to seeing the Filipino Cyclone perform.
He's also going to attack Pacquiao's body just like Juan Manuel Marquez did last November. But he's not going to relent in the championship rounds, the way Marquez seemed to do (even if you had him winning, like I did).
Of course, there's a chance Pacquiao takes Bradley out before the championship rounds arrive.  
Please note, when I say I think Bradley will have a strength advantage, that is not the same as comparing power. Because of his speed, Pacquiao is the far more devastating puncher. 
Bradley can work hard inside, hustle and bully to take rounds from Pacquiao and still end up having the fight turn around quickly against the eight-division world champ, if he gets caught by a Pacquiao right hook or overhand left.
Pacquiao has to be viewed as the smart money favorite. He represents a substantial step up in competition for Bradley. If Bradley makes the kind of slow start he did against Kendall Holt, he might not get out of the first round. 
On a media call I listened in for last week, Freddie Roach acknowledged that while he was preparing his fighter with a variety of sparring partners, he did ultimately think Bradley would come forward to fight.
During the same call, Roach also said he didn't really think Bradley was a great counter-puncher. 
I haven't heard or read Roach predicting a knockout this time around. But reading between the lines, it sounds like he thinks one could be there for the taking. 
Meanwhile, Bradley has sounded extremely confident in himself. 
In a series of great pieces on RingTV.com, Bradley had been very confident in declaring his own belief he will be able to engage Pacquaio in close and beat him:
"I don't care what Freddie Roach says. He's not getting into the ring fighting for Pacquiao, and he's not in my training camp. So I really don't care what he says. He can say whatever he wants.

"I know what I'm trained and prepared to do. I know that I come to fight and they know that I come to fight, so there's no real secret to this. In order to beat the champion, you've definitely got to take it to the champion.

"That's what we have set out to do. We've set out to win this fight, not to dance around and look pretty. So I don't care what Freddie Roach says; I don't care what Manny Pacquiao says. I'm ready to go."
Last week during a media work out, Bradley posed with a mock poster for "Bradley-Pacquaio II," a clever way of predicting a victory for himself in this fight, which contains an automatic rematch clause. 
Despite his confidence, Bradley doesn't exactly come off as a showboat or braggart. 
The first episode of HBO's 24/7 portrayed Bradley as an uniquely focused fighter and a level-headed family man. Training at home, his morning routine was to rise and take care of his children before heading to the gym.  
Bradley embraces his role as the everyman, even while professing he is destined for transcendent greatness in the ring. "I don't need need a bunch of guys who are there for no reason," he stated on 24/7, referring to the small, close-knit nature of his inner-circle. 
If 24/7 has portrayed Bradley as a husband, father and son, it has once again presented Manny Pacquiao as the star at the center of his own solar system.
During an episode of the series that ran before the Marquez fight, one of Manny's boys finally got the mandatory tattoo that symbolizes Pacquiao's shooting star career. This time, one of Pacquiao's entourage had already revealed Manny's told him: "You are my disciple."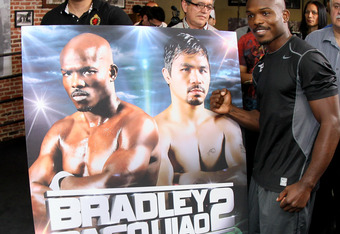 Stephen Dunn/Getty Images
The big theme for Manny Pacquiao during this training camp is he has newly devoted himself to God. I find this vaguely confusing, because I have been following his career a long time and thought that being a devoted Christian was already his bag. 
But apparently he is actually only getting really serious about it now. During the media call, Bob Arum kept referring to it as a "religious awakening." 
Gone are the late-night Karaoke and card-playing sessions with his pack of childhood friends from the old neighborhood. The nightlife has been replaced completely with Bible study. On the media call, Roach reported that his fighter has been more rested and focused when he gets to the gym. 
The image of a star being distracted by the whirlwind of his entourage is a common enough story when it comes to high-profile athletes.
Still, it is a new narrative for Pacquiao. His extended group of hangers-on has always been portrayed as a positive support system during previous camps—a wholesome, Filipino version of the old "Bowery Boys" crew.
During the media call, Pacquiao claimed to have been distracted going into the Marquez fight by "family problems." Roach echoed: "Training camp went great, then during the last week, it all fell apart."
What this meant specifically was not addressed, and I have not read or heard any actual details about what constituted these "family problems" that made training camp "fall apart" for Pacquiao.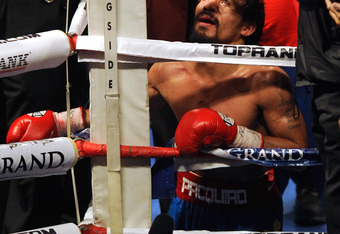 Ethan Miller/Getty Images
But the implication throughout the build up to this fight has been that Pacquiao was less sensational than expected against Shane Mosley and that he had trouble in spots against Juan Manuel Marquez because he was not completely focused. His new "religious awakening" is supposed to mean now he is truly dialed in.
I'll be honest here: In my opinion, a lot of this sounds like a bunch of promotional hooey to entice the more casual fans who want to see the all-destroying, video-game version of Pac-Man that we were treated to in the De La Hoya, Hatton and Margarito fights. 
Pacquiao looked less than sensational against Mosley, because Mosley spent most of the night running away from him and avoiding trouble. He struggled at times against Juan Manuel Marquez for the same reason he did in their previous two fights: Marquez is freakin' awesome.
If Pacquiao comes back this time and registers another one of his highlight reel beat downs, it will be because Bradley is a hungry young fighter who is going to put himself in positions he is at risk of being hit. It's not going to be because Pac-Man once again flipped some switch he neglected to toggle against Marquez. 
Pacquiao announced he was recommitting himself to his religion last January, but the God-talk really heated up in March, when he told a Filipino radio station that God had told him in a dream he would retire soon. 
Also in March, ESPN reported Pacquiao was facing an investigation for tax fraud in his native Philippines, with possible jail time hanging in the balance. If you were to take Pacquiao's status as a beloved boxing icon out of the picture and evaluate him as a congressman in an extremely corrupt country, you might have trouble not viewing his "religious awakening" cynically.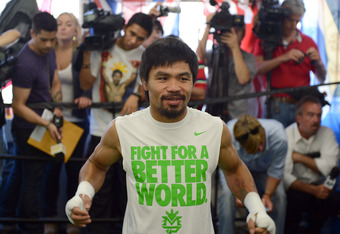 Harry How/Getty Images
Even his promoter Arum cracked to HBO's Jim Lampley during the latest installment of Lampley's new show The Fight Game, "Sometimes I feel like I'm promoting Rick Santorum."
God-talk aside, the really big story coming out of 24/7 has been Freddy Roach's statements calling for the replacement of long-time strength and conditioning guru Alex Ariza. Pacquio downplayed the significance of the rift in an article in the Los Angeles Times. 
In the Times story, Pacquiao reported confidently that since Ariza had been obeying his instructions to read the Bible everyday, the entire situation would successfully work itself out. 
It's hard for me to not view the rift between Roach and Ariza as potentially significant for Pacquiao. The Filipino star's astonishing rise through the weight classes has very much been the product of Ariza's work. 
Other strength and conditioning coaches might have the same knowledge Ariza has, but Ariza is still the guy who got the job done for Pacquiao. Pacquiao seems to be the sort of person who hangs on to those who have become close to him, so I think this is a potential distraction for him.
Roach and Ariza have been more important than anybody else to his professional development. It is impossible to imagine Pacquiao becoming Pacquiao without the help of both men.  
In a sense, Pacquiao enters this fight with more outside distractions than Floyd Mayweather had going into his battle with Cotto last month. Mayweather had a jail term waiting for him, but that also meant his legal problems were resolved.
For Pacquiao, a lot of important matters remain up in the air and unresolved.
At 33, Pacquiao still appears to be well within his physical prime. But mentally, he stopped being a young man long ago. And mental age can catch up to an athlete, too.
The very idea that Pacquiao has attempted to balance a career as a a national legislator with one as an elite, world-class prizefighter is already an epic flirtation with the deadly sin of pride. And he hardly seems to be humbling himself in this new role he has taken on as a self-appointed prophet. 
So as he prepares to face the hungry, talented and undefeated Timothy Bradley, it's natural to wonder if the great Pac-Man hasn't set himself up for one heck of a fall. That would be one narrative that would suggest itself if we were writing all this up as a screenplay. 
But this is a prizefight we are talking about, not a movie. And if Manny Pacquiao didn't have the mental toughness to block out distractions, he never would have succeeded time and again within the brutal reality of the boxing ring.
The outside stories are interesting to talk about and sometimes they can impact what happens between the ropes. But part of being an elite-caliber professional athlete is being able to give the performance you need to give, despite what may be happening in your personal life.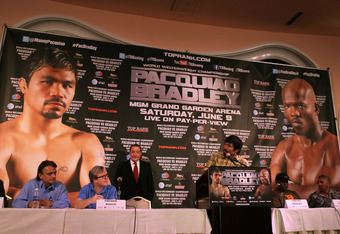 Stephen Dunn/Getty Images
So I'm going to expect Manny Pacquiao and Timothy Bradley will be at their best on June 9. I expect Pacquiao to try to make a quick start, looking to catch his younger challenger while he's still cold and preventing him from ever getting warmed up.
But I expect Bradley to be ready to weather the early storm. I think he will dig in for a battle in the trenches, looking to slow Pacquiao down with a body attack.
Bradley is going to surprise people with his ability to push Pacquiao around. I think he will give up some ground to the quicker and more experienced pound-for-pound king in the early rounds, but once he starts to get comfortable, he will have some success against Pacquiao by making like an octopus, tying him up and taking away a lot of his ability to attack from angles.
This will be Bradley's third straight fight with a southpaw opponent. Devon Alexander, Joel Casomayor and Pacquiao are three very different fighters, but the fact that Bradley has spent so much time in recent years dealing with opponents from the left side will be a rare advantage. 
Pacquiao will have plenty of chances to score on Bradley, and by the later rounds, the damage will have started to add up. With the fight starting to slip away from him late, the superbly conditioned Bradley will remain relentless.
I can see an argument for Pacquiao by late-round TKO. Despite the fact that I expect him to struggle during the fight, he is going to hit Bradley with more hard shots than Bradley will manage to hit him with. If Bradley keeps taking risks as he falls behind, it could cost him big late.
But I expect Bradley to stick around for the duration and make the championship rounds memorable.
In a sense, I see this fight being somewhat similar to the Mayweather-Cotto clash last month: More competitive and hard fought than many expected it to be, if ultimately not extremely close on the cards.  
I see Pacquiao winning 116-111—eight rounds to four, with a 10-8 round coming late.