Prince Fielder and the Detroit Tigers' Biggest Underachievers to Date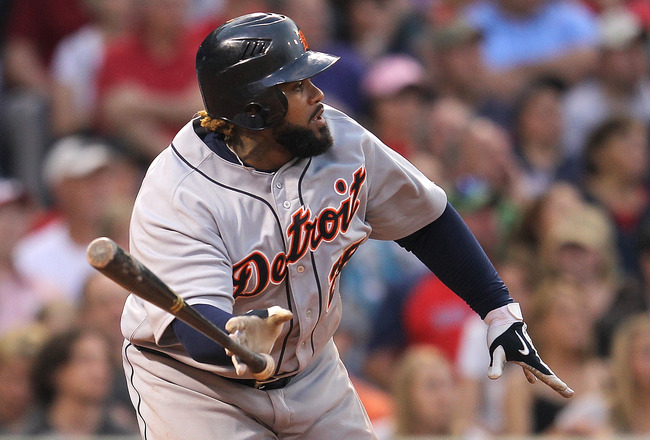 Jim Rogash/Getty Images
Nobody could have expected this poor play out of an otherwise stacked Detroit Tigers team. Something went wrong somewhere, and it is my duty to point out the reasons for the mediocre start.
What has gone wrong? Is it the pitching, the bullpen or the poor hitters? Yes, all of the above.
There is not just one reason the Tigers are searching for answers after the quarter mark of the 2012 season. They made key offseason acquisitions with the veteran reliever Octavio Dotel and superstar first basemen Prince Fielder, but that has not played out like expected.
The Tigers will come around eventually; they are too talented to remain mediocre, but for now, they need answers. Here are the Tigers' biggest underachievers thus far.
The Bullpen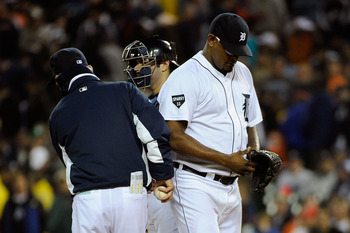 Kevork Djansezian/Getty Images
The bullpen was not supposed to be an issue heading into the 2012 season for the Tigers, but it has been a weak point for the team. Although there have been a few unexpected bright spots in Brayan Villarreal and Duane Below, the mediocrity of the bullpen overshadows them.
When the Tigers had a lead going into the seventh inning and beyond in 2011, they had a solid enough bullpen to almost guarantee a victory. This year, no lead has been safe.
Jose Valverde had a streak of over 50 straight saves going into this season and blew a save in the first series of the year against the Boston Red Sox. He has blown multiple saves this season and is showing signs of aging.
The Tigers have had such bad luck with bullpen pitchers that they have had to send down multiple pitchers to Triple-A Toledo. If this team is going to have any success, the bullpen needs to hold the leads they are given and pitch to win instead of pitching to not lose.
Rick Porcello, SP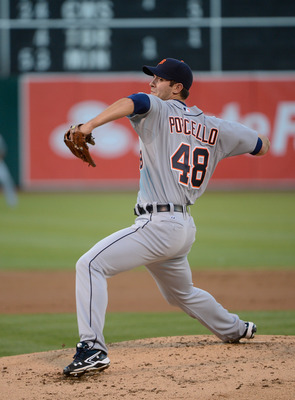 Thearon W. Henderson/Getty Images
This was the year Rick Porcello was supposed to come into his own. He was supposed to rid himself of his two-year slump and pitch like he had in his rookie season.
However, the right-hander has started the year with a 3-4 record and a 5.21 ERA. He has been as inconsistent this year as he has in any other campaign in his four-year career.
He started the 2012 season with a few solid starts, and then, his inconsistency showed. If he doesn't play to his potential this year, he could find himself wearing a different jersey in 2013.
Max Scherzer, SP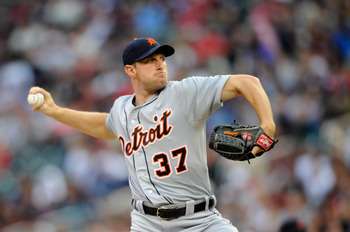 Hannah Foslien/Getty Images
Even more disappointing than Rick Porcello is fellow starting pitcher Max Scherzer. When the Tigers acquired him in a trade in 2010, they expected big things out of the young pitcher.
His first year with the team was a success, piling up 12 wins and an impressive 3.50 ERA. Scherzer is a strikeout machine, but that doesn't fix his home run problem. The right-hander has given up 10 home runs this season and has location issues.
He sometimes tries to over-pitch, meaning he tries too hard to not walk batters that he leaves pitches up and over the heart of the plate. And this is the reason he gives up so many home runs.
The Tigers need Scherzer and the back of the rotation to become more consistent and give the bullpen more of a chance at success.
Ryan Raburn, 2B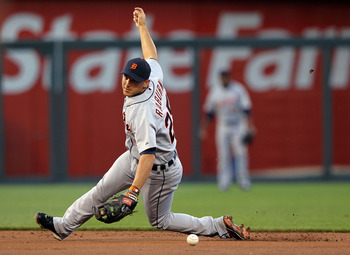 Jamie Squire/Getty Images
Ryan Raburn is a no-brainer choice for one of the Tigers' biggest disappointments in the 2012 season.
He started the year playing everyday at second base and saw his average decline game after game. His average hovered around .150 for most of the season before he was sent to Triple-A Toledo this week.
Raburn has been notorious for his slow starts each season, but this year was extra sluggish for the second baseman. He has also been known for his hot second-half surges, so if he can make his way back to the big leagues, Raburn will need to earn his keep and prove himself as a hitter.
Alex Avila, C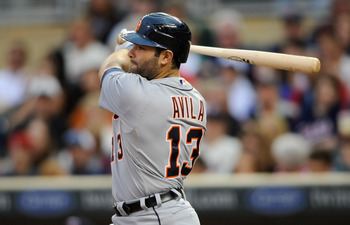 Hannah Foslien/Getty Images
Alex Avila is one of the best young catchers in all of baseball, but he's not showing it this year. He made his first All-Star team last season as a starter and became an instant fan favorite in Detroit.
He has shown he can play every day at the position, but he seemed to be worn down at the end of the 2011 season. The Tigers went out and picked up the former-Tiger Gerald Laird to help ease the workload of Avila, however, this has not been an easy fix.
Avila is hitting around .250 this year after a solid start to the season and has had strikeout problems. If Avila hits to his potential, this Tigers' squad will have no trouble making it to the postseason.
Middle of the Lineup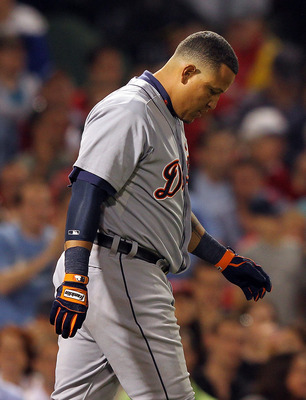 Jim Rogash/Getty Images
The addition of Prince Fielder in the offseason looked to be the move that catapulted the Tigers into World Series favorites. The move has not been a loss so far this year, but the superstar has yet to show the home run prowess we all heard about and witnessed during the beginning of his career.
Fielder is hitting over .300, however, something that he has not done for an entire season throughout his whole career. These numbers are somewhat deceiving, because it seems neither him nor Miguel Cabrera have been able to deliver in the clutch like they are being paid to do.
Cabrera is also hitting over .300 to go along with over 40 RBI, but the two superstars have not been able to come up with the big hit when needed. Most of the home runs hit by these batters have been solo home runs, which isn't a terrible thing but is never ideal. This means they aren't getting on base enough.
In order for the Tigers to have success this year, these two batters need to take more pitchers and get on base more. They are over-swinging and trying to knock the ball out of the park on every pitch. They need to wait for the right pitch and take advantage of mistakes. If they do this, pitchers will fear this Detroit team.
Delmon Young, DH/LF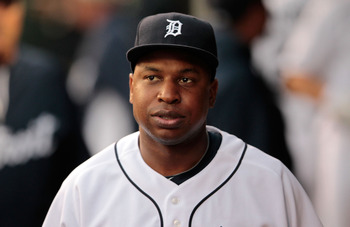 Leon Halip/Getty Images
Delmon Young has had his fair share of problems both on and off the field. The Tigers acquired him toward the end of last season, hoping to add a big bat in the middle of their lineup. They got that along with some extra baggage.
Young is the younger brother of former Tiger Dimitri Young, but Delmon may be the more talented of the two. If he could just channel his anger into the game instead of bringing it off the field, he would live up to the hype that he had coming into the big leagues as the No. 1 draft pick years ago.
Young had a run-in at a bar during the New York road trip earlier this season, and he got into a confrontation with a New York fan. He ended up in jail and was suspended by the league for five days. He was sluggish after he came back from suspension but has been playing solid as of late.
If Young can keep playing like he has been for the past two weeks, he will remove his name from the list of underachievers that he currently finds himself on.
Brennan Boesch, RF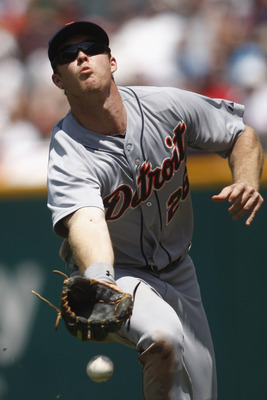 John Grieshop/Getty Images
Currently in his third season with Detroit, Brennan Boesch finds himself in a continuous slump he isn't accustomed to.
He has been known to hit a couple slumps every year, but they last only a week or two. Then he finds a way to get hot and stay hot. He is batting a mediocre .238 with five home runs and 18 RBI at this point.
He has yet to have a hot streak, and he is due. So far this season, however, Boesch has been a major disappointment. He was supposed to have a huge 2012 campaign batting second in the lineup in front of Cabrera and Fielder, but he did not take advantage of the protection he had in the order.
Boesch will get hot, it's just a matter of time. For now, though, the young outfielder has to learn how to deal with such a long slump and not get down on himself, which he has seemed to do for the first two months of the season. He needs to slow the game down and wait for the fastball that he loves and get himself back on track. It's just a matter of time.
Jim Leyland, Manager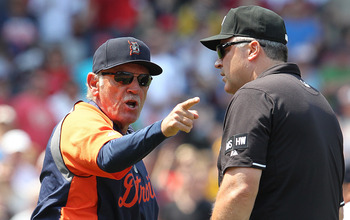 Jim Rogash/Getty Images
Jim Leyland has been receiving much of the criticism for his team's poor play through the first two months of the season, which is fair to an extent.
Yes, the manager has had his fair share of questionable coaching decisions, but his team is getting paid to do one thing: Win.
A major league manager can only do so much coaching. He is dealing with grown men who have been playing this game for their entire life. There is no reason his team should be playing as poorly as they are to this point with their talent and potential.
With that said, Leyland needs to be a motivator, and he needs to be able to utilize the talent and potential he's been given. He has had a rough start to the year, but it is partially his own fault.
There have been many games the Tigers' starting pitchers have been dominating and Leyland takes them out when they have so much left in their tank. He played Raburn day after day during his wretched start to the season, because he thought that would be best for the struggling player instead of sending him to Triple-A to learn. He makes defensive substitutions late in games that take some of his best hitters out at crucial points.
Let's face it, Leyland is a solid manager, but he needs to be a better leader and motivator. He needs his team behind him no matter how poor the play is.
Saying "we suck" isn't going to make your players play better for you; it will only develop a sense of resentment and lack of respect. Leyland needs to motivate instead of frustrate. That's the key.
Keep Reading

Detroit Tigers: Like this team?