NHL Trade Speculation: Realistic Deals That Could Revamp the Sharks
May 31, 2012

Gregory Shamus/Getty Images
There is no doubt that San Jose Sharks General Manager Doug Wilson will be busy this offseason. He is sitting squarely on the hot seat, and needs to make his team significantly better to keep his job.
Of course, making a team better is much easier in the imaginations of fans than it is in the reality of the NHL. For every 50 trades that sound great, only one may actually make complete sense. 
It's not just about getting a deal you like on paper: it's about giving the other team a deal they like on paper. It's about working a trade you can afford: it's about working a trade they want to pay for. It's about not only presenting a worthy offer, but presenting an offer better than the other team's alternatives, which could be other trades, other free agents or even standing pat.
So, without knowing what NHL GMs are thinking, what players are on the table and what the price to acquire those players is, how can we even speculate? I am going to attempt to do so by analyzing three potential trades for San Jose while devoting just as much attention to the other team's motivations as I do to those of the Sharks.
I will be looking at one minor deal that could help right the ship, one medium deal that could significantly improve the team now and in the future and one major deal that could change the course of the San Jose franchise.
Minor Deal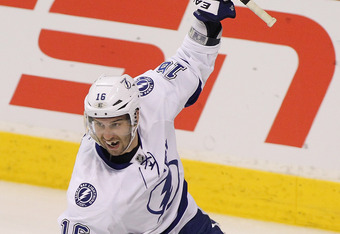 Marianne Helm/Getty Images
Sharks get: Teddy Purcell
Lightning get: Douglas Murray, Alex Stalock

The Tampa Bay Lightning are a team desperately trying to get better defensively and in net. Douglas Murray would provide them with a quality stay-at-home defenseman and much needed size on the back end, while Stalock would likely be one of a couple young goaltenders Tampa Bay needs to go after this offseason. 
While Purcell is a good young winger, the Lightning won't be able to resign him as a UFA next summer with so many other high-priced forwards under contract.
This trade makes obvious sense for San Jose. They shed the stagnant Douglas Murray and move one of their many good young goalies. Murray will be replaced in free agency or in another trade, while Thomas Greiss, Harri Sateri and Tyson Sexsmith make Stalock expendable. 
That's a minimal price to pay for a promising 26-year-old winger who could join the Sharks top line. Malone would allow San Jose to either move Joe Pavelski back down to the third line or free Doug Wilson up to trade other top-six forwards.
Financially the trade checks out, as Purcell has a cap hit only slightly bigger than Murray's.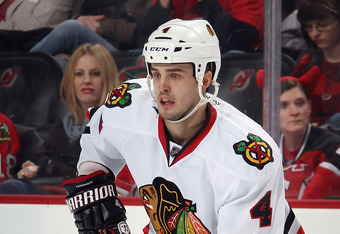 Bruce Bennett/Getty Images
Medium Deal
Sharks get: Niklas Hjalmarsson, Brandan Saad
Blackhawks get: Ryane Clowe, Michael Handzus
After last season's struggles and their playoff loss to Phoenix, the Blackhawks realized they need to get more physical and better defensively, especially among their forwards. Bringing in Ryane Clowe would give them exactly what they need—size, defense and grit up front—while also bolstering their top six offensively. 
Michael Handzus is one of the league's better faceoff men and defensive third-line centers, and would likely improve Chicago's weak penalty kill. 
Even after trading Hjalmarsson, Chicago would have three capable defenseman competing for a third-pairing spot. Brandan Saad is a quality wing prospect, but with Patrick Kane, Andrew Shaw, Viktor Stalberg, Ryane Clowe, Patrick Sharp and Marian Hossa, Saad is expendable.
The Sharks would acquire a player they've been high on for years now in Hjalmarsson. Niklas would be the stay-at-home third-pairing defenseman San Jose has been dreaming of, and could induce a breakout season from offensively skilled partner Justin Braun.
Brandan Saad would be huge dropoff from Ryane Clowe in current ability—and in age. Saad is 19, or 10 years younger than Clowe. Assuming the Sharks bring in a top-six winger via trade or free agency, Clowe is expendable, and getting younger would be better than getting better.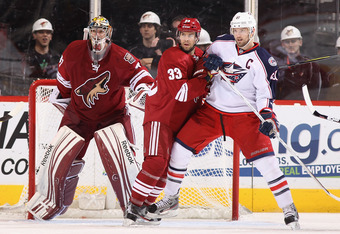 Christian Petersen/Getty Images
With Dominic Moore, Andrew Desjardins, Joe Pavelski, Logan Couture and Joe Thornton, the Sharks don't need another center, especially one with Handzus' contract.
The Hawks would take on about $2 M in salary, but would be adding two definite starters for one.
Major Deal
Sharks get: Rick Nash
Blue Jackets get: Antti Niemi, Ryane Clowe, Jason Demers

The Blue Jackets have four main goals this offseason: improve their goaltending, improve their forwards, improve their defense and get young players. And while Jason Demers would improve their defense marginally at best, the other three categories would all be met.
Antti Niemi would give the Jackets the best goaltender they've ever had, by far. Ryane Clowe would give them essentially a poor man's Rick Nash, but possibly a better leader than Nash. Demers would give them a young defenseman who would improve their third pairing.
The Jackets want more than this for Nash—they want a franchise goalie and a potential franchise forward—but they simply aren't going to get it. The closest they can come to that—getting a franchise goalie and a potential captain and top-line winger—is in this trade, and it would be smart of them to pull the trigger.
For San Jose, the trade is risky: They weren't a championship team with Dany Heatley, why would they be with Rick Nash minus Clowe and Niemi/Evgeni Nabokov? Well, they might not be.
However, there is reason to believe they could be.
Nash brings more to a team than Dany Heatley. Yes, both are big power forwards who are equally elite snipers as they are front-of-the-net scorers. Nash, however, brings more speed, more defense and more grittiness than Heatley does. Also, at 27 years old, Nash has several dominant years ahead of him, whereas Heatley's decline began during his second year in San Jose.
The Sharks have many young goaltenders—especially Thomas Greiss—who could replace Antti Niemi. Whether they become as good, better or worse than Niemi remains to be seen, but odds are that Greiss or one of the other young goalies will be able to win behind the team that the Sharks will become should Nash work out.
Ryane Clowe has been a big piece of the Sharks for years, but after a disappointing season it's unclear if he'll ever be the captain he once looked destined to become. At age 29, his value is higher now than it will be moving forward.
The Jackets would take on almost $1 M in cap space, which would be quite good considering they'd be adding three starters—and two core players—for one.