Colorado Rockies Jamie Moyer Shouldn't Hang Up His Spikes Just Yet
May 31, 2012

Justin Edmonds/Getty Images
Everybody, let's stop what we're all doing and give Jamie Moyer a hand. He may be older than dirt, but his big league career has spanned 25 seasons and he's played pro ball in four different decades.
Very few players in Major League Baseball history managed to stick around as long as Moyer has managed to stick around.
All players should be so lucky.
Alas, this could finally be the end for Moyer. The Colorado Rockies designated him for assignment on Wednesday. They now have 10 days to trade or release him. Instead of seeing the process through, he could just decide to finally walk away from the game.
Not so fast. Moyer sounded open to the idea of continuing to pitch this season.
"I do believe so," said Moyer, 49, when he was asked if he believes he can still pitch, according to the Associated Press.
"When you talk to any pitchers, consistency is the most important thing," he said. "I haven't had that to this point. But I know I can find that."
That's the spirit. Moyer's been doing this pitching thing since the dawn of time (if time began in 1986, anyway). Of course he can still pitch.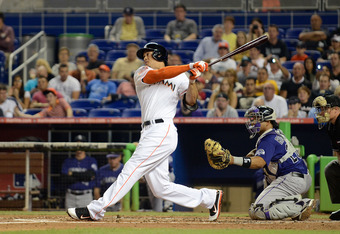 Sarah Glenn/Getty Images
The numbers suggest otherwise, though. In 10 starts, Moyer had a 5.70 ERA and opponents hit .328 against him with a .546 slugging percentage. He gave up 11 home runs in 53.2 innings pitched.
But believe it or not, there are some positives to take away from Moyer's 10 starts with the Rockies.
For starters, he had a highly respectable 3.72 ERA in five starts at Coors Field, one of the most notorious hitters parks in baseball. He did have a 1.69 WHIP in those five starts, according to FanGraphs, but he helped himself by posting a solid 72.1 LOB (left on base) percentage.
You can call that luck if you want, but the numbers actually suggest that Moyer suffered from mostly bad luck this season.
Moyer had a BABIP of .342 in 10 starts with the Rockies, and a figure like that is a little too high. Moyer did give up some hard-hit balls, but he also had a solid 42.6 ground-ball rate and an 11.0 infield fly-ball rate. He also had a surprisingly high 8.7 swinging strike percentage.
Numbers like those suggest he can still keep hitters off-balance.
Moyer obviously isn't going to be a dominant pitcher again anytime soon—but the dude can still pitch. You know as well as I do that there are several teams around the league that could use a dude like that.
The Minnesota Twins, for example, have had to suffer through the worst starting pitching in the majors this season, and they're grasping for answers every week. This is a team that could give Moyer a look, and he's a guy who could do well at Target Field.
The San Diego Padres also have pitching problems. If Moyer can hold his own at Coors Field, it stands to reason he'd be even more effective pitching at Petco Park.
The Kansas City Royals, Baltimore Orioles, Chicago Cubs and Milwaukee Brewers all need pitching help as well, and Moyer would be a downgrade for none of them. Just sayin'.
The notion that Moyer will pitch again after getting cut by a dreadful team like the Rockies may sound improbable, but keep in mind that we're talking about a 49-year-old man who is less than two years removed from Tommy John surgery.
Moyer specializes in the improbable.
He's an odds-defyer, that Jamie Moyer. If he was like any other pitcher, his career would have been over years ago.
But he is unlike any other pitcher; the only thing all the others have that Moyer doesn't is a job. 
If he wants one, he should get one.
If you want to talk baseball, hit me up on Twitter.