Stanley Cup Finals 2012: Stats and Trends Following Game 1 of Kings-Devils
June 1, 2012

Elsa/Getty Images
The New Jersey Devils are behind by one game to the Los Angeles Kings in the 2012 Stanley Cup Finals, following Wednesday's 2-1 loss in overtime at the Prudential Center after Anze Kopitar's breakaway goal against Martin Brodeur.
Not to worry—or maybe there's reason to worry—depending on what numbers you consider.
Including Wednesday, there have now been 48 one-goal games played in this year's playoffs.
The Kings are now 2-4 all-time in Stanley Cup Final play. They won Game 1 of their 1993 series at Montreal, but lost the next four games (three in OT) as the Canadiens won the cup.
The Kings have now won nine consecutive road games in the playoffs this year alone (like everyone following hockey doesn't know this), and 11 straight away contests dating back to 2011. By comparison, the year the Devils won their first cup (1995), they went 10-1 away from home. New Jersey is now 6-3 at The Rock so far this spring.
The Kings are now 3-0 in OT in the 2012 playoffs, while the Devils are now 4-2 in sudden death and 18-27 all-time in playoff OTs.
Furthermore, the Kings are now 13-2 overall this spring (all with Jonathan Quick in net) while the Devils have gone 12-7, with Brodeur recording every decision except one (a loss to Florida in which he was pulled).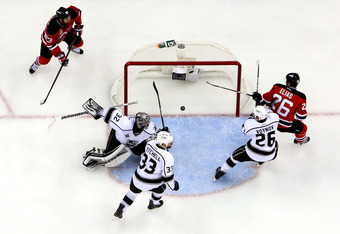 Jim McIsaac/Getty Images
The Devils are now 15-10 all-time in the finals. The only other time they lost the first game of the final was in 2001, when they dropped a 5-0 decision at Colorado. The Avalanche went on to win in seven games. On the other occasions, the Devils won at Detroit (1995), against Dallas (2000) and against Anaheim (2003) to open the championship round, ultimately winning in four, six and seven games, respectively.
The Devils have now trailed at some point in each one of their series this spring. They were down 2-1 and 3-2 to Florida before winning two straight overtime games, trailed Philadelphia 1-0 before winning four in a a row and were behind the New York Rangers by both 1-0 and 2-1 counts before reeling off three consecutive victories.
The Devils are now 4-4 all-time in the final against teams from California, and 8-5 in final-round games played in New Jersey.
What do all of these numbers mean for Game 2? Pretty much nothing, actually.
The result will come down to who plays better, makes less mistakes and capitalizes on opportunities when they arise in what is likely to be a very tight series.
We'll see what happens on Saturday night in Newark.