Texas Football: 4 Freshmen Who Will Make the Biggest Impact Next Year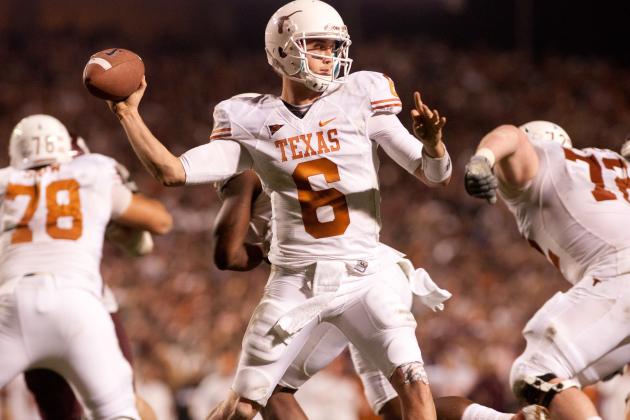 Darren Carroll/Getty Images

Heading into the summer, the Texas Longhorns have plenty to be excited about after going 8-5 in 2011. This will be year two under new coordinators Bryan Harsin and Manny Diaz, head coach Mack Brown seems revitalized and likely starting quarterback David Ash looked great all spring after his performance in the Holiday Bowl against Cal.
However, the real storyline that has fans and coaches alike buzzing is the arrival of this season's top-5 crop of freshmen, highlighted by record-breaking RB Johnathan Gray. Combined with 16 total starters returning from last season's bounce-back team, 2012's third-ranked recruiting class should help vault the Longhorns back among the best in the country.
Here are the members of this class that will have the biggest impact on the upcoming season.
Begin Slideshow

»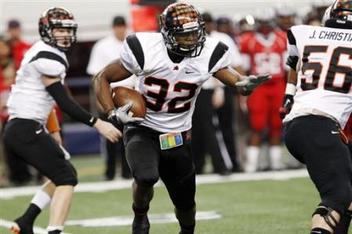 Source: AP Photo/Mike Fuentes
Already a household name, 2011's Gatorade National Player of the Year Johnathan Gray is already being hailed as the next great running back in Texas Longhorns history. And it's easy to tell why.
Gray is the total package at the running back position, as evidenced by his national record 205 career touchdowns. He can run inside or outside, burn you with speed or bowl you over, throw the big block or catch it out of the backfield; he simply does it all.
With Joe Bergeron and reigning Big 12 Offensive Newcomer of the Year Malcolm Brown, Gray is the final piece of what figures to be one of the most potent backfields in the entire country. Since Gray will be playing with two other very talented backs, it is unfair to expect him to have an Adrian Peterson-type freshman season for the Horns, and he probably will not see a lion's share of the hand-offs from the onset. However, Gray is definitely going to see touches and is the early favorite to be named Big 12 Freshman of the Year.
Early on, Gray will probably see fewer carries than his counterparts and will be used in whatever manner best suits his strengths in order to build his confidence and comfort with the college game. As the season wears on, expect to see him play more of a central role in the offense and has already discussed the possibility of running the Wildhorn with co-offensive coordinator Major Applewhite. He may not be the star from Day 1, but Gray is going to be a featured piece of this re-tooled offense.
Not to be confused with his namesake on the opposite of the ball, incoming freshman DT Malcom Brown was the biggest 2012 get for the Longhorns this side of Johnathan Gray.
Coming in at 6'2" and 285 lbs., Brown is surprisingly quick for the tackle position and makes his living in opposing backfields, combining that quickness with great lower-body strength. Brown will need to add some upper-body strength before the season, but he gets low and has an extremely high motor. How high a motor? High enough to run down a wide receiver that is 25 yards downfield (via YouTube).
Though Brown is extremely talented and is highly regarded by his coaches, he is not likely to start right away for the Horns. Luckily for him, he plays for the depth-loving Manny Diaz and will see plenty of time in a situational pass-rusher role similar to those played by Chris Whaley and Desmond Jackson in 2011. With his combination of size and speed at the tackle position, Brown figures to make an immediate impact and will quickly find his way into the nightmares of opposing offensive linemen and coordinators alike.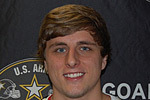 With ultra-clutch kicker Justin Tucker having graduated, the Longhorns need a new kicker. And after hopefuls William Russ and Ben Pruitt struggled all spring, freshman Nick Jordan seems most likely to step in as the starter.
Last summer, Jordan kicked a 60-yard field goal at the Texas summer camp, so we know he has the leg to replace Tucker for both field goal and kickoff duties. He is not near as good of a punter as he is a kicker, and Mack Brown told ESPN that it is unlikely Jordan will be asked to fill that duty as well.
If Jordan does end up holding onto the kicking job, and he seems poised to take over, he had better be ready to play as big as his leg. Last season, the Longhorns ranked 107th in the red zone with mostly the same passing attack as they will have in 2012, meaning Jordan will be needed to score points when the offense cannot get the ball in the end zone.
Texas also figures to play some very close games this season both because it has improved and it will not put up the offensive numbers teams like Oregon will, so it is likely Jordan will kick field goals that mean the difference between a win and a loss.
After Fozzy Whittaker went down last season, the Longhorns not only lost a team leader, they lost their best kick returner and someone that could effectively run the Wildhorn. All-purpose player Daje Johnson may not be a team leader, but he can certainly fill the void in the return game and spearhead Bryan Harsin's version of the Wildcat.
With sub-4.4 speed and great vision, the former TCU commit Johnson is flat out fun to watch. Based on pure speed and the ability to makes defenders miss without slowing down, the coaches will have a hard time finding reasons to keep him on the sideline. And if that is not enough, Johnson is versatile enough to play cornerback should the offense not be able to find a use for him.
At this point, the bet is that the coaching staff is not about to let Johnson and his speed go to waste this season. Carter Strickland at ESPN reports that the coaches do not want to wear out every-down players like CB Quandre Diggs in the return game, making Johnson the logical choice to at least platoon with senior D.J. Monroe. It is thought by many that Johnson would have been slated to run the Wildcat should he have attended TCU, so you have to believe that the Horns will also take a look at him to fill Whittaker's spot from last season. Finally, Johnson should also find a role in the backfield taking handoffs to the outside and catching balls at both skill positions.
Summarily, Johnson is too fast and has too diverse of a skill-set for the coaching staff not to find somewhere for him to make a difference. And expect him to deliver.