Timothy Bradley Could Suffer Same Fate as Hatton at the Hands of Manny Pacquiao
June 1, 2012
Stephen Dunn/Getty Images
Timothy Bradley could suffer the same fate as Ricky Hatton when Manny Pacquiao completely destroyed the British star in 2009 for a short-lived main event that stunned thousands at the MGM Grand Garden Arena in Las Vegas, Nev.
In front of about 16,000 people inside the MGM Grand, Pacquiao knocked down Hatton with a solid right hook for the first time in the first round and knocked him down again in the second round with his lethal left for the KO win.
Critics are saying Bradley's fighting style is similar to Hatton's, as they are both offensive fighters. Bradley, like Hatton is a "come-forward" fighter and they say Pacquiao knows how to deal with their individual styles.
Gerry Penalosa, a two-time world titlist, said Bradley is tailor-made for Pacquiao. He explained Pacquiao is familiar with Bradley's fighting style, having fought Hatton and few of his past opponents who have the same fighting stance.
"Manny's left straight will come straight into Bradley's face," Penalosa said. "There is no reason for Bradley not to be knocked out," he added.
Unless Bradley changes his usual fighting stance, he will suffer the same fate as Hatton and David Diaz, who were past KO victims of Pacquiao.
But a boxer's fighting style is hard to change, as he has been used to it since the beginning of his boxing career. Experts say they can be changed but it would take years before they can polish the changes in their stance.
A case in point is Manny Pacquiao, who had to polish his right hand to make it as strong as his left. It took his trainer, Freddie Roach, very long to make the necessary changes.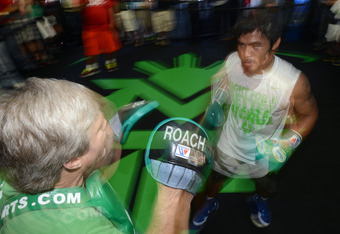 Harry How/Getty Images
Roach's efforts were rewarded when Pacquiao used his right hand to knock down Hatton for the first time in 2009.
It is doubtful Bradley can make the changes overnight in order to evade Pacquiao's speed and power. And if he confronts Pacquiao with his usual fighting stance, he will suffer the same fate as Hatton did three years ago.
Roach, who shares Penalosa's assessment, said Bradley will likely force a fight, owing to his offensive, "come-forward" style.
"The way Bradley is going to come forward and force a fight, we're going to see a great Pacquiao," Roach said. "Bradley's a tough guy, very resilient. But being a tough guy doesn't win fights."
"Manny's very happy and when he's happy, it spells disaster to whom he is fighting," Roach assessed even as he admitted Bradley's durability and toughness. "This is a fight between one guy who is strong against one guy who is fast." 
Pacquiao is set to face unbeaten Bradley on June 9 at the MGM Grand Garden Arena, in Las Vegas, Nev. At stake is Pacquiao's WBO welterweight title.