St. Louis Rams: Thursday's News and Notes at Noon
May 31, 2012

Dilip Vishwanat/Getty Images
Welcome to Thursday's addition of Rams News and Notes at Noon. I'm filling in for Shane Gray today, so I'll keep it short and sweet as I update you on all the happenings of our St. Louis Rams. 
Todd Hewitt Please Go Away
Remember when former Rams coach Steve Spagnuolo fired the team's longtime equipment manager, Todd Hewitt, and it resulted in the disgruntled employee publicly chastising the Rams through the media? 
The fans were generally upset over the firing of a longtime employee, but Hewitt's constant complaining and inability to let bygones be bygones resulted in him losing the support of the fans. The fans just got annoyed after a while. 
Well, he's back in the news. This time he had the brilliant idea of filing an age discrimination lawsuit against the Rams.
"During the time that Mr. Spagnuolo was the head coach for the Rams, he made statements to Mr. Hewitt about his age, including in 2009, when he told him he was too old for his job... Mr. Spagnuolo also told Mr. Hewitt that his employment was 'NFL' which means 'Not For Long' employment."  
The NFL is cruel and offers very little job security. It's just the nature of the business. So after the courts conclude that Hewitt's claims are absurd, would it be too much to ask for him to finally shut up and go away?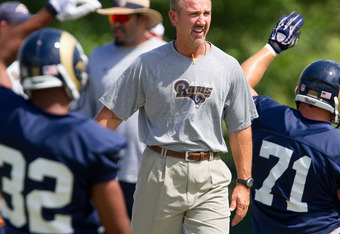 Dilip Vishwanat/Getty Images
Todd, no one cares anymore. Really. Get over it. 
In fact, since Spagnuolo is gone, Hewitt probably could have had his old job back by now, but there's no way Jeff Fisher would be willing to hire the biggest drama queen to ever be employed by the NFL. 
Rams Receivers Helping Kids Eat Right
At the YMCA in St. Louis, the Rams have started Rams ReciPEs as part of the NFL Play 60 program. 
The program promotes healthy lifestyles among today's youth and teaches them the importance of nutrition. 
According to the official Rams website, second-year wide receivers Greg Salas and Austin Pettis teamed up with the mascot and led snack preparation activities with the children. 
Here's what Pettis had to say:
"Even at the age that I'm at right now, a little older than them, I can just tell how much eating good effects your body... Whether it is school or work, food is definitely a main factor. When you don't eat [right] you can feel a difference, when you eat good you can definitely tell the positives."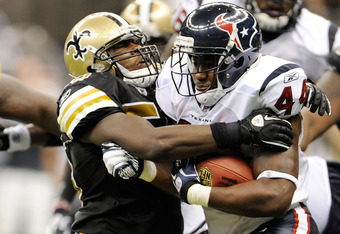 Stacy Revere/Getty Images
Rams Linebacker Jo-Lonn Dunbar Excited For New Opportunity
The 2011 season was linebacker Jo-Lonn Dunbar's first season as a full-time starter, but the Saints still felt he was expendable. 
New Orleans allowed Dunbar to enter free agency during the offseason, which resulted in Dunbar signing a two-year deal with the Rams worth $3.05 million. 
Now, according to an article by Nick Wagoner of StLouisRams.com, Dunbar is excited for the opportunity to continue on as a starter with St. Louis. 
"I had a great opportunity to come here and have a position to play and start and make an impact on a defense so I thought it was the best opportunity and that's why I took it."
Dunbar also claimed that the coaching staff was a factor in his decision to come to St. Louis. 
"I had heard a lot of good things about coach Fisher from coaches and players... He's a no nonsense kind of guy and he gets out there and gives his players an opportunity to play with a little bit of a free spirit so that's something that definitely attracts me. If you can be under that type of tutelage, that kind of attracts you as a player."
Dunbar is expected to immediately start at weak-side linebacker alongside James Laurinaitis. 
A Closer Look at DT Michael Brockers
If you're interesting in learning more about defensive tackle Michael Brockers, then I urge you take a look at Turf Show Times' in-depth scouting report.
The report breaks down game film and takes you through the X's and O's. It's a very well-written and informative piece on the Rams' first-round draft pick.
Power Ranking the Positions of the NFC West
Finally, I'll end today by pointing you towards one of my own articles.
This article power ranks every position and determines which NFC West team is strongest in each category.
It determines which team has the top quarterback, tight end, offensive line, wide receivers, running back, pass defense and run defense, which should give you an idea of where the Rams stand this season.