Ohio State Football: Buckeyes Cancel Series Against Georgia Thanks to Pac-12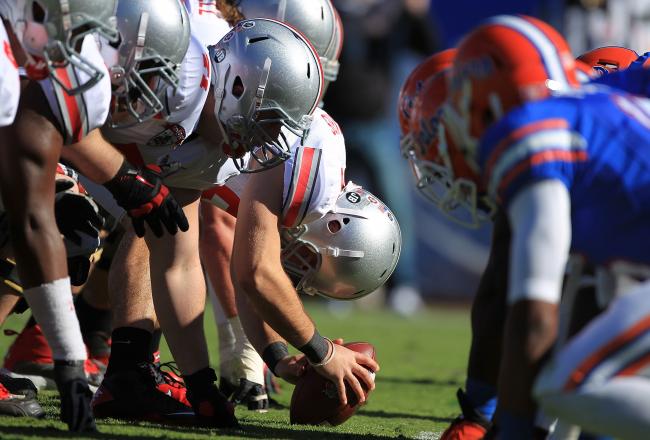 Hey, it's Ohio State lining up against an SEC team. Don't get used to this.
Scott Halleran/Getty Images
Ohio State fans looking forward to non-conference dates against SEC opponents have not had a great last few months. As the Big Ten has worked towards implementation of its partnership with the Pac-12, there has been some work done to its schools' schedules.
Of course, by getting the schedules ready, what's really going on is that they're getting gutted, and the latest victim is Georgia. Or at least a series with Georgia. Here's more from the Atlanta Journal-Constitution's Twitter feed: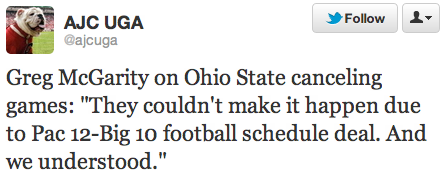 If this sounds familiar, it ought to. As Marcus Hartman reminds us on Twitter, this isn't Ohio State's first cancellation of a post-2017 SEC series:

Unfortunately, this is the inescapable result of the Big Ten's partnership with the Pac-12. As long as there is little incentive for scheduling difficult games and great financial incentive for loading the non-conference slate with home games (and thus, teams that will accept not getting a home game in return), there will always be a pervasive mindset that one difficult non-conference game is enough.
Or, more accurately, two difficult non-conference games is too many.
In effect, Ohio State has made a trade: the Pac-12 for the SEC. Certainly, the Buckeyes will play a marquee foe those years instead—Larry Scott and Jim Delany know exquisitely well where their bread is buttered, after all—but repeating this process 11 more times for the rest of the conference is going to be disheartening.
The Big Ten has not enriched its non-conference schedules with this partnership; it has just given the vast majority of the big games to the Pac-12.
That's no fun, especially for fans.
This article is
What is the duplicate article?
Why is this article offensive?
Where is this article plagiarized from?
Why is this article poorly edited?