Philadelphia Flyers: Carter, Richards Trades the Right Move Even If LA Wins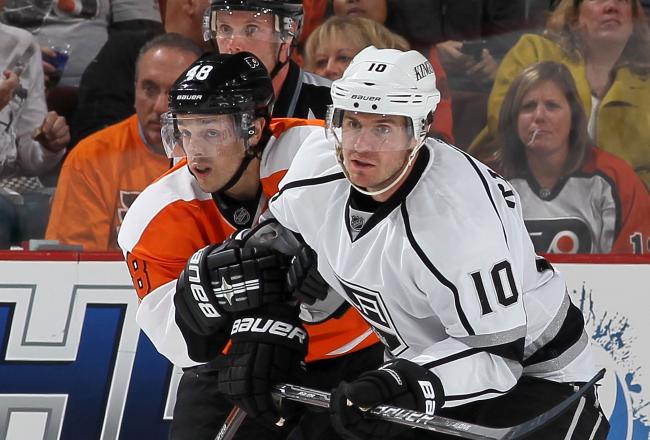 Jim McIsaac/Getty Images
The Los Angeles Kings are three wins away from capturing the Stanley Cup, and hockey fans in Philadelphia have mixed feelings on LA's success.
The normally simple mantra of "Beat the Devils" is made more complicated by the knowledge that, if the Kings succeed, they will do so largely thanks to Mike Richards and Jeff Carter, two players who were still wearing the Orange and Black this time last season.
In June, Flyers' GM Paul Holmgren made two blockbuster trades in a matter of half an hour, first sending Carter to the Columbus Blue Jackets in exchange for Jakub Voracek and the eighth pick in the 2011 NHL Entry Draft (Carter would later be dealt to LA before the trade deadline), and then sending captain Mike Richards to Los Angeles in exchange for power forward Wayne Simmonds and prospect Brayden Schenn.
The bold moves made hockey the talk of the town even during the summer, as a Philadelphia team that was only a year removed from a Stanley Cup appearance suddenly appeared to be "rebuilding."
The reason for the trades is complicated and still not entirely clear. Explanations range from locker room rifts to the stars' hard-partying ways, to a financial move that allowed the team to sign goaltender Ilya Bryzgalov to a nine-year, $51 million contract. Fans and media members can debate the cause of the moves to death.
What is not debatable is that the trades have worked out for the Kings, who seemed to be a significant role player or two away from being a major Cup contender. The fact that hockey is still being played in LA as we approach June is clear-cut evidence that the Kings got their men.
But does that mean Holmgren made the wrong call?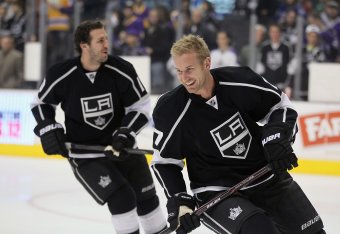 Jeff Gross/Getty Images
In sports circles, we tend to think of trades the way we think of games: There must be a winner, and there must be a loser.
Often, this is true. Flyers fans know this. The team won a 2007 trade with the Atlanta Thrashers that brought Braydon Coburn to the franchise in exchange for washed up blueliner Alexei Zhitnik.
Philly likewise won another trade that year, when Holmgren turned injury-plagued veteran Peter Forsberg into Scottie Upshall, Ryan Parent and a first-round draft pick, then traded that pick back to the Nashville Predators for the rights to Kimmo Timonen and Scott Hartnell.
However, whether or not a team "wins" a trade is not determined by which franchise involved immediately fares better.
Trades are made because each team has a need to address and assets that are, in some way or another, expendable.
For LA, the desire to trade for Richards (and later, Carter) was simple: big-time offensive role players were needed on a highly defensive team whose forwards and inexperience were weaknesses.
For Philadelphia, things were much more complicated.
Holmgren has built his teams since 2006 by putting his faith in players and signing them to long-term deals.
The upside to this methodology is that important players have long tenures with the team. The downside is that it leaves little room under the salary cap to address needs when they arise.
If Paul Homlgren could take back the Richards and Carter trades, would you want him to?
Both Carter and Richards were about to see long extensions with no-trade clauses go into effect, tying the hands of a GM who already had money wrapped up in Chris Pronger, Kimmo Timonen, Scott Hartnell and Danny Briere. Signing important free agents and keeping players like James van Riemsdyk and Braydon Coburn on the roster was going to be a monumental task.
Money was not the only factor. Regardless of how much truth there is in the rumors of discontent in the locker room due to Richards and Carter, the Flyers seemed displeased with the way their captain handled the media, particularly given that veteran Chris Pronger seemed like the most natural leader in the room.
Richards had been given the captaincy a season before Pronger joined the team. Had the franchise delayed anointing Richards captain, Pronger likely would have been bestowed with the honor instead.
Perhaps the Flyers sensed that they were on the verge of finding themselves in a six-year power struggle while Richards and Pronger remained signed to the same team.
Further complicating Holmgren's job was the fact that he appeared to have an up-and-coming superstar in Claude Giroux. Carter and Richards are both fine players to build an offensive core around, but Giroux appeared to have the work ethic, tenacity and passion that would make him an ideal superstar in Philly.
The presence of Richards and Carter would not only stifle Giroux's growth, but also make it difficult to sign the star as a lifelong Flyer.
Holmgren not only eliminated tension in the locker room and gave himself room to sign players with big potential, but he also got a return that enabled him to build an offense around Giroux.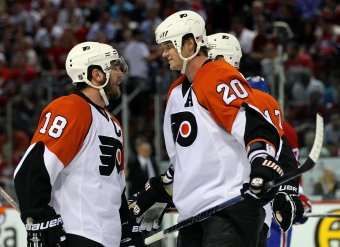 Jim McIsaac/Getty Images
Acquiring Wayne Simmonds gave Philadelphia one of the grittiest young power forwards in the league. They picked up a speed demon and master puck handler in Jakub Voracek. They acquired a top prospect with two-way ability and genuine toughness in Brayden Schenn, and the first-round pick the Flyers got from Columbus turned into the steal of the 2011 NHL Entry Draft, Sean Couturier.
All four of these players, plus Giroux and Van Riemsdyk, were under 24 when Carter and Richards were traded last June. Philadelphia had one of the youngest offensive units in the league, and still finished with the NHL's third-highest goal total.
As of this writing, every player acquired in those trades except Jakub Voracek will be returning to the Flyers next season, a year older and wiser. Giroux, Van Riemsdyk, Matt Read, Danny Briere and Scott Hartnell will be among the other key players returning to the Philadelphia offense, and the team should have room to re-sign Voracek and still go after a big-time free agent, whether on offense or defense.
No, the Flyers did not win the Stanley Cup this season. And yes, there seems to be a good shot that Philly will be watching its former captain and ex-top scorer hoist Lord Stanley's hardware in the coming weeks.
For some fans, that sight will be frustrating, and many will mumble, "That should have been us."
Los Angeles, after all, won that trade.
But in the coming years, when Schenn, Couturier, Simmonds and Voracek help lead the Flyers to the same spot that the Kings find themselves right now, it will be us.
Maybe only then will it become clear.
The Flyers won that trade, too.
This article is
What is the duplicate article?
Why is this article offensive?
Where is this article plagiarized from?
Why is this article poorly edited?

Philadelphia Flyers: Like this team?