Top Prospect Andrelton Simmons Promoted by Atlanta Braves
May 31, 2012

As reported by David O'Brien of the Atlanta Journal-Constitution, Andrelton Simmons will make his major league debut Friday as the visiting Atlanta Braves play the Washington Nationals in a three-game set at Nationals Park.
#Braves option Pastornicky to Triple-A, call up shortstop prospect Simmons from Double-A bit.ly/LhloHV

— David O'Brien (@ajcbraves) May 31, 2012
Simmons was considered the organization's top positional prospect heading into the season and put the Braves on notice this spring as a non-roster invitee that his glove was ready for the big leagues.
As Double-A affiliate Mississippi has gotten deeper into its schedule, it has become apparent to the Braves front office and scouting department that Simmons is ready to bring his talents to Atlanta on an everyday basis.
"He has special talents [at shortstop]," Braves general manager Frank Wren told the Atlanta Journal-Constitution. "Once the reports started coming in so glowingly that he was handling [Double-A] so well, we started at least giving it some thought as to when would be the right time, and we continued to call this week and everyone in player development that [assistant GM] Bruce [Manno] talked to said he's ready."
Simmons' plus-plus defense at shortstop has never been the concern; it's his seemingly limited ability with the bat that has been questioned.
A season after winning the Carolina League (High-A) batting title as the only qualified hitter to bat over .300, he has been able to hold his own at Double-A this season, posting a .292/.372/.421 line with 14 extra-base hits and 10 stolen bases. He has also walked (20) as many times as he has struck out (20), in 171 at-bats.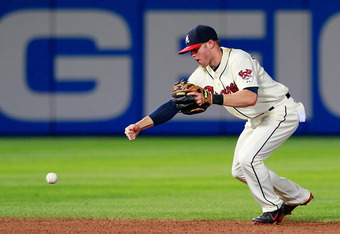 Kevin C. Cox/Getty Images
Alongside Simmons' promotion, rookie Tyler Pastornicky was optioned to Triple-A Gwinnett after the Braves' 10-7 win Wednesday night over the St. Louis Cardinals.
Pastornicky, who hit .248/.281/.324 while batting eighth in the lineup, needed to provide more at the plate, given his limited defense ability.
He had the lowest fielding percentage in MLB among shortstops, committing seven errors in 42 games.
Penciled in as the Opening Day starter prior to spring training, Pastornicky was able to hold off a mid-camp charge by Simmons to claim the starting role.
While most believed Simmons was the future in Atlanta at shortstop, it is somewhat of a surprise that time has come so quickly into the season and without his logging any time at Triple-A.
Manager Fredi Gonzalez will be looking for Simmons to provide at least the same numbers offensively as Pastornicky did, while also playing vastly superior up-the-middle defense.
Below are scouting report excerpts from Kevin Goldstein of Baseball Prospectus and Bill Ballew of Baseball America. (Subscription required for the entire report.)
Goldstein of Baseball Prospectus:
Simmons has the potential to be a special defender. He has outstanding instincts, above-average range, soft hands, and one of the strongest infield arms in the minors. He's capable of highlight reel plays but also has excellent fundamentals. He deployed a simplified swing as a pro and laces line drives to all fields while rarely striking out. He's a plus runner.

Simmons does little offensively other than show the potential to hit for average. He has well below-average power with little projection and needs to develop better plate discipline. He needs to slow the game down, as he can get out of control both in the field and on the basepaths.
Simmons is a premier defender with a cannon for an arm and soft, quick hands. He covers lots of real estate with his quickness, ability to charge the ball and feel for the position. He committed careless errors by trying to make every play early in 2011 but improved in that regard. An aggressive hitter, Simmons knows the strike zone but doesn't walk much. He has bat speed and can turn on fastballs, but he won't have more than gap power. An average runner, he needs to improve his reads and jumps after getting thrown out 18 times in 44 basestealing attempts.

 
Jim Pratt is a Featured Columnist for Bleacher Report and founder of the soon to be launched digital magazine @BigLeaguesMthly. He also an MLB contributor for MLBDepthCharts and BravesWire.