Why Pittsburgh Steelers WR Mike Wallace Is the AFC North's Most Explosive Player
May 31, 2012

Nick Laham/Getty Images
The AFC North is certainly not lacking for playmakers, especially at wide receiver. The Baltimore Ravens have Torrey Smith, the Cleveland Browns have Josh Cribbs and the Cincinnati Bengals have A.J. Green.
But when it comes to the most explosive receiver in the division, that title belongs to the Pittsburgh Steelers' Mike Wallace.
In Wallace's three seasons in the league, he's had a total of 3,206 receiving yards and 24 touchdowns. He's known for his speed, which certainly contributed to the fact that he's averaged 19.0 yards per reception over his career.
Though still relatively raw where route-running is concerned, Wallace's ability to get open has been an invaluable component to the Steelers becoming one of the more productive passing offenses in the league. 
Wallace wasn't Steelers quarterback Ben Roethlisberger's most targeted receiver last season—that honor went to Antonio Brown, who had 123—but he had more yards (1,193), a better catch percentage (catching 72 of 113 passes thrown his way) and more total yards after catch (493) than the admittedly highly talented Brown.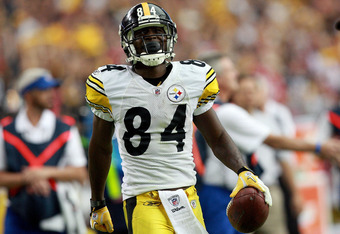 Karl Walter/Getty Images
In fact, it's Wallace's presence on the field that allowed Brown to also put up more than 1,100 receiving yards last season. Opposing defenses know how dangerous Wallace is and must commit two defenders to him. Despite all that double coverage, Wallace still managed to put together a string of big games in 2011.
Granted, Wallace's production did drop off in the second half of last season. Dave Bryan of Steelers Depot took a look at why this happened and attributed it to Wallace reverting to his old ways of sloppy route-running and catching passes with his body instead of his hands, the ascendancy of Brown and accuracy issues for Roethlisberger. Wallace constantly being double-teamed may have worn him down some as the season progressed.
But that says little of his true explosiveness. Few receivers—few players, in general—in the NFL are as fast or faster than Wallace, and clearly speed is Wallace's biggest asset. His second-greatest asset is the chemistry he's built with Roethlisberger. Put the two together, and clearly that's the formula for a playmaker.
There are question marks swirling around Wallace as we head into the 2012 season, however. He's currently in a contract holdout—if he doesn't sign his first-round RFA tender by June 15th, the Steelers can slash that $2.7 million payday considerably, which may not compel him to join the team for training camp.
Time away could certainly hurt Wallace this year as the team works to install new offensive coordinator Todd Haley's playbook.
The chemistry is there between Wallace and Roethlisberger, yes, but without ample opportunity to work together in the new system, his status as No. 1 receiver could be supplanted by Antonio Brown simply because Brown is more familiar with the new plays and terminology.
So while Wallace's numbers certainly make a convincing argument as to why he's been the most explosive playmaker in the AFC North in the past two years, without him practicing with the Steelers this offseason, there may be another receiver winning this honor when the 2012 season wraps.