Nicklas Lidstrom Retirement: Twitter Reacts to Hall of Famer's Farewell
May 31, 2012
Jonathan Daniel/Getty Images
Thursday was a very sad day for the hockey world as Detroit Red Wings defenseman Nicklas Lidstrom retired from the NHL after a 20-year hall of fame career.
Per ESPN.com:
"It's one of the most emotional days in Red Wings history with Nick retiring and all you people showing your respect for such a high-quality individual," Red Wings owner Mike Ilitch said at a packed news conference that included a slew of team employees wearing Lidstrom's No. 5 red jersey with a winged wheel.
Lidstrom and Boston Bruins legend Bobby Orr are the two greatest defenseman of all-time, and the game will really miss the Red Wings star's class and respect on and off the ice.
The hockey community was full of praise for Lidstrom on Thursday, so let's look at some of the best tweets from journalists, players, and fans on the day Lidstrom said goodbye to the NHL.
Lidstrom didn't have the same motivation that he used to have, which always a sign that it may be time to leave the game.
Nicklas Lidstrom says he's retiring because his "drive and motivation are not where they need to be."

— David Shoalts (@dshoalts) May 31, 2012
Red Wings general manager Ken Holland was right on the money with his comments on describing No. 5's career.
Lidstrom: "Retiring today allows me to walk away from the game with pride, rather than have the game walk away from me."

— Detroit Red Wings (@DetroitRedWings) May 31, 2012
San Jose Sharks star Logan Couture shared his feelings on Lidstrom's retirement.
Not many athletes can retire while still being one of the best players in the game. Congrats to Nick Lidstrom on a great career.

— Logan Couture (@Logancouture) May 30, 2012
Lidstrom seemed confident at his press conference that he chose the right time to retire.
Lidstrom: "Retiring today allows me to walk away from the game with pride, rather than have the game walk away from me."

— Detroit Red Wings (@DetroitRedWings) May 31, 2012
Lidstrom was a true professional on and off the ice, and one of the classiest players you will ever see.
On Lidstrom retiring: his greatness wasn't just measured by his incredible play on the ice, but just as much by his class off of it.

— Pierre LeBrun (@Real_ESPNLeBrun) May 30, 2012
His seven Norris Trophies are tied for the second most all-time.
Red Wings' Nicklas Lidstom will retire on Thursday. Most Norris Trophies (Top Defenseman): Bobby Orr 8, Lidstrom 7, Doug Harvey 7

— ESPN Stats & Info (@ESPNStatsInfo) May 30, 2012
Nick Costonika of Yahoo Sports shares a great quote from Lidstrom's press conference.
Key quote of the whole press conference right there. Lidstrom: "I can't cheat myself." He was going to play only if he could be the best.

— Nick Cotsonika (@cotsonika) May 31, 2012
Troy Mick hopes more players conduct themselves like Lidstrom.
Lidstrom= A true professional on and off the ice! Wish more pro players would understand this! #congratulations #atruerolemodel

— Troy Mick (@troymick) May 31, 2012
Philadelphia Flyers forward James Van Riemsdyk was happy he got to play against Lidstrom.
Congrats to nick lidstrom on an incredible career,was a huge thrill to take the ice against him. Was amazing to watch how he carried himself

— James van Riemsdyk (@JVReemer21) May 31, 2012
Current Tampa Bay Lightning GM and former Red Wings captain and teammate of Lidstrom's Steve Yzerman had high praise for his friend.
"I think he's going to go down as one of the all-time best defensemen ever to play." -Tampa Bay GM Yzerman on Lidstrom ow.ly/bgWaq

— NHL (@NHL) May 31, 2012
Lidstrom was an unbelievable human being and I feel very fortunate to have been given the opportunity to cover him this season at the Red Wings and Bruins matchup back in November in Boston. He will not only go down as one of the best defensemen ever, but as one of the game's greatest leaders too.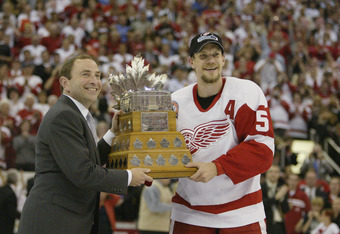 Elsa/Getty Images
Not many people could have taken over as Red Wings captain and filled the shoes of Steve Yzerman when he retired in 2006, but Lidstrom was the perfect man for the role and he did a wonderful job in it.
It was really impossible to dislike Lidstrom, whether you like the Red Wings or not. He was a very likable player and treated the game and his opponents with respect.
Every young player who aspires to be an NHL player in life should watch many hours of Lidstrom highlights, because he is the best player to develop your game after.
Lidstrom was a champion and a great man. The NHL will miss him dearly as he begins his retirement.
Nicholas Goss is a Boston Bruins Featured Columnist for Bleacher Report and has covered the team firsthand since the 2010-11 season. He was also the organization's on-site reporter for the 2011 Stanley Cup Final in Boston.