Examining Eden Hazard and His Possible Impact on the English Premier League
May 31, 2012

Valerio Pennicino/Getty Images
Eden Hazard's choice to join Chelsea has created quite a stir in the Barclays Premier League.
The back-to-back French Ligue 1 Player of the Year was being courted by perennial powerhouse Manchester United and England champions Manchester City before turning his attention to West London, and many fans are up in arms about it.
Even those who aren't United or City faithful have had something to say about Hazard's decision to play for the No. 6 finishers in England, but even more has been said about the 21-year-old Belgian's perceived ego.
If there is such an ego it has yet to affect his performance on the pitch.
Hazard was rumored for a move to England a year ago with Arsenal as the leading candidate, but he ultimately chose to stay with French side Lille to develop his game more.
I daresay it worked as the new Chelsea man scored 22 goals and assisted on 16 others.
His impressive form this past year put him in rare company according to OptaSports:
15 - Lionel Messi & Eden Hazard were the only players with at least 15 goals & 15 assists in the top 5 European leagues last season. Talent.

— Opta (@OptaJean) May 29, 2012
Hazard's already making an impact in England, and he hasn't even arrived yet. However, Chelsea are used to this type of treatment. They're no stranger to big names, huge moves and the surrounding controversy that usually follows.
When he arrives at Stamford Bridge and his signing will reportedly become official within 24 hours according to @CFCTransfers, they'll be ready to handle it.
The more important thing is how Hazard will affect the Premier League on the pitch.
Most expect the youngster to factor into the Chelsea starting XI immediately—regardless of who the manager is.
The Blues will be without the legendary Didier Drogba for the first time since 2004 and are also letting fellow Ivorian Salomon Kalou walk away. Both stars have been key fixtures in the Chelsea lineup for some time now, and their absence will be noticed.
Hazard should immediately take up Kalou's spot on the wing opposite Ramires with Juan Mata, Frank Lampard and John Obi Mikel, among others at times, filling out the midfield.
The Belgian will then be able to work in space, make runs and feed the ball to whomever is put up top.
The UEFA Champions League winners sport Fernando Torres, Daniel Sturridge and Romelu Lukaku on the roster and, according to the Daily Telegraph, are closing in on a deal with Porto star and Brazilian international Hulk.
To say that Chelsea lacks firepower would be beyond foolish.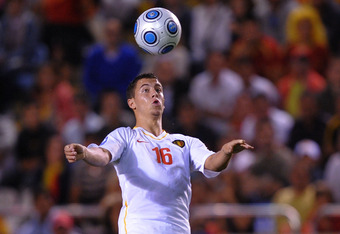 Denis Doyle/Getty Images
Now, there certainly will be a transition period for Hazard as he moves from the French to English pitch, but he's no ordinary talent.
With Hazard involved, opposing squads will have to be cautious with the Chelsea attack from touchline to touchline. Mata is a gifted playmaker through the middle and can wreak havoc on opposing teams with his passing. With Hazard and Ramires pushing back lines up the sides there will be lanes for the central midfielders to work with.
Chelsea have always been dangerous, especially with Drogba up top, but there have been a number of times where they've relied too heavily upon the Ivorian star to make something happen out of nothing.
With Hazard they're a more balanced attack that can strike from both sides. The speed and playmaking skills of their wingers will put them in dangerous scoring positions nearly every time up the pitch.
The difference of having a player like Hazard opposite another star is huge—for evidence look no further than the clubs that were chasing his signature.
Chelsea may have lost arguably the best player they've ever had in West London this summer, but the impact of Eden Hazard's arrival makes them more balanced and just as dangerous.
It is quite obvious that the rest of the league has already taken notice.