Will Randy Orton's Suspension Show That the WWE Wellness Policy Is Too Simple?
May 31, 2012

Randy Orton has been suspended for 60 days for a second wellness policy violation. There is plenty of speculation out there over what Orton took to get suspended and what this means for his and the WWE's immediate future.
However, Orton's suspension may also shine a light on how the WWE Wellness Policy actually works and whether the punishment for one action should be equal to the punishment for another.
Since the start of 2011, there have been two categories of suspensions. One has involved Mexican wrestlers (Sin Cara and Rey Mysterio) who have received treatment in their home country and claimed that the medication given to them conflicted with WWE wellness rules. The second, and much larger, group have been suspended for use of cannabis or one of the drug's artificial cousins.
Both of the prescribed situations fall within the WWE's general mandate of drug violations. However, these situations (at least taken on face value) have very little to do with the original purpose of the wellness test, which was to stop wrestlers' dependency on prescription medication to get wrestlers through a show.
This does not mean that the WWE should condone drug use, but the lack of distinction between these violations seems inappropriate, especially when there is no expiry period on the infractions. The correlation between someone smoking a substance in their own time and the methodical usage of multiple drugs to get an advantage seems askew.
Arguably, this keeps talent on the straight and narrow but people make mistakes, and expecting wrestlers to be infallible is ridiculous, especially in such a high pressure environment. In fact, the lack of understanding puts more pressure on talent, which can drive them towards making bad decisions even if, like Orton, they are at the top of the card.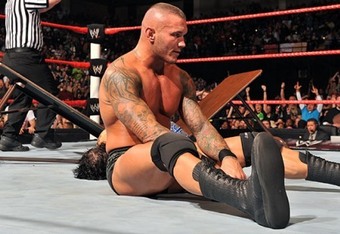 As it happens, Randy Orton does hold one of the worst histories with drug violations.
Orton's first drug violation back in 2006 was for steroid usage and he received a 30-day ban. Orton was not banned for a second occasion after the Dr Phil Astin case was blown open due to double jeopardy. Had the WWE not made that decision, the company would have been forced to release Orton under their wellness policy rules.
However, there has been five years between violations and the yet unknown reason may or may not fit the punishment. If Orton has been caught using prescription medication, then he deserves every penalty thrown against him; however, if the situation is of a lesser offense, then there should be room to take that into account.
This lack of flexibility can be seen as a strong anti-drug policy, which is designed to abate the critics who claim drug use is still rife in the WWE locker-room. At the same time, does recreational usage have the same impact as a deliberate concentrated habit? Surely the sensible situation for the WWE would be to give themselves some room to maneuver, especially when cases are not clear cut.
A graded system that punishes multiple short-term offenders and those who break the worst code of usage with much longer suspensions or immediate dismissal would give the WWE a far stronger stance against drugs. At the same time, lesser offenses could be dealt with in-house, which would take the media spotlight away from the WWE and lessen the pressure on individual wrestlers.
Whether a model like this would ever be accepted is another question entirely, but the WWE can be sure that the wellness policy is going to come under as much scrutiny as Randy Orton.