SF Giants Miss Another Opportunity at a Sweep, Fall to Diamondbacks 4-1
May 31, 2012

Thearon W. Henderson/Getty Images
Wednesday night's game matched Tim Lincecum (2-6, 5.82) against Ian Kennedy (4-5, 4.26), two aces that have struggled to find their typically dominant form so far this year. 
Fortunately for the San Francisco Giants, the Lincecum of old showed up, going seven innings and allowing two runs, only one earned run, while striking out six. 
Unfortunately for the Giants, the Kennedy of 2011 also showed up, pitching into the eighth inning, allowing only one run while striking out seven, as the Arizona Diamondbacks beat the Giants 4-1 to salvage a game in the three-game series.
Lincecum, who is 0-5 with one no-decision in his last five starts versus the Diamondbacks, had his first quality start since April 28, when he went eight innings as the Giants beat the Padres 2-1.  That also happened to be his last winning start as Lincecum is now winless in his last six starts, going 0-4 in the month of May. 
The last time Lincecum went winless in a month was the dreadful August of 2010 when he went 0-5—his control struggled, and his velocity dropped down into the high 80s. 
Still, manager Bruce Bochy, commenting on Lincecum's performance after the game, said, "He threw the ball well. He should feel good about his outing; we just couldn't get any runs for him"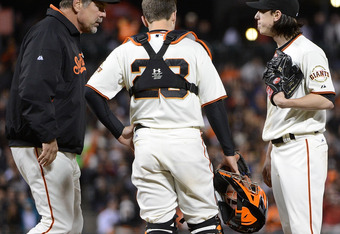 Thearon W. Henderson/Getty Images
"Timmy did his job," Bochy said. "He gave us what we were hoping for.  The way we've been swinging the bats, you'll take that...He pitched well enough to win the game. But their guy pitched a great game too."
Kennedy did pitch well, but the Giants had their opportunities; they just couldn't cash in.  In the bottom
of the sixth, down 2-1, Kennedy walked Lincecum and Gregor Blanco.  Ryan Theriot tried to lay down the sacrifice bunt to get Lincecum to third with only one out, but it wasn't a good bunt as Kennedy was able to get the force at third. 
Melky Cabera and Buster Posey both proceeded to strike out, stranding the back to back walks Kennedy issued.
Two innings later, now down 4-1 after Giants reliever Steve Edlefsen allowed two runs on three hits in the top of the eighth, the Giants got back-to-back singles from Theriot and Cabrera, with Posey coming to the plate.  Posey flied out to right, stranding two of the seven base runners the Giants left on base the entire night. 
Cabrera's single in the eighth off David Hernandez was his 51st hit in the month of May, which tied him with Randy Winn (51 hits in September 2005) for the Giants' all-time record for hits in a calendar month.
Cabrera hit safely in 25 of 29 games this month, batting .429 (51-for-119) with seven doubles, five triples, three home runs and 17 RBI's.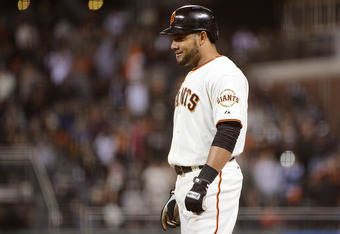 Thearon W. Henderson/Getty Images
Getting somewhat overshadowed by Cabrera, Angel Pagan tied another Giants record tonight.  Going 2-for-4 at the plate, Pagan has now safely hit in 24 straight home games, which ties Don Mueller for the longest home hitting streak by a Giant dating back to 1918. 
The Giants finally get a much-needed day off tomorrow after wrapping up a 20-game stretch that tarted in Arizona on May 11.  The Giants ended up going 12-8 over the span, which is remarkable considering they are missing one of the best hitters in their line up in Pablo Sandoval.
After the day off, the Giants open up a four-game series with the Chicago Cubs on Friday evening.  The Giants will send Madison Bumgarner to the mound (5-4, 3.14) against Paul Maholm (4-3, 4.62) for the Cubs, and game time is 7:15 p.m. PT.