N.Y. Rangers: Needing Offense, GM Glen Sather Faces a Crossroads This Offseason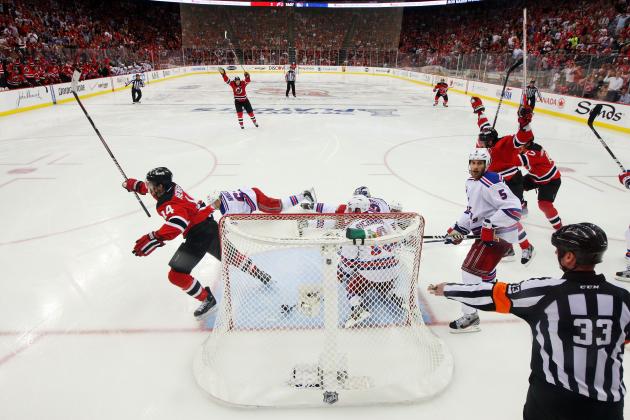 Jim McIsaac/Getty Images
This is not how the Rangers imagined their season concluding.
The New York Rangers fell in the Eastern Conference finals in six games and finished the postseason 0-8 when they allowed three or more goals. They now find themselves at a vexing crossroads.
This team was so close to the Stanley Cup Finals—Game 5 was tied with less than five minutes to go and Game 6 ended in overtime. Ultimately, the Rangers were done in by a lack of scoring, despite great team play, brave defense and top-notch goaltending.
So what do they need to do between now and next season in order to get to the finals and win the Stanley Cup in 2013?
Begin Slideshow

»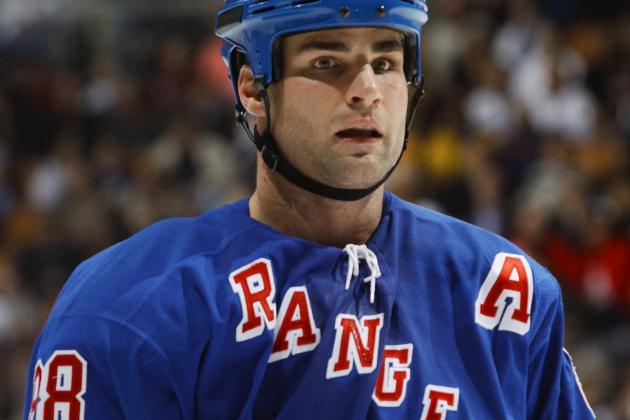 Dave Sandford/Getty Images
Eric Lindros in this jersey is so wrong for so many reasons.
This offseason finds some proficient forwards available, including free agents Zach Parise of the Devils, Alexander Semin of the Capitals and Shane Doan of the Coyotes. Columbus' Rick Nash is also likely to be available in a trade, according to Yahoo! Sports' Greg Wyshynski.
But the Rangers have had difficulty finding success with big-name acquisitions since their 1994 Stanley Cup. Notable busts include Pavel Bure, Eric Lindros, Theo Fleury, Bobby Holik, Wade Redden, Chris Drury and Scott Gomez. They also spent big bucks for mediocre results from Luc Robitaille, Wayne Gretzky and Jaromir Jagr.
GM Glen Sather used to be a figure of constant derision for Rangers fans, even inspiring pickets outside Madison Square Garden. But their recent success has quieted some of the griping.
The Rangers find themselves on the precipice of a championship and are looking for that little bit extra to get them over the hump. The question is: Do they need to make a big splash or just some minor tweaks?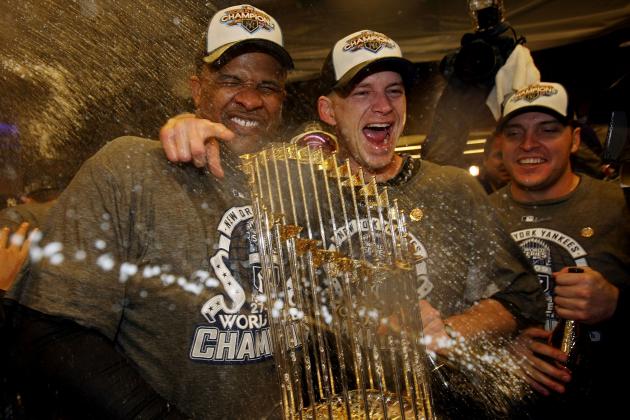 Nick Laham/Getty Images
They cost a lost of money, but they brought a championship to New York.
By comparison, we can look to two examples of differing strategies in the 2009 New York Yankees and the 2011 New York Giants.
Entering the 2009 offseason, the Yankees hadn't won a World Series title in eight years. They had just finished third in their division and failed to win 90 or more games for the first time since 2000. GM Brian Cashman went out and signed CC Sabathia, A.J. Burnett and Mark Teixeira to contracts totaling more than $420 million.
That season ended with a championship and a parade down the Canyon of Heroes. Despite what has transpired since, George Steinbrenner (were he alive today) would tell you the spending spree was worth every penny just to end the title drought in the Bronx, however relatively brief it might have been.
Entering the 2011 offseason, the Giants were coming off a 10-6 year in which they narrowly missed the playoffs, having allowed the first walk-off punt return in NFL history to sink their season. Some were calling for Tom Coughlin's head despite having delivered a Super Bowl victory in February of 2008. GM Jerry Reese let Steve Smith, Kevin Boss and Barry Cofield leave in free agency and failed to sign any big names to replace them, adding only punter Steve Weatherford and center David Baas. Fans were incensed.
When Reese vowed, "We'll make the plays this time and get in the playoffs and make a run," some were ready to cart him off to the loony bin. Then Victor Cruz, Jake Ballard and Jason Pierre-Paul flourished in the wake of the departed free agents. The Giants proceeded to squeak into the playoffs and won another Super Bowl.
From this, we can deduce that sometimes a team needs to overhaul the lineup and make a big splash in order to win a championship, while sometimes it is better to stay the course, maintain what you have and add little pieces in role players.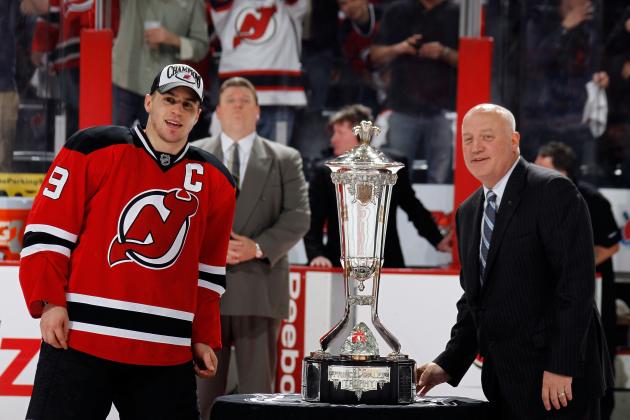 Bruce Bennett/Getty Images
After watching this, bringing him to New York would be sweet revenge.
So what do the Rangers need to put them over the top: a megabucks free-agent acquisition or just some role players?
The answer seems to be the former. Despite the tremendously talented roster the Rangers have, they must address their needs in a big way. There are some talented forwards out there, and the Rangers have to add one to provide more firepower.
In 2008, the Yankees knew they needed pitching. Sabathia became their unquestioned ace, and even the shaky Burnett delivered a precious win in the 2009 World Series. In 2012, the Rangers know they need offense, and the solutions are there for the taking.
Whether they sign Zach Parise, Shane Doan or even Alexander Semin, they have the salary cap space to do so. Semin is 28 years old and has seen his production decline since scoring 40 goals in 2009-10. In the past two seasons, he has tallied 28 and 21 goals. Parise will turn 28 in July and bounced back from a 2010 injury to score 31 goals this season, after 45 in 2008-09 and 38 in 2009-10.
Doan is a wily veteran at 35 years old, and while he found the net 22 times last season, he has never surpassed the 31 goals he scored in 2008-09. He could provide veteran leadership to the Rangers but may not be the offensive spark plug they are looking for.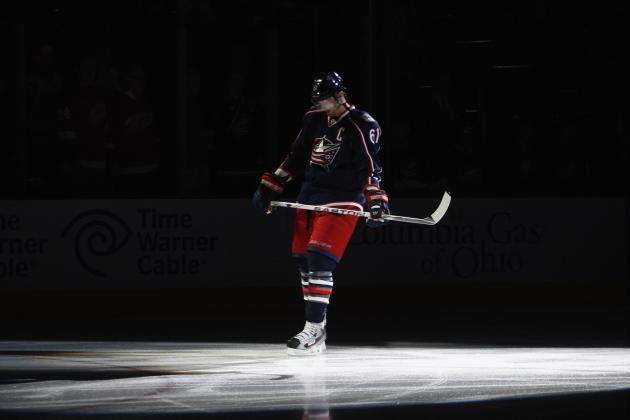 John Grieshop/Getty Images
Rick Nash is lonely in Columbus. A ticket to New York might cheer him up.
A more creative option would be to trade with the Blue Jackets for Rick Nash. He has scored 30 or more goals in each of the past five seasons, and has averaged 34 goals a year following his rookie campaign.
Nash will turn 28 in June and has spent his entire career in Columbus. He has been to the playoffs only once, when the Blue Jackets were swept in the first round by Detroit in 2008-09. Nash is hungry for a winner, and the Rangers have some pieces the Blue Jackets might want.
The Rangers inquired about Nash when he was dangled on the open market before the trade deadline. According to Larry Brooks of the New York Post:
Sources familiar with the parameters of the discussions between Sather and Columbus counterpart Scott Howson have told The Post the Rangers have designated Ryan McDonagh, Michael Del Zotto, 2009 first-rounder Chris Kreider and 2011 first-rounder J.T. Miller as untouchables...

It is believed that Sather, who is not fazed by the ramifications of adding Nash's contract that runs through 2017-18 at a cap hit of $7.8 million per year, is prepared to send Brandon Dubinsky, Christian Thomas and perhaps 2010 first-rounder Dylan McIlrath, plus a first-round pick to Columbus.
That package wasn't enough to entice Columbus to deal. Rangers fans should give kudos to Sather for holding onto Chris Kreider. The rookie forward looked lethal in this year's playoffs, setting an NHL record by scoring five goals without ever having played a regular-season game in the league.
Nash is still on the block and Columbus is looking for defense. A slightly sweeter package from the Rangers consisting of Brandon Dubinsky, Dylan McIlrath, Michael Del Zotto and a draft pick or two could get the deal done.
It would rid the Rangers of the disappointing Dubinsky (10 goals in 2011-12) while he still has some value, and they may be willing to part with Del Zotto in light of their wealth of young defensemen. Tim Erixon could be due for a promotion in his place.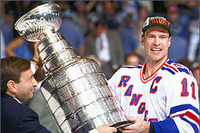 Hey, it worked once. (source: hhof.com).
Despite all the Rangers' struggles in bringing a star forward to New York, this just means that they're due to succeed eventually.
They need offense, they have the cap space and they need to go get it. Signing Zach Parise in free agency or forming a trade package for Rick Nash seem like the most logical solutions, so it's time for Glen Sather to go get someone.
And when the lucky forward takes his talents to MSG, he could very well bring a Stanley Cup in 2013 as well.