Fantasy Baseball: 8 Best Waiver Wire Steals Still Available Now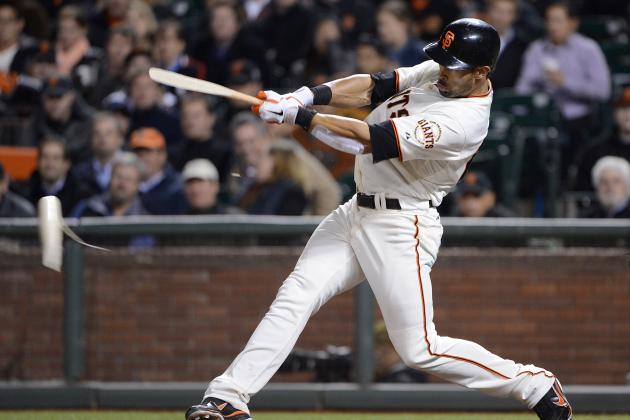 Thearon W. Henderson/Getty Images

We're nearly a third of the way through the fantasy baseball season, yet the waiver wire remains full of players who just don't belong there.
Specifically, these eight players belong on a roster in every fantasy league, but are somehow owned in less than 70 percent of Yahoo! leagues.
Of course every team's situation is different, and your specific circumstances may preclude you from picking up a particular player or two on this list, but I'd wager that at least a few of these guys are available in your league, and at least one of them can be a help to your team.
Begin Slideshow

»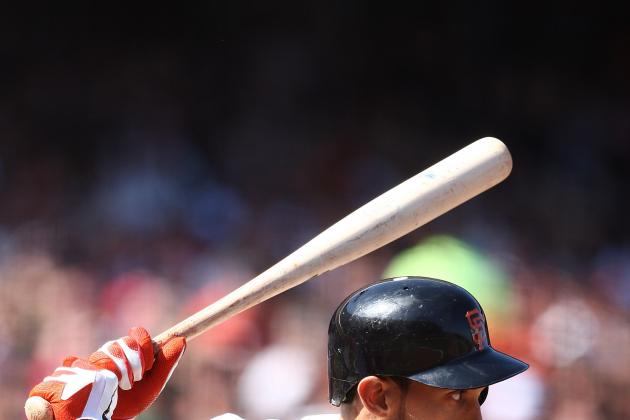 Tony Medina/Getty Images

The chronically underrated Angel Pagan is once again providing well-rounded value for his fantasy owners, however few they may be.
His current .343 BABIP is a tick higher than his career norm, but an increase in groundball rate will help Pagan maintain a batting average above .300.
Still, his worm-burning ways haven't held back his slugging. In just 210 plate appearances, Pagan has already tallied 18 extra-base hits, putting him on pace for a total of 54, which would be a new career high.
Yet, even with fewer one-base hits landing him on first base, Pagan is on pace for another 30-steal season.
All in all, Pagan is on his way to the best all-around season of his career. Doesn't he deserve a spot on your fantasy roster?
He's better than: Alejandro De Aza, Ian Desmond and Nick Markakis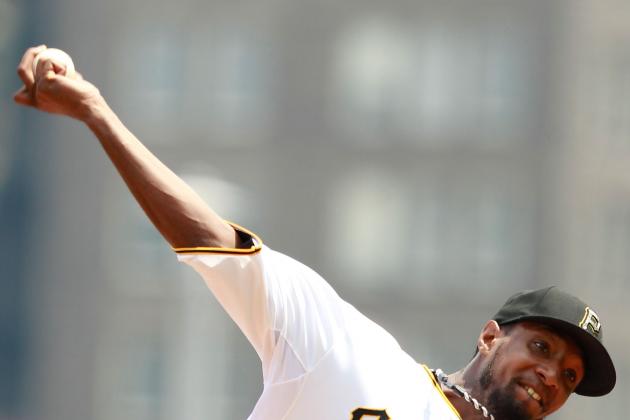 Jared Wickerham/Getty Images

I'm slightly violating the rule I set out, but I feel compelled to write something about James McDonald. His start has been too stunning to ignore.
He's always had knockout stuff. This season, he's finally learned to control it.
It's not an unfamiliar story; a few pitchers seem to figure it out at the start of every season, but McDonald's tale has a unique tint to it.
In most cases, harnessing swing-and-miss stuff leads to fewer swings and misses. Yet McDonald has somehow been able to match his sinking walk rate with a career-high strikeout rate. He's lived in the strike zone, but allowed a career-low contact rate.
That multi-faceted improvement makes McDonald's success that much more sustainable.
Sure, he's not perfect. His BABIP and HR/FB rates will experience some unfavorable regression, but I don't think any fantasy owner would complain if his rest-of-season numbers matched his current 3.27 xFIP.
He's a Top 25 starter the rest of the way and needs to be owned in every league.
He's better than: Jason Hammel, Wandy Rodriguez and Chris Capuano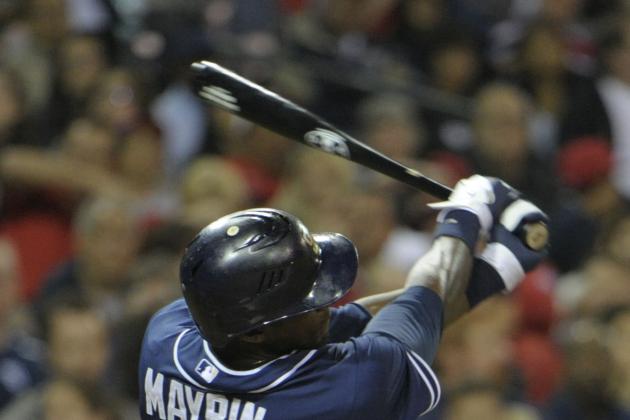 Denis Poroy/Getty Images

His batting average has been frustrating, but that doesn't change the fact that the vast majority of Cameron Maybin's fantasy value lies in his ability to steal bases, a skill that he's actually been quite good at this season. Despite an opportunity-limiting .307 OBP, Maybin has swiped 14 bags and been caught only twice.
He's displayed the ability to steal bases in large quantities, and Maybin has done so as efficiently as anyone in baseball. All he needs is an uptick in opportunity to vault into the Top 30 outfielders, and that uptick is coming.
Maybin's batting average is 48 points lower than it was last year because of bad luck.
Last season, Maybin hit .264, with a BABIP of .331.
This season, with nearly identical batted ball tendencies, Maybin is hitting .216, with a BABIP of .269.
In spite of his horrible luck, Maybin has displayed the best plate discipline of his career, boosting his walk rate to a career-best 10.8 percent.
When his luck turns around, Maybin is going to contribute huge value. If an owner in your league has given up on him, now's the time to pounce.
He's better than: Dee Gordon, Rickie Weeks and Omar Infante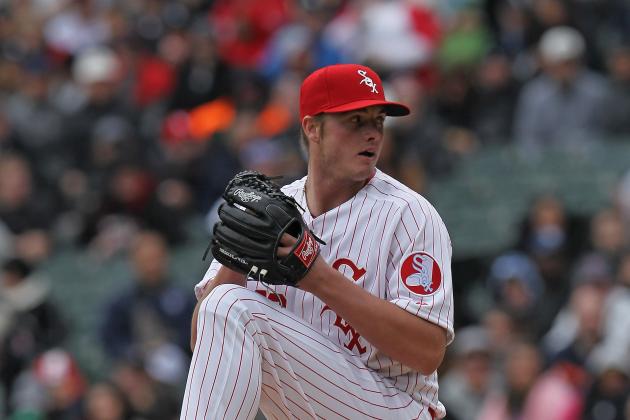 Jonathan Daniel/Getty Images

Perhaps more so than any other player on this list, I can't comprehend why Addison Reed is still available in so many fantasy leagues.
Reed is entrenched as the closer for the Chicago White Sox. Sure, there are other good pitchers in Chicago bullpen, but no other White Sox reliever is poised to challenge Reed for the role.
He's a top prospect, exactly the type of pitcher that the White Sox front office would love to see take over the job, and he has the stuff (and the stats) to hold it for the long term.
Reed has been great in every situation, fanning 28.8 percent of the batters he's faced.
When a save is on the line, he's been even more efficient. Reed has allowed only five baserunners on his way to converting all six of his save chances.
In a season in which closers have been reshuffled and replaced with staggering frequency, Reed is a dependable option.
He should be owned in every league, especially yours.
He's better than: Alexi Ogando, Javy Guerra and Scott Downs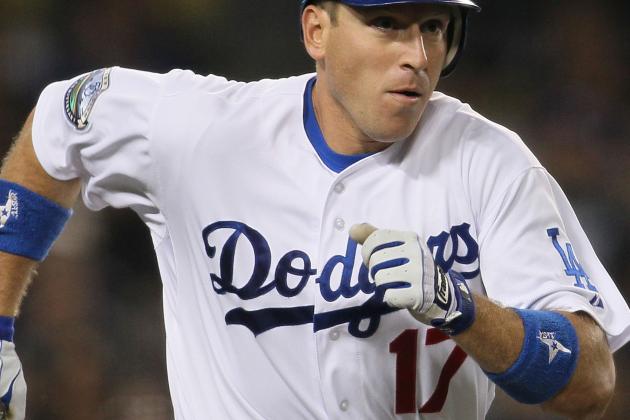 Victor Decolongon/Getty Images

A.J. Ellis plays on the same team as Matt Kemp.
A.J. Ellis leads his team in Wins Above Replacement.
Clearly, there's no sane argument to be made that Ellis will be a more valuable player than Kemp for the rest of the season, but the previous two statements are a stark illustration of just how good Ellis has been so far.
Yes, there are parts of his game (notably power) that will tail off as the season moves along, but the vast majority of his value is here to stay.
Ellis has a long and distinguished record of outstanding plate discipline—he can coax a free pass better than any catcher this side of Carlos Santana.
In leagues that don't count OBP, this may not seem like such a big deal, but Ellis' outstanding approach at the dish boosts his statistical contribution across the board.
Great patience means he only swings at hittable pitches, which leads to more power and a better batting average. A higher OBP means more chances to score runs, an especially valuable skill in a surprisingly productive Dodgers offense.
A.J. Ellis is a Top 10 catcher. It's high time his ownership percentage reflected that fact.
He's better than: Alex Avila, Jesus Montero, and A.J. Pierzynski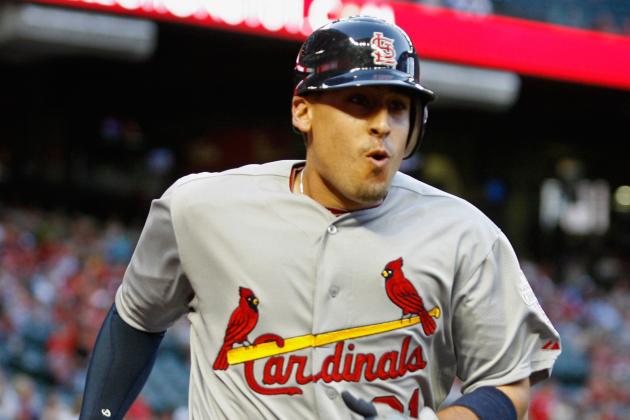 Ralph Freso/Getty Images

Allen Craig's in-again, out-again routine has been frustrating, but don't let that mask his incredible productivity. When he's been in the lineup, Craig has paired a blistering .373 batting average with a ridiculous .392 ISO.
Obviously, those exact numbers aren't sustainable over the balance of the season, but they serve to illustrate what Craig can do when given an opportunity.
Oddly enough, when it comes to opportunity, a recent injury is the best thing that could have happened to Craig.
Of course I'm referring to Lance Berkman's injury, not Allen Craig's.
With Berkman on the sideline, only Matt Adams stands in the way of consistent run at first base for Craig. Given the primary playing time, Craig is absolutely capable of chipping in 18 home runs the rest of the way.
He's better than: Mark Trumbo, Bryan LaHair and Kendrys Morales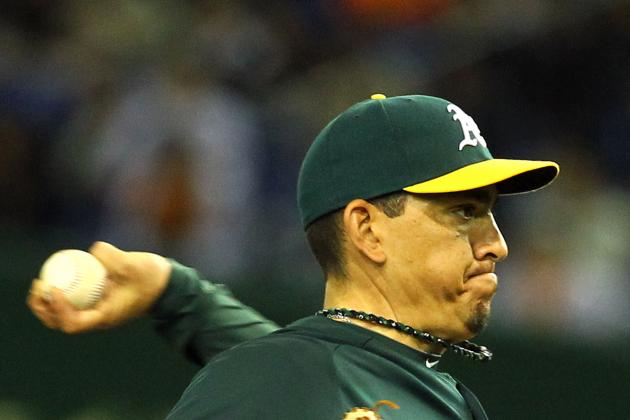 Koji Watanabe/Getty Images

It's been awhile since Brian Fuentes had this kind of job security as a closer, but now that he's entrenched in the role in Oakland, he's pitching better than he has in years. The specific nature of his effectiveness has changed, but that doesn't make him any less effective.
Fuentes is no longer going to strike out a batter every inning, but now that he's cut his walk rate to better than half of his career average, the decline in whiffs really doesn't hurt much.
Prior to Tuesday's disaster in Minnesota, Fuentes had allowed two or fewer baserunners in 13 consecutive appearances.
For the balance of the season, I'd put Fuentes on an even plane with a closer like Brett Myers. His team makes him a trade risk, but as long as he's in the gig, he'll be a consistent source of saves with a supporting stat line that won't hurt you anywhere.
He's better than: Alexi Ogando, Javy Guerra and Scott Downs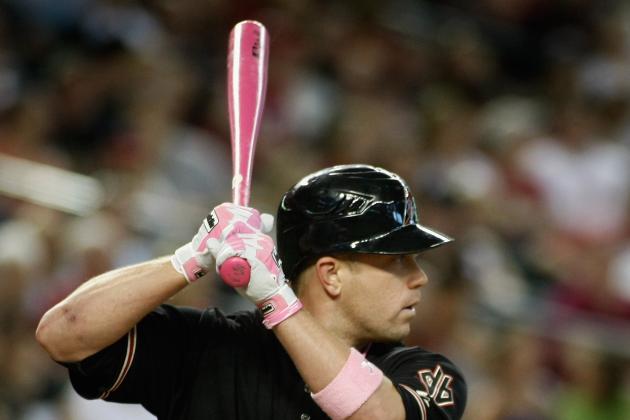 Ralph Freso/Getty Images

Aaron Hill has been better this season than he's been in the recent past, but none of his individual stats are out of line with his past performance. His .296 BABIP and 6.9 percent HR/FB ratio are in lock step with his career norms.
He's done all of this before, just never everything at the same time. With this level of consistent five-category production, Hill must be considered a Top 15 player at his position.
Roughly, Hill is on pace for a .260 batting average, 15 home runs, 15 stolen bases, 60 runs scored and 60 RBI.
Last season, only two major league second baseman matched those numbers: Dustin Pedroia and Ben Zobrist.
So yeah, you should pick up Aaron Hill.
He's better than: Neil Walker, Daniel Murphy and Kyle Seager