Nicklas Lidstrom Retiring: Is Lidstrom the NHL's Best Defenseman of All Time?
May 31, 2012

Christian Petersen/Getty Images
Nicklas Lidstrom has officially announced his retirement from the NHL. Lidstrom had a hall-of-fame career as a defenseman with the Detroit Red Wings, but is he the best defenseman to ever play the game?
Lidstrom spent his entire NHL career with the Detroit Red Wings, serving as team captain after Steve Yzerman's retirement in 2006.
In 1,564 games, Lidstrom scored 264 goals, tallied 878 assists, for 1,142 points in addition to a plus/minus rating of plus 450. Lidstrom played in the playoffs in each of his 20 seasons with the Red Wings. In 262 playoff games, Lidstrom had 54 goals, 129 assists, 183 points and was a plus 61.
The story of Lidstrom's career was consistency. He rarely missed playing time; in fact, his 70 games played in 2011/12 was the lowest total of his career, (aside from lockout years). Lidstrom maintained a high level of play throughout his NHL career and consistently played in all situations. Even at 42-years-old, Lidstrom led the Red Wings in ice time, averaging 23:46 minutes per game.
Lidstrom's play in the defensive zone was highlighted by intelligent positioning and quick stick work, as opposed to physicality. Lidstrom had great hockey sense and made playing defense look easy. His ability to control the tempo, his play with and without the puck and his knack for knowing where opposing players would be was truly brilliant.
Lidstrom was a 12-time All-Star and a 10-time first team All-Star. He won the Norris trophy seven times as the NHL's best defenseman and the Conn Smythe trophy in 2002 as playoff MVP. Lidstrom won four Stanley Cups with the Red Wings and a World Championship and Olympic Gold Medal with Sweden. Lidstrom also holds numerous NHL and Detroit Red Wings records.
Lidstrom will be remembered as a true class act, and a great leader for both the Red Wings and Team Sweden.
Considering his talent, statistics and achievements, Lidstrom easily ranks among the best defensemen of all time. Ahead of Eddie Shore, Denis Potvin, Ray Bourque and perhaps even Montreal legend Doug Harvey, (although some fans may debate that). However, all of these star blueliners including Lidstrom, rank behind Bobby Orr, the greatest defenseman in NHL history.
In a career shortened by injury, Bobby Orr managed to impact the game of hockey in a way few others did before, or after him.
In 657 career games, Orr tallied 270 goals and 645 assists for 915 points. Orr finished with a plus 597 rating and 953 penalty minutes. He also racked up 92 points in 74 playoff games.
Orr won one more Norris trophy than Lidstrom, taking the award in eight consecutive seasons from 1968 to 1975. In that same span of eight consecutive seasons, Orr was named a first team All-Star every year. He is the only defenseman to ever win the Art Ross trophy as the NHL's leading scorer. A feat he accomplished twice, in 1970 and 1975, and neither season was the most productive of his career.
In 1971 Orr set three records that still stand today. First, most assists in a single season by a defenseman, with 102. Second, most points in a single season by a defenseman, with 139. Finally, he set the record for the highest plus/minus rating in a single season by any player, with a plus-124.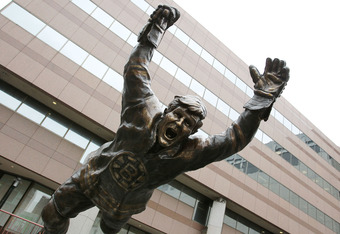 Bruce Bennett/Getty Images
Orr was awarded the Hart trophy as NHL MVP for three consecutive seasons from 1970 and 1972. He won the Stanley Cup with the Boston Bruins in 1970 and 1972, and was awarded the Conn Smythe trophy on both occasions.
The Bruins 1970 Stanley Cup win came in overtime, on a goal by Orr, which would become one of the most famous moments in hockey history.
Orr was a dynamic player whose skills were well ahead of his time. Orr had a stride so smooth it made skating look effortless. His puck handling, passing and shooting abilities were among the best in the NHL throughout his career. While Orr wasn't the biggest player, he was willing to play physical when he had to.
Orr's passion for the game was clearly evident. From his first minor injury in junior, through multiple knee surgeries during his NHL career, Orr's reaction was always the same. He wanted to play regardless of the pain and he wanted to help his team win.
Lidstrom, who is retiring at age 42 and Orr, who was forced to call it a career at age 30, each revolutionized how defense is played. Orr accomplished so much in such a short period of time, it's hard to imagine what he could have done if he had remained healthy. Lidstrom did just that, maintaining good health and a high-level of play throughout a remarkably long NHL career.
With that being said, Lidstrom, like Orr, will leave a mark on the game that will be remembered for a long, long time. Lidstrom and Orr have each carved their own unique legacies, highlighted by their style of play and their statistics, records, and other achievements. It only makes sense that Orr and Lidstrom be remembered as the best defensemen in NHL history.
Nicklas Lidstrom, second only to No.4, Bobby Orr, the best defenseman of all time.