WWE Smackdown: Is Jack Swagger Primary Beneficiary of Randy Orton Suspension?
May 31, 2012

It must suck to be Dolph Ziggler right now. 
For the past two Royal Rumble matches, Dolph has been involved in a match for a major championship in the company. After that, however, he fizzled out both times and got caught in mid-card purgatory.
Now, just when it looks like Ziggler would be catapulted back into the singles scene, Randy Orton is handed a 60-day suspension. And while this is not great news for Dolph, it could be for his former tag-team partner Jack Swagger, who is also looking for any break to get to the main event.
It's almost hard to fathom the idea of Jack Swagger as the world heavyweight champion, but he was just that only two years ago. It was not a very memorable reign, and included only one clean title defense against the ironically not-so-clean Orton. 
Once his title reign ended, Swagger bounced around SmackDown a little bit and eventually became little more than an afterthought. He was able to get a spot at WrestleMania 27, but it was only to help out Michael Cole. Sadly, this was thought to be the beginning of a resurgence for Swagger, but it led to nothing.
More recently, Swagger was able to gain gold by beating Zack Ryder for the U.S. title, but he lost it to Santino Marella and was unsuccessful in rematches. Since then, he has been in the tag-team division, biding his time for another chance.
With Orton removed from the picture for now, Swagger has an opportunity to start the long and arduous climb back to the major title scene.
Chances are that the tension between Swagger and Ziggler will boil over soon and lead to a singles match at No Way Out. Originally, this was supposed to be Chris Jericho vs. Randy Orton, then it was Orton vs. Ziggler and now it's a battle of yet another tag team falling apart at the seams.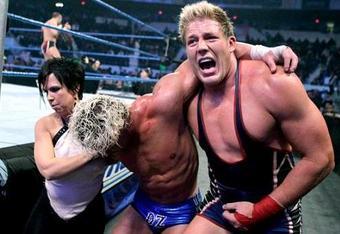 Just as Dolph was the beneficiary of Chris Jericho's Brazilian flag-kicking, Swagger has the most to gain from Orton's Wellness misstep. With both men at almost identical points in their career, this is the best time for them to show the higher-ups in the company that they truly are the future of the WWE.
Guys like Triple H and The Rock came through the organization at the exact same time, and they pushed each other to amazing heights. If Swagger and Ziggler get their one-on-one at No Way Out, they can do the exact same thing for each other.
For Swagger, Orton's suspension could not have come at a better time. Now it's time to make a lasting impact on the organization and the fans.