2012 NBA Lottery Results: 2 Early Draft Picks Will Ease Pain for Trail Blazers
May 31, 2012

Jonathan Ferrey/Getty Images
One team's loss is (usually) another's gain.
The Portland Trail Blazers understand the nuances of that notion better than most.
They'll go into the 2012 NBA draft next month with two of the first 11 picks after the Brooklyn Nets failed to move into the top three during Wednesday's lottery in New York City.
The Blazers plucked the pick from the Nets as part of a deadline deal that sent Gerald Wallace to New Jersey in what was presumed to be a last-ditch attempt to appease Deron Williams.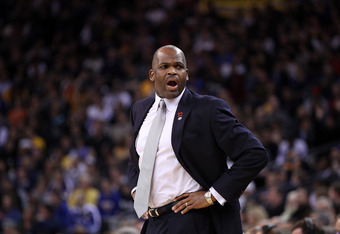 Ezra Shaw/Getty Images
Not that the Blazers need concern themselves with the plight of the league's Brooklyn-bound doormat.
They've had enough hard luck of their own to put them beyond pitying the problems of other franchises. This past year alone, Portland has seen its fate cast aside by Brandon Roy's retirement and Greg Oden's third microfracture surgery.
Worse still, star forward LaMarcus Aldridge suffered a season-ending injury of his own, albeit only after head coach Nate McMillan was fired and the team took a dizzying nosedive into Tankonia.
And that's without mentioning the never-ending flip-flop at point guard between Raymond Felton and Jamal Crawford, along with the rousing success that Kevin Durant, on whom the Blazers passed in the 2007 draft, is currently enjoying with the Zombie Sonics.
You could say, then, that the loyal fans—who fill the Rose Garden every night—deserve whatever brighter future having the sixth and 11th picks in a relatively deep draft, whoever those players end up being.
Perhaps more importantly, at least in the interim, having two lottery picks makes the GM job in Portland that much more attractive to prospective candidates. According to Sam Amick of Sports Illustrated, that short list includes former New Orleans Hornets GM Jeff Bower, Indiana Pacers GM David Morway and Los Angeles Clippers GM Neil Olshey.
Of course, there's still the problem of working for Paul Allen, the Blazers' egomaniacal multi-billionaire owner, who has something of a penchant for firing folks in his front office.
But, for now, Portlandians can rejoice.
They have two lottery picks and should have a new GM and a new head coach in short order. A shrewd move here, a shrewd move there, and the Blazers should be back in the business of competing for the playoffs before too long.
A gain that will be theirs and theirs alone.