Brandon Marshall vs. Greg Jennings: Who Is the Most Dynamic WR in NFC North?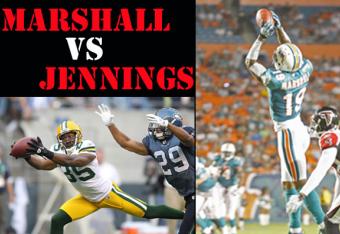 Greg Jennings and Brandon Marshall are the two best receivers in the division not named Calvin Johnson.
Johnson is, of course, the undisputed best wide receiver in the NFC North. There's no question or debate about it. We can debate adding in the league to that sentence, but we can't debate the first part.
Removing him from the equation, though—who would be top dog?
We're going to have to do this as a future projection based on past circumstance. After all, Jennings has had Pro Bowler Aaron Rodgers for most of his career. Brandon Marshall had Jay Cutler and such luminaries as Kyle Orton, Chad Henne and Matt Moore.
That doesn't mean he was bad, though. It might be closer than you think—so let's take a closer look at the two wide receivers.
Production
We'll start from the base numbers. Both players came out of the 2006 NFL draft—Jennings taken in the second round and Marshall in the fourth. Neither came in and lit the league on fire, though Jennings had the better end-of-the-year totals—632 yards and three touchdowns to Marshall's 309 yards and two touchdowns.
Jennings had far more targets—a stunning 105 that first year—but didn't catch half of them.
Since then, the two have been pretty even in terms of yards with Marshall compiling five straight seasons of more than 1,000 yards and Jennings doing so three out of five years and just missing on two years due to injury.
Jennings has far more touchdowns than Marshall—49 to 34—while Marshall has the edge in receptions with 495 to Jennings' 390.
Again, that Marshall has pulled the numbers he has without missing a beat through two years of mediocre (at best) quarterbacks is pretty impressive.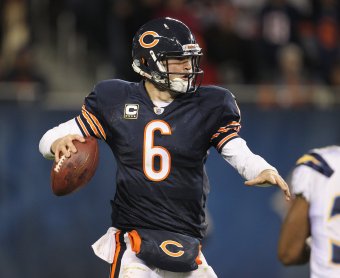 Jonathan Daniel/Getty Images
His two best years (2007 and 2008) were with Jay Cutler, the guy slinging him balls in OTAs right now. Marshall compiled 2,590 yards and 13 touchdowns in that two-year period.
That's not to say they will automatically pick up where they left off, but it's a good sign.
Consider this as well—Marshall had his third-best year in 2011 with Matt Moore throwing to him on a team with virtually no other receiving weapons, which meant Marshall got the brunt of the defenses' attention.
Jennings has his own challenges, as he is in the midst of a talented group of receivers beyond anything Marshall has played with in some time. Jordy Nelson, James Jones, Jermichael Finley and now Randall Cobb all factor in.
Marshall will be dealing with that this year—rookie Alshon Jeffery and Earl Bennett will get plenty of looks from Cutler as might Matt Forte and Kellen Davis—so we don't know for sure if he will overcome it the same way Jennings has.
This category is close as both players have been highly productive. Overall, Marshall has done more with less, so I give him a very slight edge here.
Catch Percentage
Marshall takes a lot of heat on this one—because he sure does drop some big balls.
Yet when I looked at the two players' overall catch percentage, I was surprised to find Marshall has actually hauled in a higher percentage of passes.
Jennings has caught just 57.6 percent of his passes to Marshall's 59.5 percent. Considering that Marshall has seen over 100 more targets, I was a bit shocked.
Marshall dropped a lot of balls in 2011, and yet over the last two years in Miami, his percentage was up to 58.3 percent.
So did Jennings' percentage—all the way up to 62.4 percent.
There are a lot of reasons for this. First, Jennings had Aaron Rodgers throwing to him and Marshall had Matt Moore and Chad Henne. There's a big difference in talent there.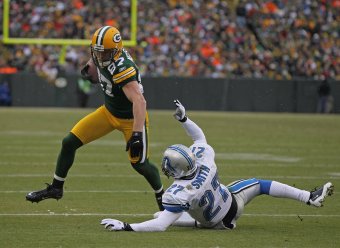 Jonathan Daniel/Getty Images
Second of all, Jennings had proper wide receivers around him to draw coverage. You can't double him up for fear that Nelson, Cobb, Driver or Jones will do you in.
Marshall's wingmen? Davone Bess and Brian Hartline.
If there is a spot where Jennings is the clear winner in this category, though, it's coming up big in big moments. Jennings doesn't drop as much as Marshall, but that's not the problem.
The problem is Marshall dropping when things are at a critical moment—in the end zone, during the two-minute drill, on a crucial bomb.
Marshall will talk big, but not always play big.
As with the production category, it's close. In this case, though, the ability to play big when it counts outweighs anything else. I give this category to Jennings.
Yards Per Reception
This is a category where, frankly, Marshall was at a disadvantage the last few years. In his last year in Denver, Marshall had Kyle Orton throwing to him. Orton is a serviceable quarterback but he doesn't have a cannon and doesn't throw the long ball all that well. It's hard for him to drop the ball in the bucket on a long play.
Chad Henne and Matt Moore? Same thing.
So when we look at Marshall's 12.6 yards per reception, it is with the knowledge that he didn't have Aaron Rodgers throwing the ball.
On Pro Football Reference's list of yards per reception leaders who are still playing, Marshall isn't even in the top 50.
That's brutal and hard to overlook. Especially with guys like Nate Washington, Patrick Crayton and Brandon Stokley on the list. Now, some of those guys have seen far fewer targets, so a big pass means more to them than Marshall.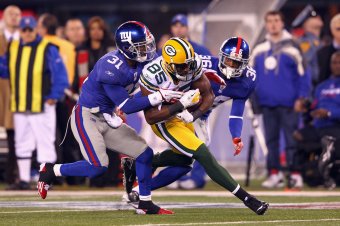 Al Bello/Getty Images
However, Marshall simply doesn't put up huge plays. Even with Cutler under center, Marshall only had 13- and 12.2-yard-per-catch years.
Meanwhile, Jennings is rocking a 15.8 overall and has never been under 14 yards per reception.
We can play 'if Marshall had Rodgers/Jennings had Henne' all night, but they didn't. All we can deal with is what is in front of us.
I expect Marshall's yards per catch to go up. It still won't reach Jennings'. Simply put, that means Jennings is more likely to put up a big, game-changing play.
He's a far bigger vertical threat than Marshall—which makes him much more dynamic and able to impact the game in a bigger way.
This one isn't as close—Jennings all the way.
Reliability
This could refer to catching a ball thrown to you, but it isn't.
It simply means that these guys are on the field more often than not.
Both players have missed parts of seasons. Jennings had injury issues in three of his six seasons, missing three games twice and two games his rookie season.
Marshall has had three seasons where he missed a single game, and one year (2010) where he missed two. His last year in Denver he was benched for a game.
Who is the better, more dynamic player?
Both have had durability issues, so that's a wash.
Off the field, Marshall has been one big, long, bad decision after another. He is supposed to be turning over a new leaf—we'll see how that works out. Until he proves that wrong, he will always be a concern.
Jennings is not apt to get into trouble and is not a guy who will be suspended by his team or the league.
You cannot make big plays from the bench or the stands. Jennings is more reliable for now—I'd like to see Marshall prove me wrong, as I always love to see guys reset and rededicate.
Summary
It's close. Really, really close. Marshall's productivity has been stunning considering some of the situations he's been in. One could argue he got himself into some of them—maybe he could have played nicer and he and former Broncos coach Josh McDaniels could have worked together.
Still, if I had to have a guy late in the game whom I feel like I could count on and know he wouldn't let me down 99 times out of 100, I'd take Jennings.
By the end of the 2012 season, I could be singing a different tune. However, for now, Jennings is the guy I want lining up on the field for my quarterback every Sunday.

Check out the B/R NFC North Facebook page - like us and keep up with everything NFC North on Bleacher Report!
This article is
What is the duplicate article?
Why is this article offensive?
Where is this article plagiarized from?
Why is this article poorly edited?