Detroit Red Wings: 5 Possibilities for Captain Next Season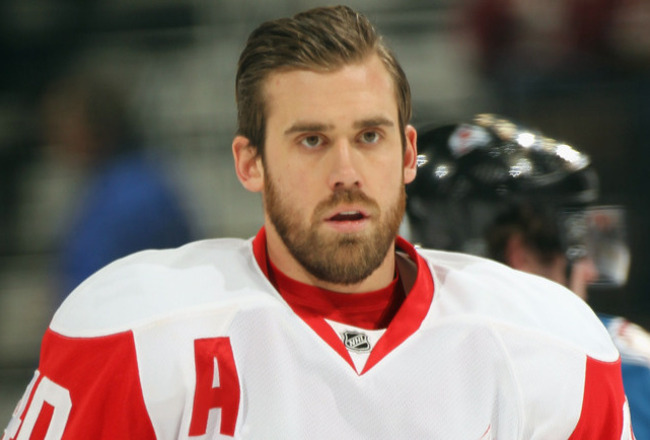 Since 1986, the Detroit Red Wings have only had two captains - Steve Yzerman and Nicklas Lidstrom. With the latest reports from Yahoo Sports that Nicklas Lidstrom will announce his retirement at an 11 AM press conference on Thursday, it is only right to try and look ahead at the next step.
Who will be the next guy to wear the C in Hockeytown? One thing is for sure, it is going to be nearly impossible to fill the skates that Lidstrom is leaving behind. So lets take a look at the possibilities for the Wings, and who may be the guy leading the troops next season.
1. Pavel Datsyuk
Arguably the biggest superstar on the team, there is no question that Datsyuk has the skill to wear the C; however, there is so much more than skill that goes into leading a team.
The first questionable thing that comes to mind is the fact that his English is far from perfect. He can speak the language but not as well as most Europeans in the NHL, and communication is definitely one of the larger aspects of being the captain. His English has gotten better through the years, but it's no surprise that he is never one of the louder guys on the ice.
One thing is for sure, Datsyuk will definitely be in the conversation when it comes to deciding the next guy to lead Detroit.
2. Henrik Zetterberg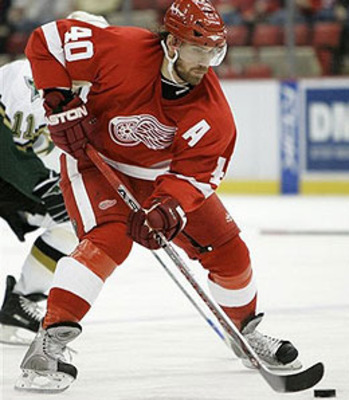 In my mind, Zetterberg is the favorite to be the next guy that carries the load in Detroit. He was their leading scorer last season, is already an alternate captain, and has the respect of every guy in the locker room.
He is a guy that can lead by example and plays hard on both ends of the ice. He is also signed until 2020, which would mean that there is the possibility of another long term captain.
In my mind, Hank should be the guy, but there are still many other options.
3. Tomas Holmstrom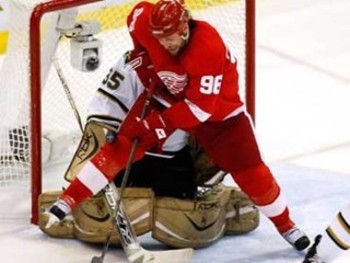 They would have to re-sign him, but why not? Holmstrom has been around for ever and although he is not one of the leading scorers, he is always a fan favorite and plays the right way.
If Detroit wants to try and send a message for a new style of play by digging harder in the trenches as opposed to the more finesse type they have played for over a decade, Holmstrom would be a great symbol.
He isn't afraid to stand in front, and plays every shift like it's his last. Definitely a long shot, but I don't think a lot of Red Wings fans would be too upset to see him leading the boys.
4. Niklas Kronwall
Cannonball Kronwall (I'm trademarking that by the way) is by far the most physical defenseman on the Wings, and is definitely a guy that can affect the momentum of a game at any given moment. He is not just a bruiser however, he is also a very skilled defenseman, both offensively and defensively.
His 36 points this season were the most of any D-man on the Wings roster (he had two more points than Lidstrom). He has become a staple to the Red Wings lineup, and he is signed through 2018.
My favorite part about Kronwall's game is that he shows time and time again that legal big hits are still a part of the game. He doesn't leave his feet and makes sure to lead with his shoulder. For all you young defenseman out there, Niklas Kronwall is a great guy to mimic your game after.
He is also already an alternate captain, and I just love watching him play the game.
5. Johan Franzen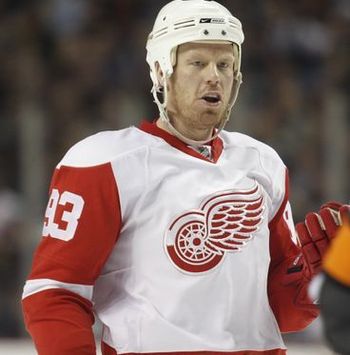 The Mule recently signed a huge contract that will keep him in the Motor City through 2019, and he is another one of the main offensive threats that the Red Wings have on the roster.
He is another guy who plays the game the right way and has a knack to score big goals at big times. It is probably a long shot that Franzen will be the guy carrying the C, but he is still a guy that is more than capable of doing it.
What do you think Hockeytown? Who do you want to see as your captain next year?
Keep Reading

Detroit Red Wings: Like this team?