What the Colorado Rockies Need to Become Legit MLB Contenders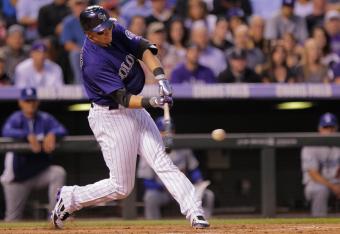 Troy Tulowitzki teeing off
Doug Pensinger/Getty Images
What can I say about the Colorado Rockies this year that Buck Nasty has not already said about Afghanistan, "[they] look bombed out and depleted."
The team currently stands at 19-29, which is the fourth worst record in baseball, placing them 12.5 games out of first place in the National League West.
With no one playing particularly well at this time, there is very little chance of the Rockies making another miraculous playoff run. Even though it is still early in the season and history tell us no one should write off the Rockies.
The question seems to be how does the team, as well as the front office, get things moving in the right direction, and put the franchise in contention for playoff spots in the future.
The most obvious hole on the roster is, without a doubt, the bullpen. It has been a glaring weakness for the Rockies throughout their entire existence as a franchise.
In fact, the lowest club ERA for any season is 4.66, which happened in 2006. Outside of Ubaldo Jimenez, we have never employed the likes of an all-star pitcher.
Even he, who was seemingly delivered to us on a purple, black, and silver platter, was not offered a long-term contract after his all-star season.
In short, the first step towards making the Rockies a contender is finally spending big money for a big pitcher who can win upwards of 15 to 20 games a season.
The team did pick up Jeremy Guthrie last season. He is a fairly reliable pitcher that has shown flashes of brilliance during his young career.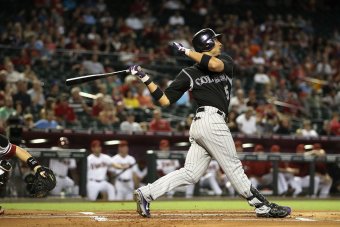 Christian Petersen/Getty Images
However, he is going to need serious help on the mound other than De La Rosa, Chacin, and Nicasio if the Rockies want to consistently contend in the National League.
Currently, it seems as though the Rockies don't have the necessary pieces to successfully conduct a trade for a top-flight pitcher. Carlos Gonzalez and Troy Tulowitzki are much too valuable to the future success of the team to deal away.
Todd Helton is getting older and ultimately losing some of his trade value. Michael Cuddyer was just signed to a three-year, $31.5 million deal with the team, making it unlikely the front office will put him on the trading block. Dexter Fowler is still developing his swing and overall game.
Everyone else on the roster does not have the kind of talent needed to trade for an ace pitcher.
Nevertheless, the Rockies cannot continue to rely on their farm system for a pitching staff. They have done very well in the past plucking talent from minor league teams.
However, in order to become perennial playoff contenders, the team needs a veteran arm with some nasty pitches in his arsenal.
With few trade options available, the team must look to free agency. De La Rosa and Gutherie will end up there if not re-signed before the end of the season.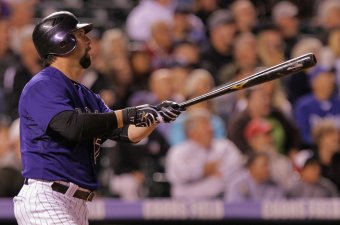 Doug Pensinger/Getty Images
Looking at the list of possible free agents in 2013, there are a number of pitchers who would bring excitement to the Mile High City.
While Cole Hamels, Roy Oswalt and Zach Greinke are a bit of a stretch, they are exactly the type of player the Rockies needs to turn around their bullpen and help develop some of their young pitching talent.
Baring these superstar additions, there are still a number of lesser-celebrated pitchers who will become available at the end of this season. Francisco Liriano, Ervin Santana, Edwin Santana or even Carlos Zambrano would bring some much-needed talent and confidence to the starting rotation in Denver.
Despite their poor start this year, the Rockies do have a legitimate foundation from which to build upon.
Signing both CarGo and Tulo to extremely lucrative, 10-year deals is a clear step in the right direction. However, the front office must be willing to spend more money in order for the team to reach that upper echelon of MLB teams.
The Rockies have done surprisingly well in regards with their pay roll—they currently rank ninth- lowest in the league—but still lack the depth and consistency of many of their competitors.
The franchise can hope to catch fire again like they did during their unforgettable 2007 playoff run. Or, they can choose to revamp their process of evaluating talent, go after proven players with long-standing records of success in the MLB and build a more consistent team that regularly makes the playoffs.
Doting Denver fans deserve better, and it all starts in the front office. They can no longer be content simply selling seats and jerseys.
The loyal fans want a championship, or at the very least a legit contender. The only way to ensure this is for the Rockies to open their checkbooks.
This article is
What is the duplicate article?
Why is this article offensive?
Where is this article plagiarized from?
Why is this article poorly edited?

Colorado Rockies: Like this team?