Alabama Football: How Crimson Tide's Future Stacks Up Against Top SEC West Teams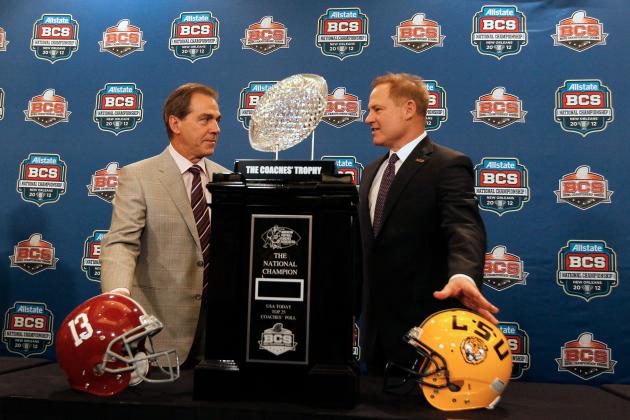 Kevin C. Cox/Getty Images

Many teams live in the present, some teams live in the past, and most live for the future. Only the best SEC teams live for all three. And the SEC West's past, present, and future look equally bright.
The goal of teams in the SEC West is, was, and always will be the national championship, and they have the best record in modern college football of achieving it.
But to get there, they must run the SEC gauntlet each year, they much face the best teams the SEC has to offer and they are all located in the western division of the SEC.
The best route to the national championship at the moment is through the SEC championship (though alternate routes can be found: Alabama, 2011 season), but to make it, each team must win the SEC West.
Each of these four team's upcoming seasons looks extremely promising, but what about the future?
How do these teams' futures compare to that of opponents in the SEC West?
I will give an examination based on alphabetical grades to give a debatable indication of what the future holds for the top teams in the SEC West: Alabama, Arkansas, Auburn, and LSU.
Grades given are based on the SEC West and not the nation as a whole. All of the teams are top-tier from a national standpoint and would earn an "A" in almost every category in that aspect.
The areas examined will be coaching staff, program stability, recruiting, *pro potential, championship contention, and near future (next one to two years).
* - Pro potential is a sub-category of recruiting.
Begin Slideshow

»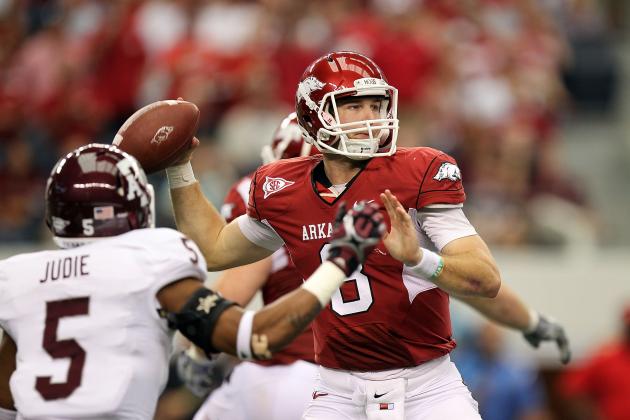 Ronald Martinez/Getty Images

Coaching: C
Arkansas had a great thing going in the coaching department before Bobby Petrino was fired. Petrino was quickly becoming recognized as one of the best coaches in the SEC, behind only Nick Saban and Les Miles.
He left behind some great assistants, but Arkansas' former special teams coach is their new head coach. Yea, special teams to head coach...really?
Anything more than a "C" would be too much of a stretch given the uncertainty, and that's being generous.
Program Stability: B
Since Arkansas entered the SEC in 1992, they have been a solid team, but they reached top-tier status within the past several years. They typically have winning seasons, though championships of any sort are few and far between, especially with the competition they face.
But consistent victories despite the lack of championships earns the Hogs a "B".
Recruiting: C
The Hogs have a dominating grip on talent in the state of Arkansas, but that does little for them as the state isn't exactly a recruiting hotbed.
In recent years, they rarely have broken the top-25 in national recruiting rankings with the highest being 16th in 2009.
Pro potential: C
Arkansas has not had a player drafted in the first round of the NFL draft since 2008. They had four total drafted in 2012, but their three best eligible receivers fell to the fourth round, and their defensive MVP, Jake Bequette, went in the third round.
Without Petrino's coaching, the upward trend looks to halt.
Championship contention: D
Arkansas has been to the SEC Championship Game twice in the past decade, and they were handily defeated. Their last national championship was in 1964.
The Hogs might always be in the mix to win something big, but they always fail to produce.
Near future: B
Arkansas returns quarterback Tyler Wilson in 2011 as well as a host of offensive play makers, including running back Knile Davis. They have a very good shot at ending Alabama's win-streak over them that started in 2007 and an even better chance to take down arch-rival LSU.
This is all assuming the team continues its upward trend and doesn't collapse under the absence of Bobby Petrino.
Bottom Line: C
The Razorbacks have consistently been one of the best teams in the nation for several years now, but their competition in the SEC West keeps them as simply an above average SEC team.
They look to keep their good but not great status alive, even without Bobby Petrino.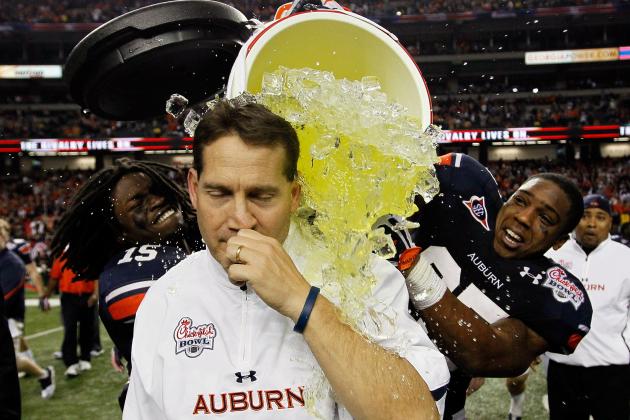 Kevin C. Cox/Getty Images

Coaching: C
Head Coach Gene Chizik showed a lot of promise, despite his poor record as Iowa State's head coach, but he has yet to prove he can succeed without a Heisman winner at quarterback.
He will be working with brand new offensive and defensive coordinators in 2012, so a higher grade is not warranted just yet.
Stability: D
Since Tommy Tuberville left The Plains, Auburn's future has been bleak at best, but Gene Chizik came in and helped bring home the Tigers' first national championship in 50 years. However, most (if not all) of that was owed to the advent of Cam Newton.
The coaching personnel turnover since Tuberville left has been quite tumultuous, but at least Chizik and Trooper Taylor are still around.
With key coaching personnel jumping ship for higher paying gigs, it's hard to consider Auburn a stable program at the moment, especially considering their yearly win/loss charts looks like the Dow Jones.
Recruiting: B
The state of Alabama is one heck of a recruiting hot bed, but it's still amazing how well Gene Chizik has brought in top-notch recruits since becoming the Tigers' head coach, considering that Nick Saban usually gets first dibs on top-talent.
Auburn has brought in a top-10 recruiting class for the past three years, highlighted by a fourth place finish in 2010, behind only USC, Florida, and Texas. That same class contained Cam Newton and Michael Dyer, who are both no longer Auburn Tigers.
Pro potential: C
Auburn has always been a great place for the NFL to scout, and the 2011 draft was one of the best years ever with Cam Newton and Nick Fairley going in the first rounds.
The trend may continue, but the 2012 NFL draft saw only one player drafted, Brandon Mosley, in the first round. This was largely due to the vast majority of the 2011 Tigers' roster being underclassmen and ineligible for the draft.
Championship contention: B
Though Auburn owes their 2010 national championship season to Cam Newton, I have to give credit to Chizik and the team for knowing what to do with the lightning they had just caught in a bottle.
But I give them a "B" for this one because it wasn't just their 2010 season. They have come very close many times in the past without winning it, and close is what "contention" is about.
Auburn went 13-0 in 2004 with an SEC championship victory and had one of the best defenses in football history. They should have been in the national championship game, but two other undefeated teams, Oklahoma and USC, went instead (and USC vacated the win later on due to scandal).
The Tigers are always in the mix, despite the fact that they come up short more often than not.
Near future: C
The Tigers may have to be content to live in the past, for the moment at least. They struggled mightily in 2011 with the absence of Cam Newton and Nick Fairley, but they at least had Michael Dyer.
Dyer is no longer with the Tigers, but they have a lot of very promising running backs to replace him.
The team is still young, and they are likely one year away from something big, but "it" might be really big if new quarterback Kiehl Frazier can run Auburn's offense even half as well as Cam Newton did.
Bottom Line: C
The Auburn Tigers are not content to play second fiddle to the University of Alabama, and they give it their all every year.
Alabama may have more accolades, but the Tigers are one of the Tide's toughest opponents every single year and one of the toughest teams in the entire SEC.
If Gene Chizik can get his new coaching staff to gel properly, they will still be a SEC team to be wary of.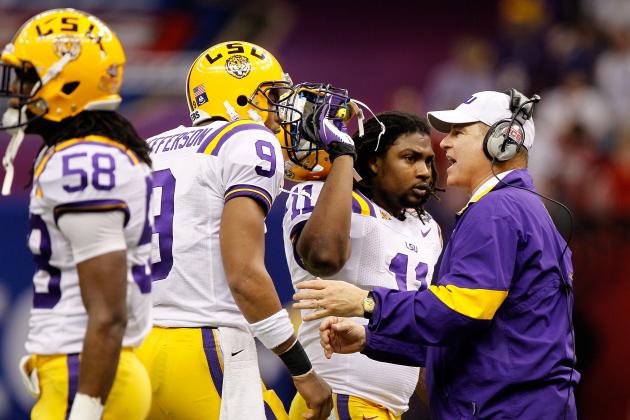 Chris Graythen/Getty Images

Coaching: B
The LSU Tigers nearly deserve an "A" rating as defensive coordinator John Chavis has maintained LSU's status as one of the best defenses in the nation for several years now.
And then there is Les Miles. I'm a believer that LSU succeeds despite Les Miles. The talk last season about Miles possibly being the best coach in college football disappeared in an instant after the debacle he led in New Orleans.
He has made plenty of confusing decisions over the years, but his worst was sticking with Jordan Jefferson for his entire career, all the way up to his dismal national title game performance.
Miles also made the mistake of not replacing his offensive coordinator, Greg Studrawa, who has been fairly inept at everything but coaching the Tigers' offensive line.
Quarterback coaching has been, overall, atrocious at LSU. Jordan Jefferson and Jarrett Lee were both quarterbacks with great potential who ended up being two of the worst in the SEC.
Stability: A
Though the coaching staff has a slew of deficiencies, they are reliable. Les Miles has limited personnel turnovers and has been in Baton Rouge himself since 2005.
What makes them a very stable program is the fact that Les Miles, a Michigan man through and through, elected to stay as LSU's head coach instead of pursuing the head coaching position for the Michigan Wolverines—not once, but twice.
Recruiting: B
The Tigers have done a great job in recruiting, and an even better job at turning unknown prospects into starts (Tyrann Mathieu, for example).
They consistently bring in stellar defensive prospects, certainly, but haven't been able to secure a good quarterback before Zach Mettenberger.
Though LSU's recruiting is good, it's nowhere near the best in the SEC, despite the fact that they get first dibs on pretty much any and all talent in the state of Louisiana.
Pro potential: A
LSU is just as much of a pro factory as any school in the nation. Each year they pump out an excellent draft class, at least on defense.
Last year they had five total players drafted, with the lowest in the fourth round and two, Morris Claiborne and Michael Brockers, in the first round.
Next year they will likely send both their starting defensive ends, Sam Montgomery and Barkevious Mingo, into the NFL via the first round.
They have developed a trend lately of having cornerbacks drafted in the first round, but the Honey Badger likely won't be one of them.
Championship contention: A
The Tigers get an "A" in championship contention because they have made three appearances in the SEC Championship Game since Les Miles arrived, winning two of them, and two national championship appearances, winning one of them.
Miles' early success in 2007, winning the SEC and the national title, was owed in part to what Nick Saban had built the program into during his tenure. Their 2007 national championship was nothing short of a miracle after getting a bid to the title game with two losses.
Near future: A
Admittedly, LSU's future in 2012 looks brighter than any other team in the conference, but not by much.
They will look to make a push for the SEC championship and beyond for the second year in a row and will do so by trying to take advantage of rebuilding (or reloading) teams like Alabama and Arkansas (who lost head coach Bobby Petrino).
What 2013 and beyond hold for LSU is still a mystery, but one thing is certain: The LSU Tigers will maintain a great winning trend and will likely have 10-win seasons for some time.
Bottom Line: A
The LSU Tigers are one of the most dominant teams in both the SEC and the nation. They will continue this trend for what seems like years to come.
Like all the teams listed, the Tigers would have a great deal more success if they were in any other place than the SEC West.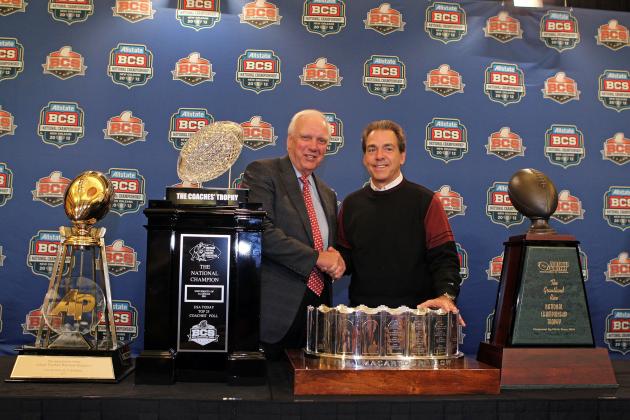 Andy Lyons/Getty Images

Coaching: A
Haters of the Crimson Tide will say that Nick Saban isn't the best coach in college football, that he's just a good manipulator. Well, Saban's three national title rings speak for themselves.
Top to bottom, Saban runs his program in the best way possible when it comes to success.
The Tide's defensive coordinator, Kirby Smart, is the best in the nation as well, and many wonder why he is still hanging around Alabama instead of taking a head coaching gig somewhere else.
Alabama's position coaches are outstanding as well, as Nick Saban only brings in the best.
The only knock on their coaching was Jim McElwain, who did well as the Tides' offensive coordinator but could have done a lot better. His successor, Doug Nussmeier, is thus far a mystery at best.
Stability: A
Since Nick Saban arrived in 2007, the Tide has been one of the most stable programs in the nation, both in coaching personnel turnover and success.
Lower-tier coaches at programs like Alabama typically don't stay very long as their success brings them many offers, such as Jim McElwain becoming the head coach at Colorado State and linebackers coach Sal Sunseri becoming Tennessee's defensive coordinator.
Saban has made it clear many times that he intends to stay in Tuscaloosa until he's ready to spend his fall days on the lake.
Recruiting: A
Alabama has had the top recruiting class four times since Nick Saban arrived, and the trend will continue.
Top-tier talent flocks to Alabama due to their winning tradition and pro-factory reputation.
Nick Saban doesn't get every five-star prospect he wants, but for high school prospects that look to go to the NFL some day, there isn't really a better place to go, at least for defensive standouts and running backs.
Pro potential: A
The potential for heading to the NFL is about as good as it gets at Alabama. Defensive players from Alabama are a hot commodity in the NFL, and good performance guarantees sky-high draft stock.
Offensive players aren't as highly-touted by draft scouts, but there may not be a better school in the nation for developing running backs into NFL prospects at the moment.
The Tide has sent four players in the first round of the draft the past two years (including two running backs), and nearly sent five in the most recent draft.
The trend will continue as developing players for the next level is Nick Saban's highest priority after winning championships.
Championship contention: A
Alabama has won two of the past three national championships and was only one game away from playing for it in 2008.
Four points (three against LSU and one against Auburn) in 2010 was the difference between possible title contention and a 10-3 season for the Tide.
The Tide also has one of the best shots in the nation at competing for the title in 2012 as well, and even the harshest critics must agree it's far from out of reach for the Tide.
Right now, Alabama is predicted to face USC for the national championship game in January, 2013. That may prove to be the case, but LSU, Arkansas and Auburn will all have something to say about that.
Near future: A
Alabama will again be a team to watch in 2012 with national title hopes alive and well. Everybody marks Alabama on their calendars.
It will be a tough season for the Tide, however, as LSU is just as strong as before and Arkansas could finally end Alabama's win streak over them.
Alabama's 2012 potential is substantially greater than their potential in 2010. The odds of them repeating as champions are significantly higher now than they were then.
Bottom Line: A
Alabama is a perennial national contender under Nick Saban, and at a relatively young age of 60, Nick Saban will be around awhile.
As long as Saban is at the helm, the Crimson Tide will consistently be perched either at the very top or very close to it.
The Tide's promising future is unrivaled, but many come close and will inevitably send the Tide home as losers once in a while.