The Pro Bowl Is Returning to Hawaii, and Nothing Has Changed at All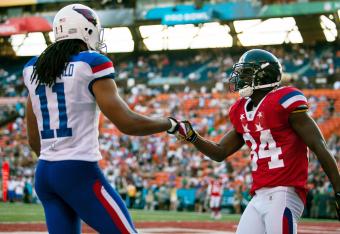 Kent Nishimura/Getty Images
Great news, no one! The Pro Bowl has not been cancelled and will return to Hawaii, ending hopeful speculation that last season's Hindenburg would have been the last one ever.
In case one mercifully doesn't know what the Pro Bowl is, here's a recap of last season's game: Lots of defenders pretending to be bullfighters in a 59-41 offensive onslaught, with the main highlight being a failed Drew Brees dropkick that went 5,476 yards less than he threw during the regular season.
There was a rumor that the game would possibly be played in New Orleans, which would have made no difference whatsoever to the minimal quality of the game itself, but that also wasn't true, so nothing changed at all.
Oh, never mind, the players now make $3,000 more than they did last year, because that is what drives million-dollar athletes to care about something. Whatever. There really is no point in complaining about the Pro Bowl anymore—and trust me, if one goes on Twitter and searches "Pro Bowl," those complaints are there—because it's fairly obvious the NFL only thinks of extermination as a change.
Any idea of special contests a la NBA All-Star Weekend, changing the venue or having the players wear moon shoes is just never going to happen. There's no point in dying on this hill anymore. The game gets good TV ratings and makes money, so there's no real reason for the NFL to change its formula, even though most fans would desire this.
The Pro Bowl, at this point, is a TV show. Its offseason hiatus consists of wondering whether or not it'll be "brought back" or "cancelled" or "revamped." It's community, except it sucks and no one wants six seasons and a movie. There's no reason for an NFL event to be masqueraded this way.
The reason its status was being questioned is due to the quality of play, which makes this quote from NFL executive vice president of football operations Ray Anderson so insane:
The players have made it clear through the NFL Players Association that they would like the opportunity to continue to play the Pro Bowl in Hawaii. We will support the players on this initiative to improve the Pro Bowl. We have had many discussions with the players in recent years about the Pro Bowl and they recognize that the quality of the game has not been up to NFL standards. We look forward to working with the players toward the goal of improving the competitiveness of this season's game.
What? This is the players' doing? How? The Pro Bowl looks like a backyard football game entering its third hour. Is this a second chance? What does "working with the players" mean? Is Goodell going to run drills during practice? Good God. The way to improve something isn't to keep doing the same things over and over and hope they improve automatically. That's what a sociopath does.
So yeah. The Pro Bowl is happening, and the NFL is ensuring the game will be worthwhile because it'll give the players a stern talking to (also, it has taken the league this long to even consider talking to the players about quality? Really?). Nice.
This article is
What is the duplicate article?
Why is this article offensive?
Where is this article plagiarized from?
Why is this article poorly edited?