Dr. Reefer Says Dana White's Wrong About Marijuana's Legal Status in Nevada
May 30, 2012

Zuffa's president and part owner Dana White recently spoke out against marijuana usage on HDNet's Inside MMA show. In case you missed it, here's what White had to say: 
It is what it is. You go out and you smoke marijuana, it's illegal. I don't care if "Dr. Reefer" gave you a prescription for it, you absolutely, positively cannot do it, according to the rules of the Nevada State Athletic Commission (NSAC). I don't care how many lawyers you get or what happens, you cannot smoke marijuana. You cannot take PEDs. There's a whole list of things that you cannot do, and if you get caught doing these things, you will be fined, and you will be put on suspension.
There are a few problems with White's claims. First of all, "Doctor Reefer" is not a real doctor and can't write prescriptions. The real origin of the moniker is hard to trace as far as who started using it first, but these days, an Internet search for the term will lead you to a ton of stories and videos featuring Pierre Werner.
Werner was sentenced to 41 months in prison last November by a Las Vegas judge. He is currently serving that time in federal prison on top of having to pay $27,438 in restitution. He will additionally be expected to complete three years of supervised release once he gets out. 
Werner began using the Dr. Reefer label while operating a medical marijuana dispensary in Boulder, Colorado. He later sold that business and moved to Las Vegas when Colorado passed a law barring convicted felons from operating dispensaries. Werner has two prior convictions for possession of marijuana with intent to sell. 
Nevada has a much different setup when it comes to approved use of medical marijuana. Patients who get clearance to use the drug must grow their own or assign a caregiver to grow it for them if they are too sick to accomplish the task themselves.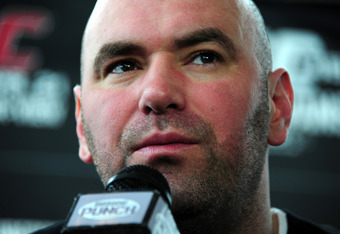 Scott Cunningham/Getty Images
Under the state's Medical Marijuana Act, providing marijuana through a traditional dispensary setup is absolutely illegal. Werner wound up in so much trouble because he and his family were involved in some over-the-counter sales that the act does not allow. 
A few months after Werner reported to prison, a Las Vegas judge eviscerated the state's medical marijuana law and called it "unconstitutional."
The current Dr. Reefer operation is not Werner's doing, and there are absolutely no sales or prescriptions involved. The Dr. Reefer name is now being used by a Las Vegas-based business that helps medical marijuana candidates obtain legal permission to use the drug. The business functions in an advisory capacity to help potential patients get through all the red tape and complete all the proper paperwork to be legal pot users. 
An official reply to a request for a response from Dr. Reefer to White's comments resulted in the following email from info@drreefer.com: 
Mr. White is just kicking a man while he is down. Smoking marijuana is not illegal in Nevada if you have a doctor's recommendation. DrReefer would differ from President Dana White and so would lots of attorneys. If DrReefer gave a recommendation for Medical Marijuana to a UFC fighter then the use of medical marijuana would not be illegal with respect to the Nevada State Athletic Commission. The use of medical marijuana is legal in Nevada. Please see Nevada Revised Statues (NRS453A).

What most likely happened is that fighter Nick Diaz used marijuana without a recommendation. Mr. Diaz and any other fighter who suffers from severe pain should exercise their constitutional rights and get a medical marijuana recommendation from DrReefer. Also, Nevada law allows patients to acquire their medical marijuana licenses after an arrest or fine and appeal any negative outcome from the use of medical marijuana.

"Uncle Dana" should respect the fighters that fight for him and put food on his table. He should also respect Nevada law.

Respectfully,
DrReefer
Nick Diaz's recent one-year suspension by the Nevada State Athletic Commission raised the controversy that led to White's comments about Dr. Reefer, but it appears White is overlooking the complete details of the commission's decision.
For one, Diaz had trouble producing a medical marijuana card from his home state of California. A final hearing on the matter had to be delayed until he could provide the card for inspection.
Additionally, Diaz did not admit on pre-fight paperwork to using medical marijuana, explaining that he thought the questions about drug use were related only to prescription drugs. The offense was also Diaz's second violation in Nevada pertaining to marijuana.
Finally, it appears the commission put some extra weight on the fact that Diaz admitted to needing the drug for anxiety and ADHD and not a more serious medical condition. 
Had the situation been different and if Diaz's attitude was not so blatantly disrespectful at certain stages of the process, he might have been given a lighter sentence. Either way, if Nevada is granting fighters Testosterone Use Exemptions for those who can prove they have serious medical conditions, approving exceptions for card-carrying medical marijuana users can't be that far off.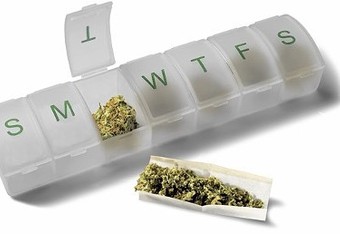 White made a point to argue that smoking marijuana is illegal, yet nothing's been done to involve law enforcement. Nick Diaz has not been arrested. Neither have any other UFC fighters who tested positive for marijuana use and served suspensions.
Though federal law outlaws marijuana use, states have adopted conflicting attitudes toward the drug's medical use that federal agencies respect and allow to continue unchecked (for the most part).
The same can't be said for other illegal offenses UFC employees have been arrested for. UFC light heavyweight Jon Jones recently pleaded guilty to Driving While Intoxicated (DWI), and ring card girl Arianny Celeste was arrested for domestic violence.
Will they be fined and suspended for their off-duty antics just because they were also caught doing something "illegal"? Fat chance.
The NFL and other sports often issue hefty fines and suspensions for off-the-field player arrests, and White is always saying he wants to be more like the NFL. So, if he's going to advocate fines and suspensions for medical marijuana users (which is a grey area of the law at best), he ought to be ready to really drop the hammer on Celeste and Jones.
It's too bad marijuana doesn't cure baldness. Maybe then "The Baldfather" could get his own medical marijuana card and mellow out a little.