Manny Pacquiao: WBO Welterweight Title Will Stick with Pacman
May 30, 2012

Stephen Dunn/Getty Images
On June 9, Manny Pacquiao (54-3-2) will defend his WBO Welterweight title against underdog Timothy Bradley (28-0-0) at the MGM Grand in Las Vegas. 
It's not the fight we've all been hoping for (Pacquiao vs. Floyd Mayweather), but Pacman is putting his title on the line against a promising young fighter in what will surely be a special evening. 
Pacman is the clear favorite entering the fight. According to CheckYourOdds.co.uk, the probability of a victory is 78.44%. Bradley's probability of winning is 18.68%, while there's a 2.88% chance that the match ends in a draw. 
The Vegas odds are heavily leaning towards Pacman, but this match is far from a safe bet, so hold off on the second mortgage for now. 
Why Pacquiao Will Win 
Pacquiao has 15 consecutive wins dating back to 2005. The 33-year-old remains an effective fighter and is looking to continue his win streak.  His last notable fight was against Miguel Angel Cotto in 2009. Pacman won the match with a TKO and claimed the WBO Welterweight title in the process. 
He hasn't had a knockout since his fight against Cotto, but with 38 career KO's, he still has it in him.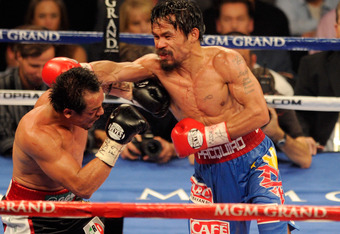 Ethan Miller/Getty Images
With more experience under his belt, Pacquiao will use his smarts and raw power to control the fight. Unless he gets overly aggressive and unnecessarily wastes his energy, he should be in good shape. 
Is an Upset Brewing? 
At the age of 28, Bradley is younger and possibly the hungrier of the two fighters.
According to an article by ESPN, Bradley criticized Pacquiao for struggling against a 38-year-old Juan Manuel Marquez in 2011. "He couldn't stop a 38-year-old [Juan Manuel] Marquez, so he's definitely not going to stop a 28-year-old like myself." 
"They may think that Marquez just has Manny's number, but whatever Marquez can do, I can do 10 times better."
Pacquiao fought Marquez in 2004, and the match ended in a draw. He later defeated Marquez in 2008 and 2011.
Another ESPN article mentioned that Pacquiao's current mindset has been questioned by promoter Bob Arum, who suggested that he has been distracted ever since his fight against Marquez last year. Pacman is being challenged by Bradley's trash talking and is possibly distracted from the fight altogether.
It's vital that he remains focused if he wants to avoid an upset.