Alabama Football: Tide's 5 Most Underrated Players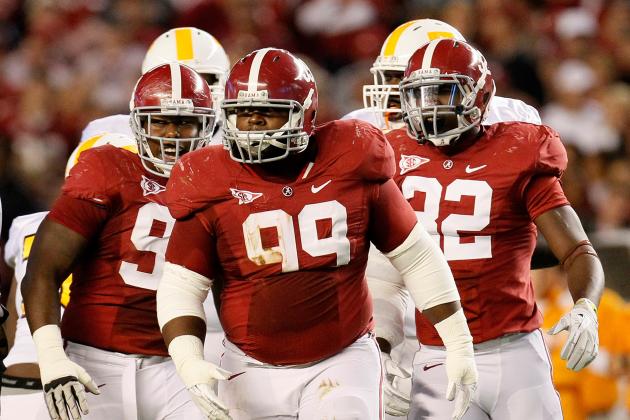 Kevin C. Cox/Getty Images

Nick Saban's teams at Alabama always make headlines, and a handful of players are the talk of the town in the national football scene. There are also plenty of guys that quietly play their part in helping bring home hardware.
They are the type of players that make big impacts throughout the season but get stuck in the shadow the bigger names.
Alabama lost quite a few starters to graduation and the NFL this past season (as usual), so all of the following players will get a lot of opportunities to make even bigger names for themselves.
These players are all guys that I see in the NFL someday soon, but they were rarely talked about between all the "Richardson this, Hightower that."
These are the players that will begin the season being underrated from a national standpoint, but will finish the season as either All-Americans, All-SEC or high NFL draft picks.
Begin Slideshow

»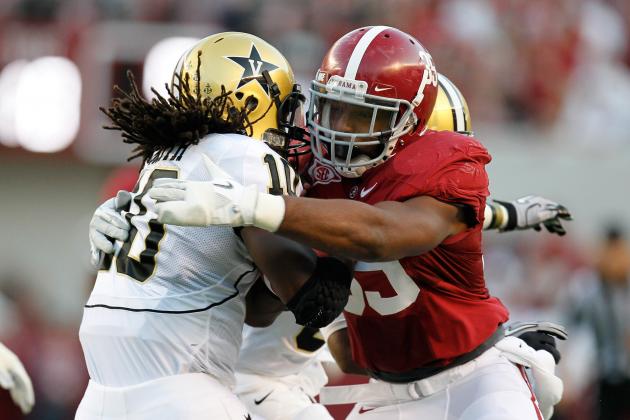 Kevin C. Cox/Getty Images

Middle Linebacker, 6'3", 245 pounds, Senior
Nico Johnson has been one of the most consistent players for the Tide since the beginning of the 2009 championship season, but everyone was so focused on Rolando McClain, Dont'a Hightower and even Johnson's wingman C.J. Mosley, Alabama's best pass-coverage linebacker.
Johnson has been either a full- or part-time starter since his true freshman season in 2009. He played in 12 games in 2009, and when Dont'a Hightower went down with a torn ACL, Johnson started against two of Alabama's toughest opponents that year: South Carolina and Tennessee.
The media is finally starting to mention Johnson's potential and contributions now that Hightower has left, and it's about time.
Johnson has 107 career tackles, 14.5 tackles for losses, two sacks and two forced fumbles...all while sharing playing time heavily, especially with Mosley in 2010 and 2011.
He isn't a flashy player and doesn't make a lot of splash plays, but he's one of the most reliable run-stuffing linebackers in the nation.
He also plays well in pass coverage (his "weakness")—including while filling in for Mosley when he was out last year with a dislocated elbow—with a career total of six passes broken up.
Johnson is one of the most reliable middle linebackers in the SEC, and certainly one of the most seasoned with three full seasons of solid playing time under his belt.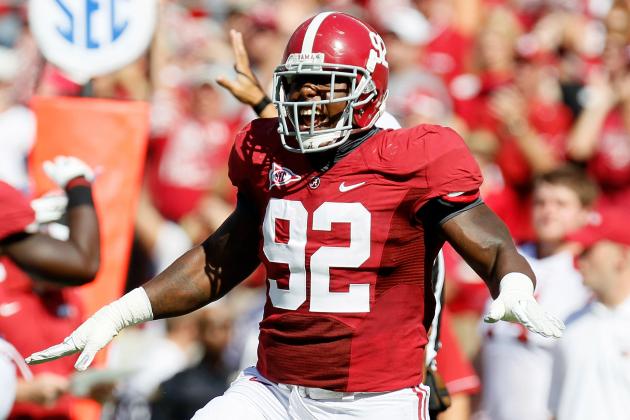 Kevin C. Cox/Getty Images

Defensive End, 6'3", 285 pounds, Redshirt Senior
Damion Square is one of the Tide's most seasoned players, and he began his career at Alabama back in 2008.
He was a 4-star rated prospect projected to play linebacker but Nick Saban turned him into a 3-4 defensive end, certainly no easy task.
Square tore his ACL in 2009 and little was said of him after that, even after he earned six starts in 2010.
He earned a full-time starting position in 2011 and was a critical piece to Alabama's ridiculously good defense.
Maybe he isn't talked about much because he has only four career sacks from the blindside defensive end position, but numbers from the defensive line mean nothing at Alabama.
It's all about creating opportunities for the linebackers.
Square played a big part in the success of Alabama's sack machine, Courtney Upshaw, for the past two seasons.
His job isn't to get the big stats, but rather to impose his will on the opposing offensive line. That he did well.
Square looks to hold onto his starting role as the Tide's starting right defensive end.
Left Guard, 6'3", 320 pounds, Senior
Chance Warmack has been a steady, powerful contributor on the offensive line for the past two seasons, and participated in several games as a true freshman.
With William Vlachos being on the Rimington Trophy watch list a couple times, NFL scouts drooling over D.J. Fluker and Barrett Jones winning the Outland Trophy in his first year starting at left tackle, not a lot of folks were talking about Warmack and his success.
And when the offensive line's failures were brought up, Warmack's name was nowhere to be found.
Warmack played a big part in Jones' success at left tackle in 2011. He rarely to never missed assignments, pancaked a lot of defenders and almost never committed a penalty.
I am a huge Vlachos fan, but I remember him being called for holding several times during the past three years, but I honestly can't recall a holding call on big No. 65 in 2011.
Warmack is a consistent, reliable force on the Tide's offensive line, and NFL scouts already recognize this. He is ranked by many as a top-five guard nationally, but I expect his stock will rise.
An even more underrated aspect to Warmack's game is how well he will help Cyrus Kouandjio settle into his new starting role at left tackle.
He is the real deal, and I don't expect Warmack to last through day two of the 2013 NFL draft.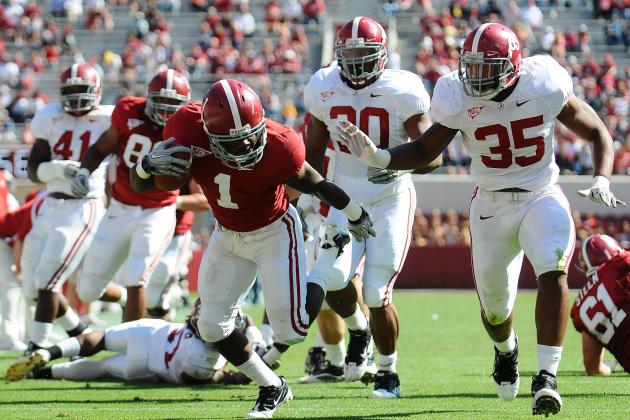 Running Back, 5'9", 187 pounds, Redshirt Freshman
I have heard plenty of Alabama fans and critics alike say that Demetrius "Dee" Hart can't be a real running back at Alabama.
And I am one of them.
Because of this, his true worth is lost to just about everyone but Nick Saban and the coaches.
He's about the same height as Mark Ingram was, but his light weight has made many wonder how well he can run between the tackles in the SEC.
How can a running back get solid yardage in the SEC if he can't break arm tackles?
I'm not so sure he'll even need to, assuming he is utilized properly.
Hart is an electrifying player who just makes things happen. Sure, he hasn't played a single college football game, but that's only due to his torn ACL last summer. Before that injury, you can bet Saban had big plans for this young man.
But everyone is talking about Eddie Lacy and his spin move, true freshman phenom T.J. Yeldon and Alabama's resident bulldozer, Jalston Fowler.
True, Hart cannot do everything expected of an Alabama running back, but he has his own special talents that will do more for the team than most realize.
Before the 2012 season is over Hart will live up to that 5-star rating he had while being recruited.
Just wait until he hauls in his first touchdown reception. And his second, third, etc. This guy has screen pass written all over him.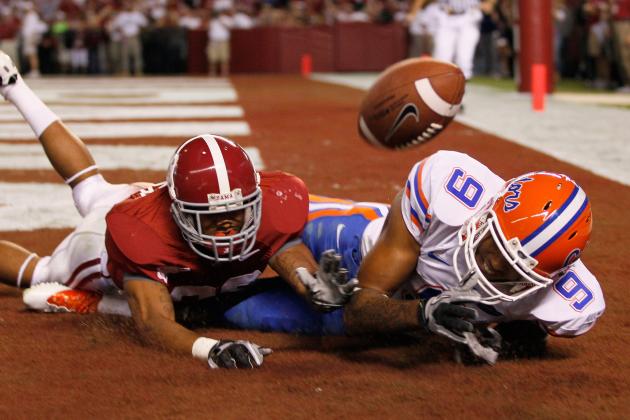 Kevin C. Cox/Getty Images

Cornerback, 6'1", 196 pounds, Junior
Honestly, I never thought I would say that a junior, former 5-star cornerback at Alabama under Nick Saban is "underrated," but that's exactly what I'm doing.
DeQuan Menzie suffered multiple injuries before and during the 2010 season when he was expected to start, forcing Nick Saban to start DeMarcus Milliner instead.
Milliner struggled many times that year as a true freshman who had not quite grasped the Tide's mind-boggling defensive playbook.
Then, in 2011, he played second fiddle to Menzie and first-round NFL draft pick Dre Kirkpatrick.
Now that critics have all but forgotten about Milliner, they think that the Tide's secondary is far too depleted to be effective enough to repeat as national champions.
Not only is Milliner the best and most seasoned cornerback on the Tide's roster, but he will likely prove to be one of the best in the SEC—if not the best.
He has 85 career tackles, five for loss, four interceptions, one returned for touchdown, 16 passes broken up and one forced fumble.
His three interceptions also led the Crimson Tide, as quarterbacks tried to avoid everyone but Milliner. Look how that worked out for them.
Milliner will solidify himself as a first-round NFL draft pick by season's end, and that is why he is underrated at the moment.