NBA Draft Lottery 2012: Charlotte Bobcats Destined to Claim No. 1 Pick
May 30, 2012

Ronald Martinez/Getty Images
In 1993, the Orlando Magic ended the season with a modest 41-41 record. 
A .500 winning percentage is far from great, but it's hard to argue that an average team is deserving of a No. 1 overall pick, especially since the entire purpose of the draft (for any sport) is to give the poor teams a chance to revitalize their rosters. 
Regardless, the Magic were still given a 1.52% chance of winning the top pick of the draft, which was all they needed.
They won the No. 1 overall pick and selected Chris Webber. They traded Webber for Penny Hardaway, who turned into a four-time NBA All-Star, and eventually improved enough to make it to the NBA Finals.
The team that deserved the top pick that year, the 11-win Dallas Mavericks, remained in the NBA cellar until they made the playoffs in 2001.
Many will argue that the system is flawed. And if a .500 team has a chance to claim the No. 1 pick, then there's probably some truth to that.
Will the Bobcats Become Victims of the Lottery? 
The Charlotte Bobcats enter this year's lottery with a 25.0 percent chance of taking the top pick, but that percentage is hardly comforting, considering the worst team has won the lottery only four times since 1985. 
But after winning just seven games this past season, the Bobcats are destined to encounter just a shred of good luck.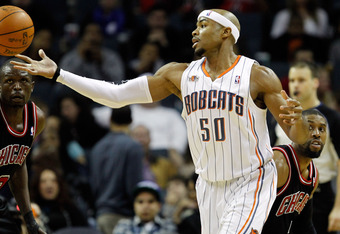 Streeter Lecka/Getty Images
In their eight seasons, the Bobcats have only made the playoffs once. They entered the postseason with a 44-38 record in 2010. 
So far, the 2009-2010 season is the only year the franchise has finished above .500. 
With so many losses in so few seasons, the Bobcats are hoping to prevail and win the top pick.
Anthony Davis, the top-prospect out of Kentucky, would greatly revitalize a defense that finished second-to-last in rebounds.  
We can only hope that Davis is the newest member of the Bobcats. It's nice to see the little man prevail regardless of an unjust system. 
The Competition
The Washington Wizards are mathematically the primary threat with a 19.9 percent chance of being awarded the top pick. 
The Wizards were awarded the top pick in 2010 despite finishing with the fifth-worst record (26-56). They used the pick on John Wall (Kentucky). 
The Cleveland Cavaliers (13.8 percent) and the New Orleans Hornets (13.7 percent) are basically neck-to-neck. Cleveland was awarded the top pick last season, which was used to draft Kyrie Irving (Duke). 
The Sacramento Kings (7.6%) and the Portland Trail Blazers (7.5%) are also in the mix.