10 Players Who Must Step Up for the Washington Nationals to Make the Playoffs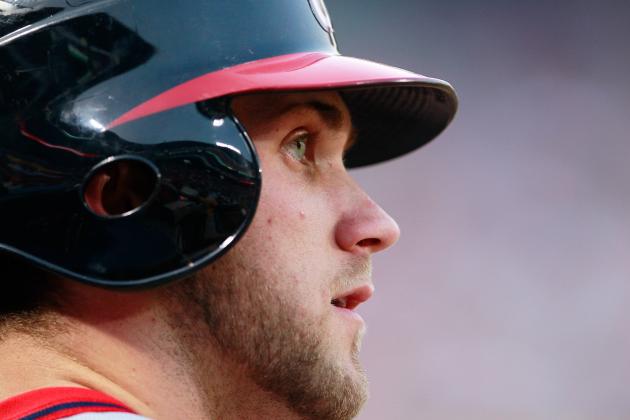 Kevin C. Cox/Getty Images

The Washington Nationals are continuing to shock the National League in their pursuit to win the NL East for the first time.
There have been a few big names that have produced during their great start to the season and other big names that have been complete duds.
The Nats will need players like Bryce Harper to continue to produce and players that are slumping, like Ryan Zimmerman, to find something that can get them going.
It is a long season and although the Nationals are in first place through 50 games, all the other teams in the division are creeping closer and closer.
Most importantly, the Nationals' offense has to begin to put up some runs. They have seen a great year of pitching by Edwin Jackson wasted due to poor run support. Although there are some pitchers who need to step up, it is primarily the offense that needs to click down the stretch.
Let's take a look at the 10 players on the Nats that have to continue performing or have to begin performing if they want to make it to the playoffs in 2012.
Begin Slideshow

»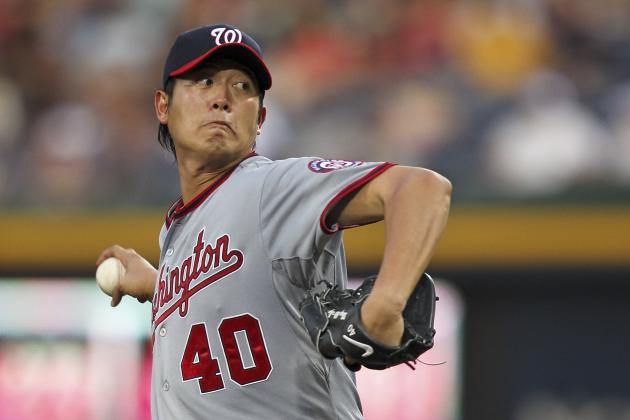 Daniel Shirey/Getty Images

Chien-Ming Wang has returned for the Nationals and in his first appearance of the year, picked up a win in relief. He has now made his way back into the starting five and will look try to get back to the dominant pitcher that he once was for the New York Yankees.
Wang is a groundball machine and will be vital to the Nats down the road. To have Wang as a fifth starter is a great luxury.
It is up to Wang to prove that the move was the right decision and to pitch well to create a solid rotation one through five.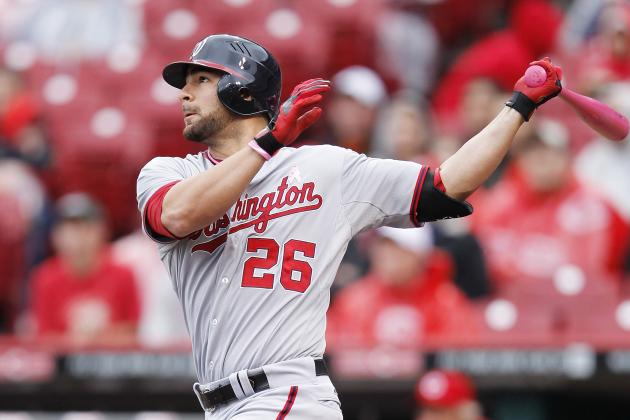 Joe Robbins/Getty Images

Without Wilson Ramos behind the plate, the Nats might have a significant dropoff in catcher production.
Jesus Flores is trying to fill the void and will have to do it well over the entire season.
Flores currently has his average up to .263 and would be considered productive if he can keep it around there.
Flores played the most games of his career in 2008 when he played in 90 games and hit .256 with eight home runs. He will hopefully improve upon those numbers with more playing time under his belt.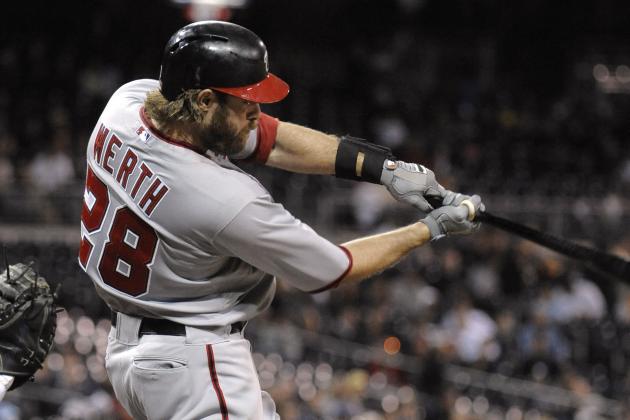 Denis Poroy/Getty Images

Jayson Werth underwent surgery on his broken wrist on May 7 and is expected to return either late in July or in early August.
When he returns he will be filling out a lineup that will have Harper, Morse and Zimmerman.
Werth can put this team over the top upon his return as long as these guys are still producing.
If they are not, then it is even more important that Werth plays well to help carry the team.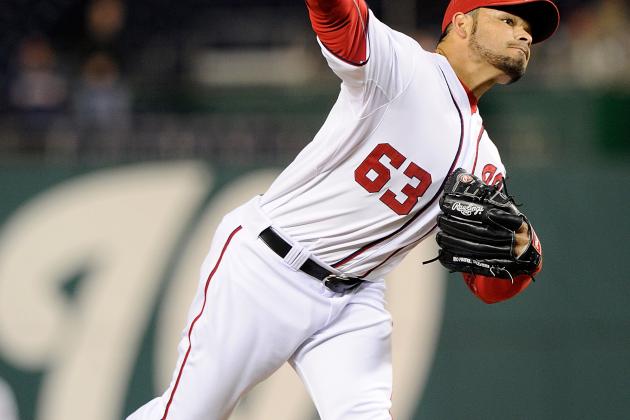 Greg Fiume/Getty Images

Through his first nine appearances, Henry Rodriguez pitched 8.1 innings, struck out 10 batters, allowed one hit and no earned runs. He also had five saves in those appearances.
Since then, Rodriguez has imploded.
In 14 appearances since the terrific start, Rodriguez has pitched 11.2 innings and allowed 11 hits, 11 runs and eight walks. He also blew three saves and recorded two losses and watched his ERA balloon to a season-high 4.95.
There is no question about Rodriguez's talent as he is often throwing over 100 mph. But if he cannot locate his pitches and gives away ballgames, then he will not be able to perform at this level.
If he wants to be pitching in the playoffs then he has to step up soon before he gets demoted even further in the Nats bullpen.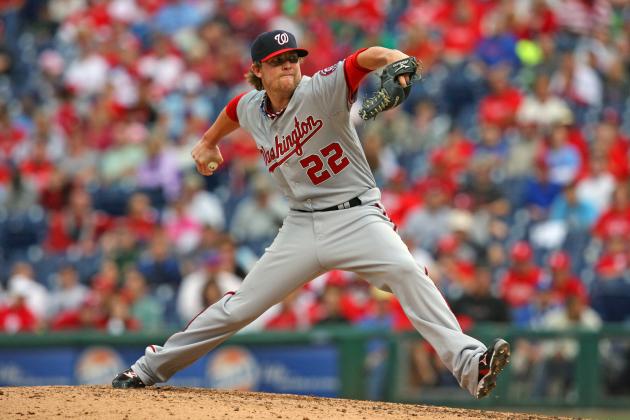 Hunter Martin/Getty Images

Drew Storen will return around the All-Star break and he will hopefully answer all of the Nats' questions when it comes to closing games.
While Storen has been on the DL, the Nationals have gone through many ups and downs with their closers. Storen will be relied upon when he returns to the Nats.
When Storen returns, Tyler Clippard can go back to the eighth inning role for good and their eight and ninth inning guys will look like one of the best one-two punches in the NL.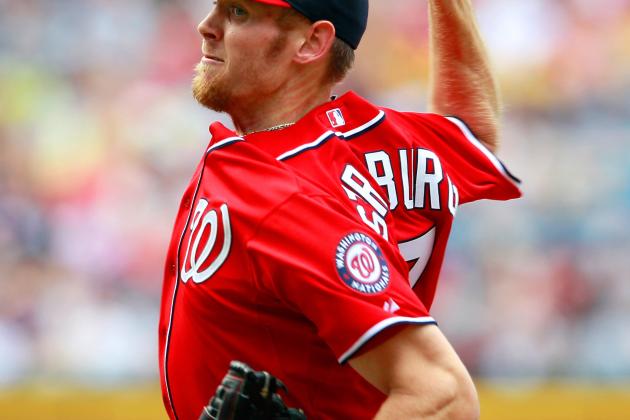 Kevin C. Cox/Getty Images

Stephen Strasburg has hit a bit of a lull in his season and needs to get out of the funk before his season comes to an end. With an innings cap supposedly around 160, Strasburg has about 100 innings ahead of him.
He is going to have to lead the Nationals through the middle of the season if he is really going to be shut down at the end. Strasburg has to provide the Nats some breathing room before he is watching from the bench.
Gio Gonzalez has already stepped up and proven that he is another legitimate ace for the Nats but he can not do it alone. If Strasburg can give the Nats and Gio some breathing room before he is shut down then the rest of the team can do their best to keep it going into the playoffs.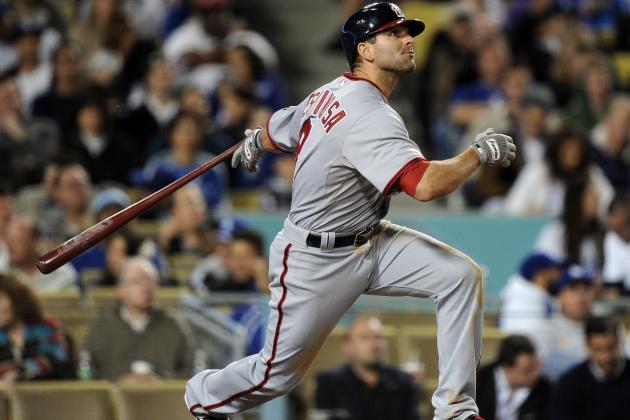 Harry How/Getty Images

What a difference a year makes for Danny Espinosa.
Last season Espinosa struggled with his average but still managed to hit 21 home runs, 29 doubles and stole 17 bases. It seemed that this year would be another step in the right direction for Espinosa.
Unfortunately Espinosa has started the season in a fog and has to start putting up the production numbers that he had last season if he wants to help the Nats make it to the playoffs.
The Nats' second baseman was a surprise last season and has to at least get himself back to those numbers if he is not going to improve upon them this season.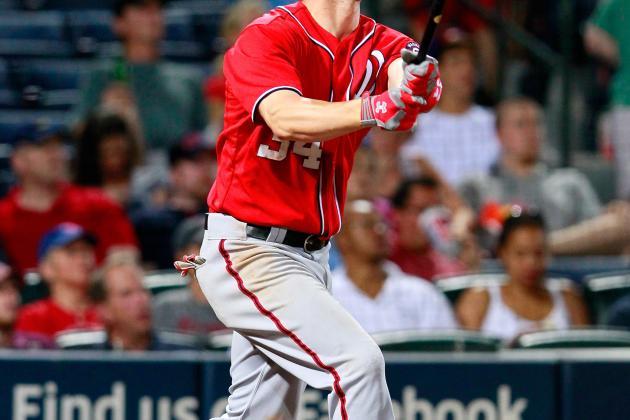 Kevin C. Cox/Getty Images

What more can be said about Bryce Harper? He plays his heart out every game and leaves it all on the field night after night.
But how will he hold up when the season gets deeper and a playoff birth is on the line?
Harper needs to continue doing what he is now when there is more on the line and pitchers have a better understanding of his game.
He will have to handle adversity and fit in with Morse and Werth when everyone is healthy later in the season. If they all mesh well, then this offense is going be dangerous when the division is up for grabs.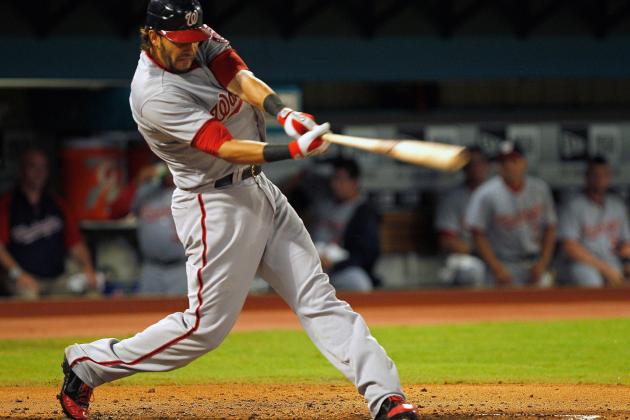 Mike Ehrmann/Getty Images

Michael Morse might be considered the Nats' savior when he returns from the disabled list in early June. There are certainly many reasons to think that he can turn around their struggling offense.
Last season Morse smashed 31 home runs, 36 doubles and 95 RBI. Those kinds of numbers will turn the Nationals into a dynamic offensive team and can certainly propel the team in wins going into the summer.
Morse has to step up from the first day that he returns because there is no time for him to slump with the quality of the NL East this season.
The Nats have been waiting all season for Morse to return and when he does he has to produce.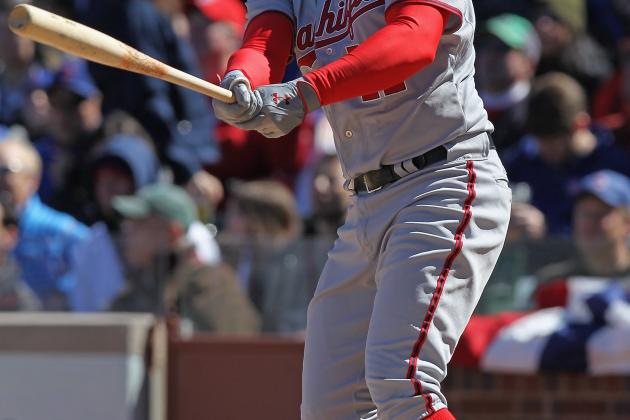 Jonathan Daniel/Getty Images

Ryan Zimmerman has been unable to find consistency this season and has only hit two home runs to this point.
The Nats simply need more from Zimmerman.
Even if all of the other guys carry the Nats throughout the season, it might not be enough if their All-Star third baseman does not give them anything. Zimmerman has already had a stint on the DL this year but has not done much of anything since returning.
Zimmerman was the face of this team and now he is the face that nobody wants to see at the plate in a pressure situation. His .226 average with runners in scoring position has to be improved. He should be feared by pitchers, not seen as an easy out.
The last three years, Zimmerman has averaged a batting average of .308 after the All-Star break.
A second half on par with the last three years would be great for Washington and might just lead them to the elusive division title.