2012 NBA Draft Lottery: Everything You Need to Know for Wednesday Night
May 30, 2012

Mike Stobe/Getty Images
With the 2012 NBA Draft lottery Wednesday night, it's time to get your fill of everything you need to know going into this monumental event.
This is the one moment every year that shifts the powers of the NBA.
The biggest name is by far future No. 1 overall pick Anthony Davis, but there are so many great players this season that no spot in the lottery is bad.
After a wild 2011, the feeling is that the madness will continue. Enjoy it!
Where: Disney/ABC Times Square Studio in New York, NY
When: Wednesday, May 30 at 8 p.m. ET
Watch: ESPN
Live Stream: WatchESPN.com
Listen: ESPN Radio
Full Draft Lottery Odds
1. Charlotte Bobcats—Odds: 25%
2. Washington Wizards—Odds: 19.9%
3. Cleveland Cavaliers—Odds: 15.6%
4. New Orleans Hornets—Odds: 11.9%
5. Sacramento Kings—Odds: 8.8%
6. Portland Trail Blazers—Odds: 6.3%
7. Golden State Warriors—Odds: 4.3%
8. Toronto Raptors—Odds: 2.8%
9. Detroit Pistons—Odds: 1.7%
10. New Orleans Hornets—Odds: 1.1%
11. Portland Trail Blazers—Odds: 0.8%
12. Milwaukee Bucks—Odds: 0.7%
13. Phoenix Suns—Odds: 0.6 %
14. Houston Rockets—Odds: 0.5%
What They're Saying
Associated Press Writer covering Cleveland sports Tom Withers is reporting that Cleveland will have their lucky charms with them:
#Browns Josh Cribbs and Joe Haden at practice. Both leaving afterward to join #Cavs traveling party for NBA draft lottery.

— Tom Withers (@twithersAP) May 30, 2012
Kentucky fans are already coming out in force on Twitter to talk about the future No. 1 overall pick Anthony Davis:
NBA Draft Lottery still 10 hours away, yet Anthony Davis is already trending nationwide.

— Danny Palmer (@palmer102) May 30, 2012
JRSportBrief tells the truth about what tonight's festivities are truly all about:
NBA Draft Lottery tonight = Anthony Davis finds out which awful team he goes to

— JRSportBrief (@JRSportBrief) May 30, 2012
Biggest Name to Watch: Anthony Davis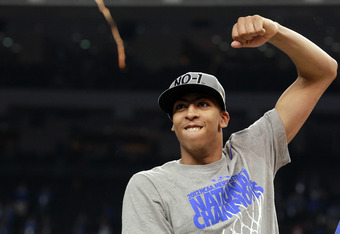 Ronald Martinez/Getty Images
While there have been many questions about which college star would go No. 2 and No. 3, there has always been an undisputed No. 1 overall pick: Kentucky big-man Anthony Davis.
Depending on how the lottery goes down, the top-10 will look dramatically different with the one exception of Davis going to whatever team wins the draft lottery. While this will determine the top 14, this is really a lottery to acquire the most talented player in the draft.
No matter which team is lucky enough to win Davis' services, there will be a serious uphill climb out of the basement of the NBA into the playoff contention. With his commitment to defense, he will be a welcomed addition to any NBA team.
Prediction: Cleveland Cavaliers pick No. 1 overall
Gregory Shamus/Getty Images
It's clear that the Charlotte Bobcats need the No. 1 overall pick more than any other team, but it looks like Cleveland just has the knack for getting amazing bounces with the lottery ping-pong balls.
With the addition of Joe Haden, Josh Cribbs and Cavaliers' owner Dan Gilbert's son Nick as the team's representatives again, the Cavaliers have the luck of the lottery on their side.
After winning it last year, I say let it ride!
Check back for more on the National Basketball Association as it comes, and don't miss Bleacher Report's NBA page to get your fill of all things basketball.