Stanley Cup Playoffs 2012: Finals to Be Martin Brodeur's Swan Song?
May 30, 2012

Jim McIsaac/Getty Images
It might be just four more games, or maybe seven.
Tonight, Game 1 of the 2012 Stanley Cup Finals at the Prudential Center versus the Los Angeles Kings, could mark the beginning of the end of the storied NHL career of New Jersey Devils goaltender Martin Brodeur.
Talk to the 40-year-old Brodeur, of course, and he'll tell you that, win or lose, he pretty much intends on playing next year.
And why not? He's having fun, and more importantly, he's winning. He's already collected three Stanley Cups in his career, and tonight, nine years after the third, he begins the final leg of the quest for a fourth.
In truth, it's a little bit amazing that he's still here, 22 years after he was tabbed by New Jersey as an 18-year-old in the first round of the 1990 NHL Entry Draft. Four years later he backstopped them to within a Game 7 overtime goal of the finals, and a year later raised his first Cup at the Meadowlands following the Devils' four-step sweep of favored Detroit.
Brodeur has been slowed by injuries in recent seasons, particularly since the Devils' move to Newark, due to advancing age, a superlative workload, and just some unfortunate luck. Long considered by some as merely the beneficiary of a stifling defensive system rather than an elite netminder in his own right, Brodeur's numbers (2.04, .923, 1 SO) aren't the best in the playoffs this spring. They're not even the best in the finals, as compared to younger Los Angeles counterpart Jonathan Quick (1.54, .946, 2 SO).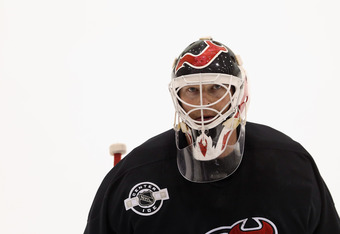 Bruce Bennett/Getty Images
What Brodeur does have so far this spring is 12 wins, same as Quick—and if these playoffs have been about anything, they've been a testament to Brodeur's resiliency.
After a rough start to the postseason against Florida, where he was pulled from a home loss to the Panthers in a game the Devils actually led, he settled down the rest of the way and helped the Devils survive Game 7 by stopping 43 of 45 shots in a double overtime victory. The Devils then dropped a 4-3 OT decision in the second round against Philadelphia, despite 32 saves by Brodeur in the opener. No problem, as he stopped 91 of the next 98 shots he faced to help send the favored Flyers packing.
Still he had to prove himself one more time these playoffs, to say he wasn't washed up yet even though many believed his best years were behind him. The naysayers felt the Devils had met more than their match when they suffered two shutout losses to Henrik Lundqvist and the cross-river rival New York Rangers in the first three games of the Eastern Conference final.
The Devils won Game 4 by a 4-1 count as Brodeur made 28 saves, although he would likely agree he didn't record his best performance in the next outing as he let in two shots he should have stopped as the Devils won late, 5-3, at Madison Square Garden.
As if trying to prove himself once more—in his usual nonchalant fashion—he again saved his best for last in the finale, as he stopped 33 shots and broke up several more attempts with his stick as the Devils won the sixth installment of the Lincoln Tunnel Tangle and edged the Rangers, 3-2, in sudden death to go where they have boldly gone four times before, but not since 2003.
The roster has changed, the building has changed, and even the style of play has changed for New Jersey since then—and yet its netminder remains the same, as he has for two decades. Brodeur has said he would still like to play next year, and spoke earlier this week about former foe Dominik Hasek, who dueled Brodeur in a one-goal, triple OT game 18 years ago and now, at age 47, is contemplating an NHL comeback.
John Elway, though, hung up his cleats after leading the Denver Broncos to back-to-back Super Bowl victories. Closer to home, Michael Strahan called it a career after the New York Giants won Super Bowl XVII in an upset over undefeated New England.
Brodeur might ultimately decide he would like to go out on top as well, if New Jersey wins. Should it happen, and the Devils oust the Kings, whether in four, five, six or seven games, the lasting, last image of No. 30 could be him raising one more Cup over his head, and perhaps collecting his first Conn Smythe Trophy as playoff MVP in the process, before he skated off into the sunset for the final time.
Quite a picture—even if the gatekeeper in red and black says otherwise.