Asante Samuel's 'Swagger' Will Push Atlanta's Secondary to New Heights
May 30, 2012

New Atlanta Falcons cornerback Asante Samuel stepped onto the practice field for the first time in a Falcons jersey Tuesday at the team's first of 10 Organized Team Activities (OTAs), but it was his presence more than his game that has everyone buzzing.
Samuel picked off two passes Tuesday, one from Matt Ryan and one from John Parker Wilson. As happy as that makes the team and its fans, Samuel's confidence--his swagger-- is just as important.
Samuel was overheard from the sidelines calling out challenges to the offense, as reported by D. Orlando Ledbetter of the Atlanta Journal Constitution.
"Get me some action over here so I can show these people [as he pointed to the coaches] what I can do," Samuel said Tuesday.
When no passes immediately came his way, Samuel went to the top and involved Falcons general manager Thomas Dimitroff in his antics.
"Dimitroff, tell them to get me some action," Samuel said.
While this may seem excessive, it's actually just what the Falcons' secondary needs.
In the recent past, Atlanta's secondary has lived—and sometimes died—by a "bend-don't-break" philosophy. Since head coach Mike Smith's arrival in Atlanta, the Falcons have ranked no higher than 20th against the pass. The move to trade for Samuel right before this year's draft is a sign that Atlanta's done hanging out in the bottom third of the league's pass-defense rankings.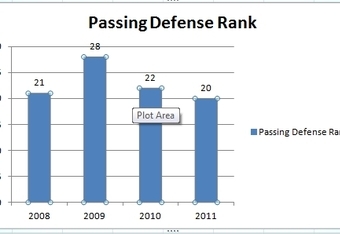 Now that the Falcons have three quality corners on the roster—two with Pro Bowl medals on their chest—the unit is the pride of the NFC South. Playing like the best batch of corners is important. So is believing in it.
"That's what you've got to do, put the bull's eye on your shoulder and step up to the plate," Samuel said. "That's how you get better. If you are talking [smack] and you're telling them 'they can't do this or they can't do that,' of course, they are going to try. But if you don't back it up, they are going to [make fun of] you."
The Falcons secondary has spent so much time ranked in the bottom third of the NFL that simply adding a talent like Samuel isn't enough. Sure, it's going to make Brent Grimes and Dunta Robinson much better. But until Grimes and Robinson buy into the fact that this unit can be one of the best in the league, the transition might not happen.
Samuel's swagger is exactly what will transform the Falcons' secondary into a force in the NFC. His skills aren't going to hurt either.