Mark Appel: Complete Breakdown of Baseball's Hottest Prospect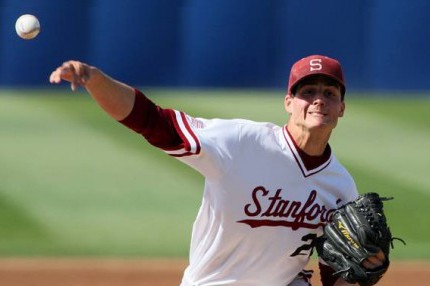 Scouting baseball prospects is among the hardest jobs in sports. We see All-Stars taken in the top five of the draft and we see them come out of nowhere. Mike Piazza was taken in the 62nd round of the 1988 draft and was the best player to come out of it.
Few players get the title of "sure thing." I'm not ready to put Stanford's Mark Appel in a category with guys like Stephen Strasburg and Bryce Harper, but he's definitely a top prospect worthy of consideration for the No. 1 pick.
Statistically, he's fantastic. His K/9 of 9.44 would be ninth in the majors, and both his ERA of 2.45 and his opponents' batting average of .215 would be in the top 20.
But judging based off statistics alone is foolish, that doesn't adjust for things like schedule, the talent around him and any other external factors. Scouts look for tools as an indication for success. Let's look at what makes Appel special.
Mark Appel pitches against UCLA on April 27, 2012
Velocity
Appel doesn't have Strasburg-level velocity, but his fastball would still be a major weapon in the big leagues. His four-seam fastball usually tops off at around 95 or 96 miles per hour, but is consistently high. He can still drop the hammer late in games, and his fastball doesn't usually fall below 91 or 92 miles per hour more than once or twice per game.
His two-seamer is just a bit lower, usually staying the low 90s, but occasionally going as high as 94 or 95 mph. Both of his fastballs should be plus pitches in the majors.
The velocity on his breaking pitches is very good, as well. They generally stay in the low or mid-80s, his changeup is consistently 82 or 83 mph, with his slider and curve going up slightly.
Build and Durability
At 6'5'' and 215 pounds, Appel has the build of an ace. I don't see any reason why he can't be a workhorse in the majors. He's lean and muscular, and should grow into his body a bit more in the coming years by adding a bit of weight, but I don't see this as a prerequisite to success.
There are no concerns about Appel's durability. He's never had a major injury in his career, and the way he is built doesn't imply any are coming in the near future. Barring a freak accident or something unseen in any of his medical reports, Appel should be able to stay healthy if he is managed correctly.
Control
Command is going to be a bit of a concern for Appel. He walks more batters than you'd like from a potential No. 1 pick, and while 1.9 BB/9 is a solid college number, it isn't the dominating statistic a team picking him would like to see.
What's more concerning is that he hits more batters than you'd like to see out of a prospect at his level. He has hit eight batters this season, which essentially adds to his walks total. Appel is going to need to work on his control because, at this point, he's letting too many batters get on base for free.
Breaking Pitches
Appel's slider is his go-to breaking ball, and it has the potential to be an out pitch in the majors. It has an excellent break and usually sits in the mid-80s. He has to learn to command it a bit more, but his slider has the potential to be an excellent pitch.
His changeup needs a bit of work, but is on track to be a solid pitch. Like his slider, he needs to command it a bit more, but he consistently uses it to success at Stanford and will have no trouble using it as a pro. There are no concerns about his velocity on it, as it consistently stays in the low 80s.
Mechanics
There are no real concerns about Appel's mechanics. He has a pretty conventional 3/4th delivery that is both easy and coachable.
The one issue with his mechanics is that scouts have worried about repeatability. It isn't a particularly difficult delivery, but it was something Appel struggled with early in his career. He has improved in that area though, and it shouldn't be an issue for him going forward.
Prediction
I like Appel's future as a pro, but I don't think he'll ever be a true ace in the mold of Roy Halladay or CC Sabathia. I think at his peak he's a borderline No. 1 or a strong No. 2. For him to reach that level, he needs to work on his command.
I wouldn't worry about Appel being a bust though. He has excellent intangibles and should work hard to succeed. I think his floor is a No. 4 starter, but realistically I find it hard to believe he doesn't become an above-average starter.
Appel would make a fine No. 1 pick in the upcoming draft and should really help the Houston Astros if they choose to go in that direction.
This article is
What is the duplicate article?
Why is this article offensive?
Where is this article plagiarized from?
Why is this article poorly edited?