Talking Randle, Osi & Breakout Players with Giants Beat Reporter Ralph Vacchiano
May 30, 2012

Scott Halleran/Getty Images
The New York Giants have begun their quest to repeat as champions, but there are concerns in New York regarding Hakeem Nicks (injured), Osi Umenyiora (angry) and corner, running back and a lack of depth on the offensive line.
To get a feel for what's being said on the ground in Jersey, Bleacher Report caught up with Mr. Blue Screen himself, Ralph Vacchiano of the New York Daily News. 
Bleacher Report: I think that, if there's a silver lining in regard to the Hakeem Nicks injury, it's that the Giants will have a chance to see who can step up and be that No. 3 receiver pretty quickly. Do you agree that this could expedite that process?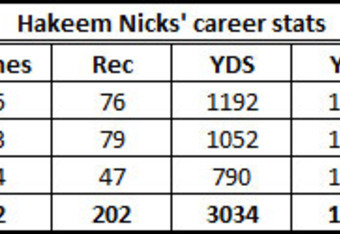 Ralph Vacchiano: I suppose the term "silver lining" is all relative and it depends on whether Nicks is actually out there (and his old self) on Opening Night. But yes, in theory, it helps the process of developing other receivers. I'm not sure the No. 3 spot was really all that wide open.
The Giants love Reuben Randle and drafted him in part because they feel he's close to NFL ready. He's an outside receiver, which means they have the freedom to move Victor Cruz back into the slot in three-receiver sets.
That option wouldn't really exist if Jerrel Jernigan—as far as I can tell he's pretty much only useful as a slot receiver—was the No. 3. It would exist if Ramses Barden or Domenik Hixon won the No. 3 job, but I suspect that Randle will open camp either ahead of them on the depth chart or with an opportunity to move ahead of them quickly.
Regardless, all of them will see plenty of time with the first team in practice, and all of them will get plenty of time with the first team in games. If Nicks were healthy, their first-team time would've been limited and for some of them it might have been close to non-existent.
Now they all have to get in there because the Giants will have to prepare as if they're trying to get someone else ready for a starting role on Opening Night. They seem to think Nicks will be ready for that game, but it's a long time from now so someone better be prepared just in case.
B/R: Does Osi Umenyiora have any leverage? I know the pass rush is better with him than without him, but the Giants have little reason to fear calling his bluff because he showed up for camp last year. I think we'll have the same scenario play out this year, with Umenyiora probably leaving as a free-agent next spring. How do you see this playing out?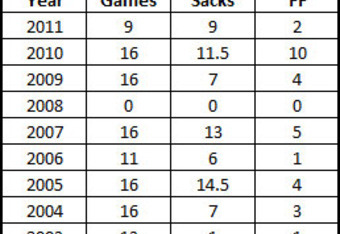 RV: His leverage is zero. Actually, he's got a tiny bit because, if they don't give him a long-term deal to his liking he'll leave as a free-agent after the season and the Giants will get nothing (but possibly a comp pick) in return.
But I don't think the Giants are worried about 2013 right now. They think they've got a shot to repeat (or at least contend again) in 2012 and, as Jerry Reese has said, they are better with Osi than without him.
This is all nothing new to them and they know how it plays out. Osi is not going to hold out and incur fines of $30,000 per day. He proved that last year when he showed up for camp. He did everything last year—he held out, he made it personal with the GM, he demanded a trade, and he even had sort of a work "slow down" when he returned.
Remember, he didn't practice for a few weeks with a knee injury that even the Giants said behind the scenes they didn't believe. Then he had surgery that the Giants didn't believe he actually needed. None of that would've happened if he had gotten his deal.
So Osi did everything he could to be a disruption and a problem and...nothing happened. He came back, played well, and the Giants won the Super Bowl.
Unless he's suddenly decided he can take the hefty fines or if he goes the Jeremy Shockey route and really makes this personal—remember Shockey's profane argument with Reese in front of stunned teammates in 2008—the Giants won't trade him and Osi will come back and play out his deal. He also knows the less of a problem he is and the better he plays, the bigger that deal will likely be.
By the way, I'm not 100 percent convinced Osi won't eventually get a deal from the Giants. My prediction is that, at some point during this season, they will quietly up their offer to him to not quite market value, but a pretty good deal compared to what he has now.
Then he's got a choice: Take the less lucrative bird in the hand, or hold out hope for the more lucrative bird in the bush. He wants his money, but for a soon-to-be 31-year-old with a history of knee and hip injuries, a decent mid-season offer for three or four years, maybe $7-8 million per year with $10 million or so guaranteed, might be too good to refuse.
I don't think he wants to run the risk of a late-season injury that drops his price range way off the current landscape. But that's just a prediction, or a guess. He's pretty mad at the Giants. Maybe he'll just want to leave and take his chances in 2013.
B/R: Two guys who, in my opinion, have to really step up for the Giants this year are their last two first-round picks, Prince Amukamara and David Wilson. This team can't repeat without improvements at those two positions. Agree or disagree?
RV: I'd partially agree. I think they need big years from both of them, but I'd say they either need them to step up or someone else to step up in their roles.
Both positions are a big question mark to me. At corner, I don't know what they have beyond Corey Webster. We haven't seen anything out of Prince Amukamara yet and nobody can say for sure what Terrell Thomas will be coming off his second torn ACL. His confidence is nice and I like him a lot and as a player, but a second ACL injury is tough to come back from.
So really, at corner the Giants need two players to step up, whether it's those two or Antwaun Molden or Jayron Hosley or Justin Tryon. Obviously Thomas and Amukamara are the better talents in that group, and against a division filled with speedy receivers, the Giants will need all the corners they can get.
Meanwhile at running back, I doubt the Giants could repeat if they again have the NFL's worst rushing attack. While a lot of that will fall on the offensive line, the No. 2 running back is a very key position given all the injuries Ahmad Bradshaw has (and probably will have again).
Brandon Jacobs wasn't all that effective as the No. 2 last year. They really could use someone a little more dynamic, fast, powerful, and capable of gaining more than 500 yards. Wilson should be that guy. I wouldn't completely sleep on DJ Ware or Da'Rel Scott, but Wilson is the one with the best talent in that group.
Are they more key than anyone else, though? I don't know. A third receiver—like Reuben Randle—stepping up would seem to be pretty important.
The tackles—presumably Will Beatty and David Diehl—playing much better seems to be a key. And I'd like to see a consistently good (and healthy) year out of Justin Tuck. Plus, we don't know what we don't know yet.
Who'll get hurt? Who'll suddenly look old? What other twists will the season take? Last year you probably would've thought there's no way they make the playoffs without a big year from the running backs and offensive line, but look what happened.
Still, a big year from their last two first-rounders would undeniably help.