Los Angeles Dodgers: 4 Goals for the New Ownership Group in the 2012 MLB Draft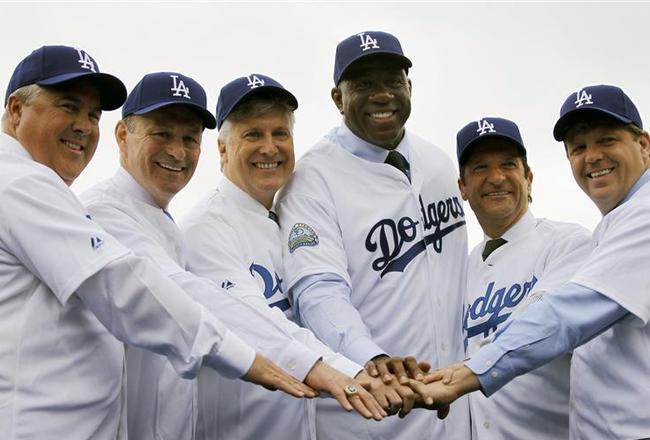 2012 has been kind to the Los Angeles Dodgers so far. The Frank McCourt ownership era is now officially behind them, and the team enters today with the best record in Major League Baseball at 32-17.
While the Dodgers' big league squad focuses on winning the team's first World Series since 1988, the new ownership group will have its sights set on the future as they prepare for the 2012 MLB Draft in June.
The Dodgers minor league system was once a source of pride for the organization, and is responsible for much producing many of the team's best current players—like Matt Kemp, Andre Ethier, and Clayton Kershaw—and some former stars who are no longer with the organization (Paul Konerko, Adrian Beltre, and Russell Martin immediately come to mind). But over the past few years, thanks to McCourt's penny-pinching ways, Los Angeles is now woefully lacking many future stars or depth.
New team president Stan Kasten and Dodgers assistant general manager Logan White have their work cut out for them as they prepare to restock a minor league system that was highly neglected under the McCourt regime. This is by no means a one year project, but here are four goals that the new Dodgers ownership group will set out to accomplish starting June 4-6.
Find More Bats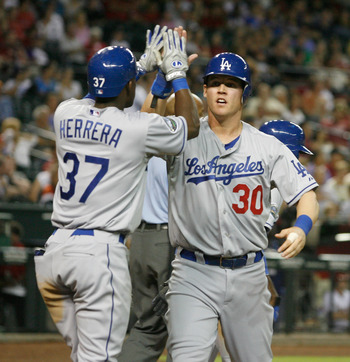 Ralph Freso/Getty Images
The Dodgers have a handful of highly regarded pitching prospects that are either major league ready now (Rubby De La Rosa and the recently recalled Nathan Eovaldi) or will be by late next year (2010 first-round pick Zach Lee), but they have zero hitting prospects that show the potential to be the next Kemp, Ethier or Beltre.
Because of injuries at the major league level, the Dodgers already have their two best hitting prospects, outfielders Jerry Sands and Scott Van Slyke (son of former MLB star Andy Van Slyke) on the 25-man roster. Neither is projected to be a star in the big leagues, and Sands in particular has failed to perform well enough to stay in the show, as he failed to beat out Juan Rivera for the starting left field job coming out of spring training when given the chance.
The Dodgers have three picks in the first two rounds, including a supplemental first-round pick, and no obvious long-term solutions at second or third base. They currently lack the ability to address those needs via trade without giving up one or more of their best pitching prospects, so Los Angeles would do well to hone in on two to three position players that can contribute at the major league level in the next two to three years.
Add More Players with High Ceilings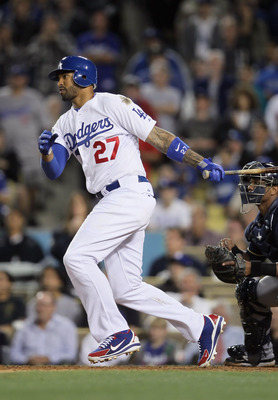 Jeff Gross/Getty Images
The Dodgers minor league system is currently ranked 12th by ESPN and 26th by Baseball America, and as Gareth Perry correctly points out in his Feeling Dodger Blue blog, the low rankings can directly be attributed to an overall lack of blue-chip talent.
As previously stated, the Dodgers will need to draft some hitting prospects that can help out in the near future, but they also need to get back to identifying more raw talent that may take a little longer to develop, but whose finished product will prove to be well worth the wait.
In other words, they need to find more Matt Kemps.
Put Greater Emphasis on International Scouting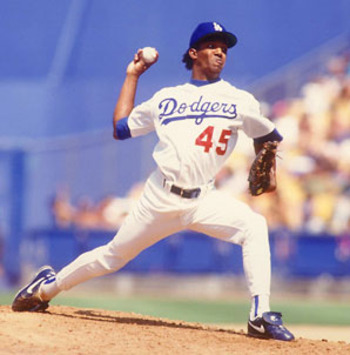 The Dodgers were once considered pioneers in the international scouting game. They were the first major league organization to set up their own developmental academy in the Dominican Republic, leading to the discovery of players like Pedro Martinez and Ramon Martinez. But over the past few years, again thanks to McCourt's refusal to invest wisely in the team, Los Angeles has spent very little money on international players.
The timing for this reversal couldn't have been worse either, as the globalization of the game has led to more and more players, especially the games stars, coming from outside of the United States. A majority of those players are coming from Latin American countries, as they have quickly replaced African-American players as the largest minority group in the game.
Finding and developing the next Matt Kemp would not be a bad thing for the Dodgers. But finding and developing the next Albert Pujols wouldn't hurt either.
Show a Greater Overall Commitment to Building a Great Minor League System
Dodgers Assistant General Manager Logan White
Just as important as the types of players the Dodgers need to target this year, the organization needs to quickly demonstrate a commitment to making the minor league system one of the best in MLB.
Most Dodger fans are understandably excited by what's going on with the big league club, and are already buzzing about potential trade scenarios before the July 31st non-waiver deadline. However, next week's draft is the first opportunity for the new ownership group to show the fans that they are seriously committed to the franchise's long-term success.
Kasten and White are proven stars as far as Major League executives go, and are both well respected throughout MLB. If Kasten loosens the purse-strings that were tied in knots by McCourt, White will undoubtedly make good use of the team's new financial resources.
Diehard Dodger fans will be paying close attention to what the team does starting next Monday. Here's to hoping that the new owners quickly reward our faith in their leadership.
Keep Reading

Los Angeles Dodgers: Like this team?