MLB All-Star Game: 5 Pitchers Who Could Start the Game for the NL
May 30, 2012
Kevin C. Cox/Getty Images
Picking a starting pitcher for the MLB All-Star Game can be kind of a buzzkill.
Occasionally, a true ace—one of the best in the game—will get the nod when the best of the American League and National League meet up for baseball's midseason exhibition. But more often than not, due to pitching schedules and/or a desire by player and manager to rest a heavily worked arm, the best pitcher in the league isn't necessarily the one that takes the mound to begin the All-Star Game. 
However, there are plenty of fine candidates for NL All-Star manager Tony La Russa to pick from this year, as new pitching stars have emerged while some veteran aces have faltered.
Others would certainly be deserving of the honor, but these five pitchers make excellent candidates to get the call for the NL in Kansas City on July 10. 
Matt Cain, San Francisco Giants
Tim Lincecum is the Giants' pitching star most fans are familiar with. San Francisco is just two seasons removed from a World Series championship, and the national baseball audience knows this team, so it's not like Cain has been pitching in total anonymity. 
Besides, Cain is the team's ace right now, pitching a workhorse 71 innings so far this season. Only Roy Halladay and Wandy Rodriguez have more. Cain's 66 strikeouts currently rank fifth in the NL, while his 0.93 WHIP is the second-best. 
Cain doesn't get nearly enough national recognition for his accomplishments. An All-Star Game start would take care of that nicely. 
Gio Gonzalez, Washington Nationals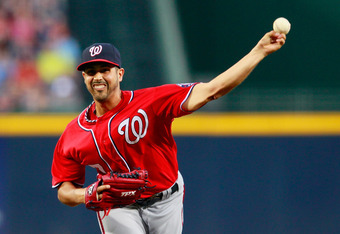 Kevin C. Cox/Getty Images
The Nationals have been one of the top stories in baseball so far this season, leading the NL East over traditional powers like the Phillies and Braves. Gonzalez has been one of the best pitchers in the sport, leading the NL in strikeouts while compiling a 7-1 record and 2.06 ERA. 
Stephen Strasburg might be more of a name and is considered one of baseball's rising talents. He could end up being the All-Star Game starter, as well. But Gonzalez has been the better pitcher, dominating the opposition (batting .156 against him) in his first year in the NL.
Putting him on the national stage would highlight one of baseball's up-and-coming teams, an upstart contender with young stars worth following throughout the season. 
Clayton Kershaw, Los Angeles Dodgers
La Russa certainly couldn't go wrong with starting the reigning NL Cy Young Award winner. How many fans even get to see Kershaw with so many of his starts taking place in the Pacific time zone, after people on the east coast are going to sleep?
Putting Kershaw on display also provides the opportunity to talk about the Dodgers, who could very well still hold the best record in baseball by the All-Star break. Fans are likely to see Kershaw and the Dodgers again in October, so why not be introduced to him now? 
But Kershaw deserves the start on his own merits, as well. His 1.97 ERA is currently second in the NL. His .090 WHIP (walks and hits per innings pitched) ranks first. And opposing batters are hitting under .200 against him. 
R.A. Dickey, New York Mets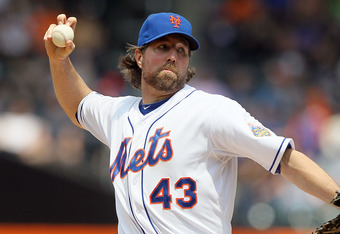 Jim McIsaac/Getty Images
How cool would it be to see a knuckleballer start the All-Star Game? But giving Dickey the nod wouldn't just be a gimmick. With a 7-1 record and 3.06 ERA, he's also the improbable ace of a Mets team that's exceeded expectations and is competing for the NL East lead. 
FOX often tries to shoehorn way too many bells and whistles into its broadcast, but training whatever super-duper camera they'll have on Dickey's knuckleball and its path to home plate will make for some compelling TV. 
Plus, Dickey would provide plenty of storytelling opportunities for a national audience while he's in the game. Dickey's late rise to success after years of personal and professional struggle is great human interest stuff. As he showed Tuesday night in a Q&A with Mets fans, people love his story. 
Cole Hamels, Philadelphia Phillies
Will the Phillies still be in last place by the All-Star break? With the NL East so tightly packed, it's entirely possible that they could be division leaders by July 10. (Though that seems a bit less likely now that Roy Halladay will be out for six to eight weeks with a strained shoulder.)
Regardless of divisional standings, however, Hamels is still worthy of the honor and would provide a marquee name for MLB and FOX to promote for the All-Star Game. Currently, he's one of two pitchers with eight wins. That 8-1 record and 2.43 ERA have him on pace for a 20-win season. Those are the kinds of flashy numbers that devoted and casual baseball fans can get behind.
Hamels' 72 strikeouts are second in the NL, and he's one of four pitchers in the league with 70 innings at this point on the schedule. If he maintains that level of performance, an All-Star Game start could be the midway point toward a Cy Young Award-winning season.
Follow @iancass on Twitter