Chicago Bears: 5 Reasons Why Jay Cutler Will Have a Breakout Year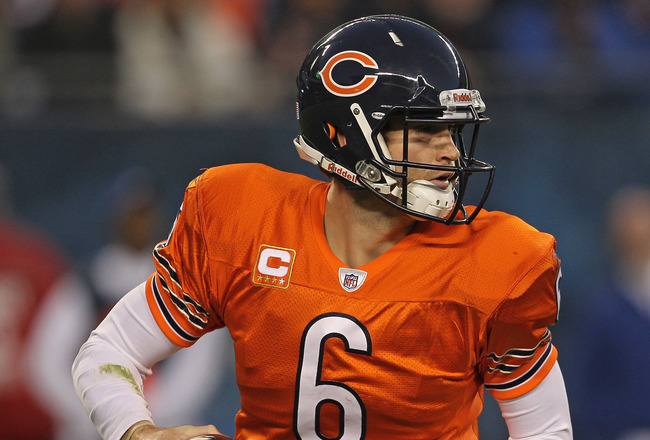 Jonathan Daniel/Getty Images
Since the Chicago Bears traded for Jay Cutler before the 2009 NFL season, fans and coaches have been waiting for him to have his breakout season with the Bears. After all, he did make the Pro Bowl in 2008 with Denver. That season, however, has yet to come. It was looking like he may get there last year before injury knocked him out for the rest of the season, and fans were left frustrated as Cutler once again fell just shy of his breakout year. This year, however, is different. This year things are looking up, and there are five reasons that Jay Cutler will have a breakout year this season, and make it back to the Pro Bowl for the first time since 2008.
Cutler and Fiancee Kristin Cavallari Have Worked out Their Differences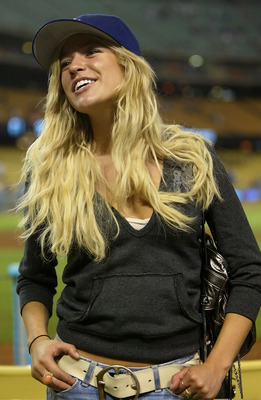 Jay Cutler and fiancee Kristin Cavallari are back together.
Jeff Gross/Getty Images
Last season was a mess as far as the personal life of Jay Cutler goes. He and his fiancee broke up, and everyone tried to play it off as a good thing. But Cutler was clearly upset. He was defending her publicly after fans were making rude and harsh comments toward Kristin Cavallari, his fiancee, Kristin Cavallari.
This offseason, however, has been very different.
During last season, Cutler and Cavallari got back together. Not only that, but they also announced that they will be expecting their first child together. Now a child on the way can be distracting, but not in the depressing way that breaking off an engagement can. Cutler may from time to time be thinking about his future child, but when it comes time to focus, he will be able to do that knowing all is at peace with his life both on and off the field.
Sometimes, it's the off-the-field issues that matter as much to a person's play than the on the field ones. And this season, there will be no more off-field issues for Cutler to worry about.
Mike Martz Is Gone, for Good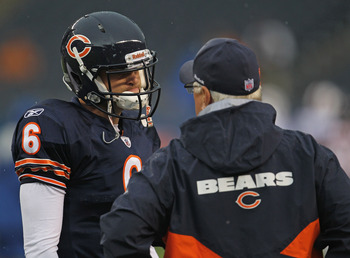 Mike Martz has left the team, and Mike Tice is the new offensive coordinator.
Jonathan Daniel/Getty Images
The relationship between Mike Martz and quarterback Jay Cutler has been interesting. It seemed to boil over last season when Cutler yelled an expletive towards Martz when calling plays in the huddle during a game against the Minnesota Vikings. The two never seemed to click, and Bears fans were always left upset and angry when things didn't work out between the two.
Matrz had a complicated system, there is no doubt about that. That's why Caleb Hanie struggled so much as the starter last season when Cutler went down. Plus, Martz's system didn't fit what the Bears had! He had Cutler taking seven step dropbacks and by the time he was there, so were the defenders. The line just couldn't hold off the defenders for that long, and it almost always ended in a sack.
Now that Martz is gone, however, things will be different.
Mike Tice is actually talking and listening to the players on ideas for the offense. He is trying to incorporate parts of Denver's 2008 offense that made Brandon Marshall and Jay Cutler so successful together. He is also working with the offensive line to make sure Cutler isn't spending all of his time dropping back just to get sacked. With Tice and Cutler working together as a team to run the offense, things will be much better this season than last.
The Bears Finally Have Some Depth at Wide Reciever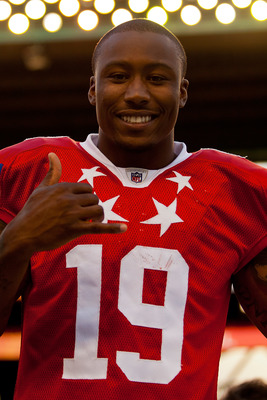 Kent Nishimura/Getty Images
When the Bears went out and got Brandon Marshall in a trade with the Miami Dolphins, every single Bears fan thought the same thing: finally! The Chicago Bears have been avoiding the wide receiver position ever since they got Jay Cutler at quarterback. They have been expecting Devin Hester to be the number one receiver for the team, and it has just never happened. Sure, Hester is faster than anyone else out there, but he just doesn't posses the skill set required to be a number one guy.
Brandon Marshall, however, can definitely be that guy.
Marshall and Cutler were great together in Denver. When they were together, Marshall had a total of 226 receptions in three seasons with the Broncos, along with 2,899 receiving yards and 15 touchdowns. Bottom line, Cutler and Marshall just work together. And then you throw in Earl Bennett, rookie Alshon Jeffery and Devin Hester, and the Bears don't look so thin at WR.
With all these additions at the position, Cutler will be able to pass to whoever he wants and there can be an expectation that they will actually catch the ball, as opposed to the old Bears where they would just hope someone on their team would catch it instead of an interception. The new-look Bears are deep at wideout, and will help Jay Cutler break out this season.
The Offensive Line Is Looking Better, Really.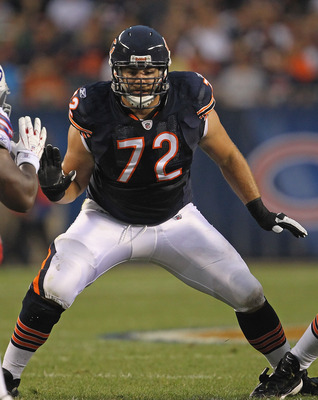 Jonathan Daniel/Getty Images
Everyone keeps talking about how much of a concern the offensive line is for the Chicago Bears. But is it really that much of a concern for the team? The Bears have made major improvements on the line.
For starters, Gabe Carimi is back. After a disappointing season last year, Carimi had knee surgery to try and prevent further injury on his knees. He was expected to be out for a while, but he was back at it yesterday participating in OTAs for the team. The team said he would be day-to-day, but it's looking like Carimi will be back for the start of the season.
Another player that is back is Chris Williams. He and J'Marcus Webb are battling it out for the starting left tackle position, and word is that if Williams doesn't win the battle, he may end up playing left guard for the team. Webb did start all 16 games last year with the team last season.
Roberto Garza played all season at center last year. Some may say he didn't play as well as they would have liked, but a year older means a year wiser, and Garza comes back more experienced than he was before. Plus, now that Mike Tice (former offensive line coach) is the OC, he will be working with the line to incorporate them more into the offensive scheme, rather than forcing the line into situations where they are not comfortable like Martz did last season.
With an improved line, players coming back who were out last season, and the line being worked with instead of yelled at, there is no reason that Cutler shouldn't have a breakout season with this offensive line.
The Pressure Is Finally Back on Cutler to Win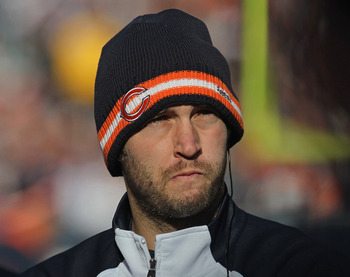 Jonathan Daniel/Getty Images
Cutler has always had plenty of excuses, many of which were legitimate. The offensive line didn't hold up, the receivers weren't good enough, even the defense didn't always play well enough
But now those excuses vanish.
The line has improved, despite what some people may say. The wide receiving core has dramatically improved with the additions of Brandon Marshall and Alshon Jeffery. Cutler's personal life is at peace, when fiancee Kristin Cavallari and him finally back together and now expecting their first child as a couple.
A lot of people blamed Mike Martz for Cutler's lack of success as a Chicago Bear, because his system was simply just too complicated and the two always butted heads over how to run the offense. Now, Mike Tice is working with Cutler to run the offense, not just telling him how it needs to be done.
All of the pieces are in place. Cutler has everything he needs to have a breakout season, and make it to the Pro Bowl this year (now that it has finally been confirmed that there will even be a Pro Bowl).
If he doesn't get it done this year, it's solely on Cutler. And that's exactly where the pressure and blame needs to be. There needs to be accountability, and responsibility. Cutler has all the weapons. The offense is poised, primed, and ready to go. With the team the Bears have, Jay Cutler will make the Pro Bowl this season. If he doesn't, it's nobody's fault but his own.
Keep Reading

Chicago Bears: Like this team?