NBA Draft Lottery 2012: Kings Are a Lucky Ping-Pong Ball Away from Playoffs
May 30, 2012

Andy Lyons/Getty Images
Sac-Town's far, but yet so close.
The Sacramento Kings tied for the fifth-worst record in the NBA this season. Despite their poor campaign, they're still loaded with promising talent. If the Kings win the 2012 draft lottery and land Anthony Davis, they'll instantly become a playoff contender.
While the Kings only have an 8.8 percent chance to leave Wednesday with the No. 1 pick, ping-pong balls have been kind to the team with the fifth-highest odds in the past. Since 2000, eight out of the 12 lotteries have been won by franchises that didn't hold top-four odds. Drafting Davis isn't just a dream for the Kings—it easily could become reality.
And if it does, their damning weakness would be cured: defense.
Sacramento boasted the sixth most potent scoring offense in the league this season. However, their pitiful play on the other end of the court negated everything positive they did offensively. Sacramento ranked dead last in points surrendered per game.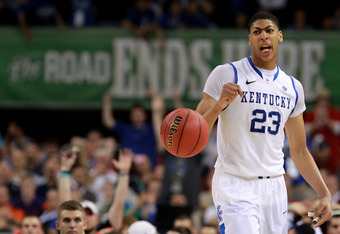 Ronald Martinez/Getty Images
Davis would change that from day one. The Kentucky Wildcat one-and-done's impact on defense is so dramatic that he alone would change the Kings' embarrassing reputation. He averaged 4.7 blocks, 1.4 steals and 10.4 boards per game, and will go down as one of the greatest defenders in college basketball history.
After drafting Davis, all the Kings would have to do is sure up their rotation and they'd be in the thick of the playoff race.
With their second-round pick, drafting a wing like Jared Cunningham out of Oregon State would help shore up their defense even more. And with Cunningham in the fold, Sacramento would be free to amnesty John Salmons.
From there, they'd have enough cap room to sign anyone their heart desires in free agency. And promising front court players like JaVale McGee or Jeff Green would take their core to another level.
If the Kings win Wednesday night's lottery, brace yourself for a rise back to relevance.
David Daniels is a featured columnist at Bleacher Report and a syndicated writer.